Selma Blair and Sarah Michelle Gellar Recreated *That* Kiss During the 2020 MTV Movie & TV Awards
Blair said the famous 'Cruel Intentions' kiss "stands for a shift in thinking."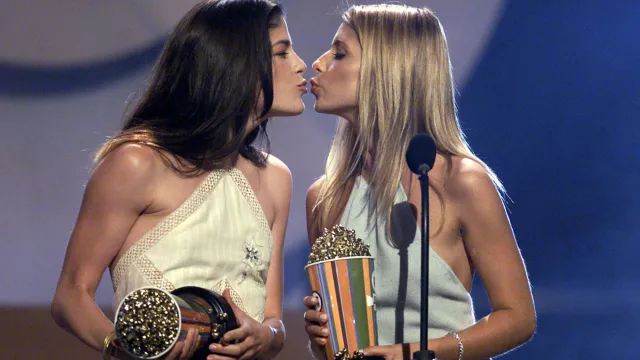 During the December 6th MTV Movie & TV Awards, Selma Blair and Sarah Michelle Gellar were honored with the "Legendary Lip Lock" award for the kiss they shared in the 1999 movie Cruel Intentions. This year's Movie & TV Awards focused in on the "Greatest of All Time" in several categories, and having set a new standard for showing same-sex relationships onscreen in Cruel Intentions, Blair and Gellar definitely deserve to be honored as the GOATs of legendary lip locks—and they recreated the kiss in a COVID-safe environment.
Blair and Gellar reunited in-person to celebrate their win, and Blair reflected on the importance of receiving this award in an Instagram post. "Looking back 20 years ago… A kiss. Between two young actresses. On screen. In a mainstream teen movie. In 2000," she wrote in the caption of her post.
What feels so delicious to me now is how it isn't shocking in 2020. It stands for a shift in thinking, she continued. 
Blair said she's honored to "be the GOAT kiss" with Gellar, "who has been by my side through the excitement, the slow times, the changes, the kids, in sickness and in health."
Blair also thanked Cruel Intentions director Roger Kumble (who gave a shoutout to "that fortuitous string of saliva" over on his own Instagram) for "giving me this space to say I have always been honored to be an actress. To be allowed. To say thank you. It has been a dream come true."
May we all kiss one day again soon. This one will always be a point of pride, Blair wrote. And during their kiss recreation, Gellar asked 2020 to end soon. Agreed.
This is the second time Blair and Gellar's Cruel Intentions kiss has been honored by MTV. In 2000, the actresses won "Best Kiss" at the MTV Movie & TV Awards, and during that honor, they were able to recreate the kiss because, you know, a global pandemic was the stuff of apocalypse movies.
We have a feeling that in another 20 years, we'll still be honoring the Cruel Intentions "lip lock" as the kiss that broke the ice and let same sex relationships flourish on screen.