Sarah Michelle Gellar posted about her friendship with Selma Blair: "I will spend the rest of my life fighting for you"
Sarah Michelle Gellar and Selma Blair just paid tribute to their decades-long friendship. The duo, who starred in the 1999 classic Cruel Intentions together, took to Instagram on Thursday, February 28th, to share heartfelt messages to one another. Gellar wrote that she will "spend the rest of my life continuing to fight" for Blair as she battles multiple sclerosis. Her post was in response to a post from Blair, in which she wrote, "This girl. (Always my girl) is everything. She tucked me in and brought me dinner and loved me up. I woke with so much love for #sarahmichellegellar . Since the day I met her over 20 years ago, she fought for me along with @rogerkumble to be Cecile."
She added, "She took me under her wing and today is no different. I am so in love with my angel of a friend. The best. @janeylopatey also shared the love on my bed yesterday. She and @karenzambos @jaime_king and this one even threw me my baby shower and are there every step of the way. May we all have a friend like this. I love you @sarahmgellar and my whole team of lovelies . I count my blessings. #friendsforever #kathrynandcecil"
Gellar then responded with a repost, writing, "Our relationship began with me fighting for you, and I will spend the rest of my life continuing to fight for you. This is one of those bumps in the road, that I truly believe within the year, we will barely remember. (And thanks for leaving the part out where I proceeded to fall asleep in your bed- lots of help I am lol)"
In October 2018, Blair revealed that she had been diagnosed with multiple sclerosis, a disease of the central nervous system that affects the brain and spinal cord. She wrote the following on Instagram:
"I have #multiplesclerosis. I am in an exacerbation. By the grace of the lord, and will power and the understanding producers at Netflix, I have a job. A wonderful job. I am disabled. I fall sometimes. I drop things. My memory is foggy. And my left side is asking for directions from a broken GPS. But we are doing it. And I laugh and I don't know exactly what I will do precisely but I will do my best."
This month, the Legally Blonde actress made her first public appearance at the Vanity Fair Oscars party to celebrate the 91st Academy Awards. She stunned in a colorful Ralph & Russo gown, completing her look with a custom cane.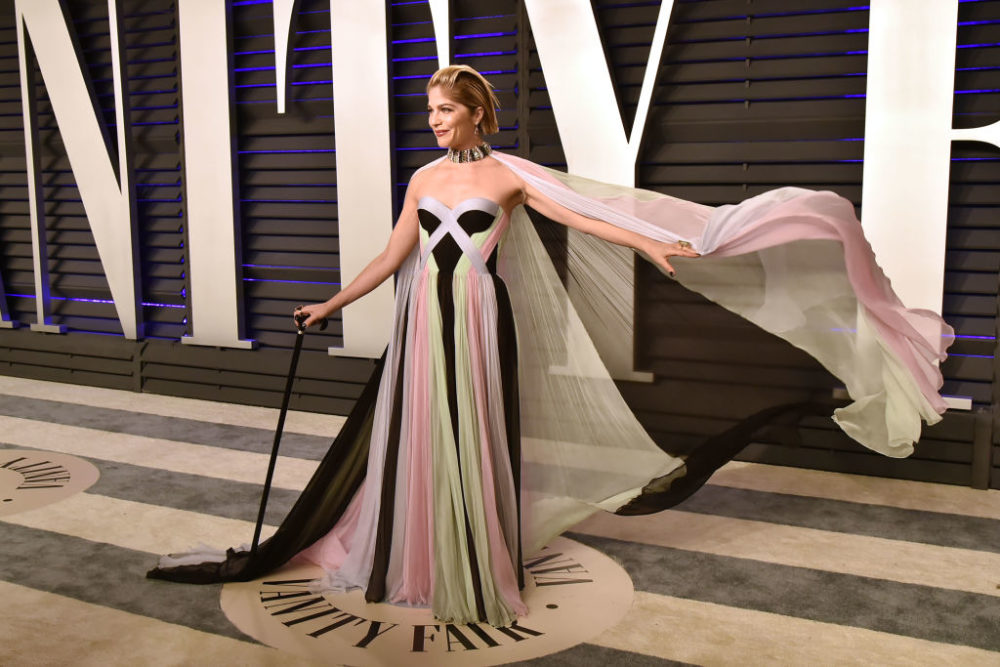 Following her red carpet appearance, Blair appeared on Good Morning America on February 26th for her first interview since her diagnosis, telling host Robin Roberts that she cried tears of "relief" following the diagnosis. She explained, "I had tears. They weren't tears of panic, they were tears of knowing that I now had to give in to a body that had loss of control and there was some relief in that."
Get you a Sarah to your Selma, friends.