Selma Blair opened up about embracing her short, "salt and pepper" hair post-chemotherapy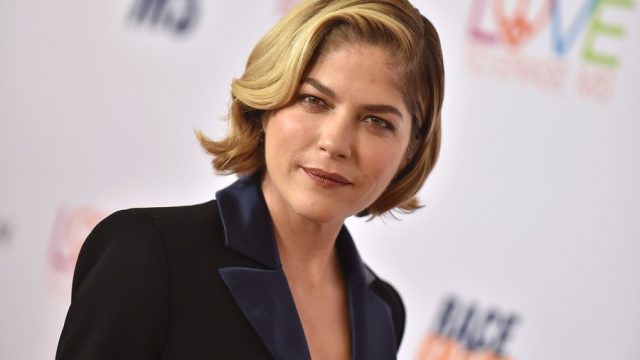 Ever since announcing her diagnosis with multiple sclerosis, Selma Blair has been chronicling her journey with the chronic immune system disease on Instagram, sharing how she's been doing both physically and emotionally as she copes with MS.
Back in July, Blair debuted her shaved head on Instagram, and she has been proudly sporting her new look ever since, posing for selfies with her son, Arthur, and with friends and family. And now, she's revealing a bit more about her decision to shave her head, and why her new short hair has come with a slew of changes she didn't expect.
On Monday, November 4th, Blair shared a close-up shot of her new "salt and pepper" strands, talking about her experience in her caption. She noted that she initially shaved her head after losing hair due to chemotherapy treatments.
She wrote, "I cut my hair short to transition myself and my son for impending baldness."
That part, she added, was "easy. Baldness came," but it was when her hair started to grow back in that she struggled. As her hair grew in, she said, "it came in fine and pale and very sparse," so she shaved it because, "It looked too sad."
https://www.instagram.com/p/B4dURZ7nsor
She says she attempted to dye it back to brown, but, "I really only succeeded in dying my scalp. After a week, I buzzed shorter with clippers and a few weeks later, here we are." In the photo, she shows her followers her gorgeous new "salt and pepper" shade, which she calls a "thinnish, patchy charcoal head."
As for the future of her hair, Blair wrote, "I will see how a pixie grows in. Or I will buzz again. It seems to be too much to have long hair again. So I will leave it short and grey, something I have never before wanted to do."
https://www.instagram.com/p/B4VhQvinoXA
Then, Blair discussed the symbolism she used to feel about having long brown hair, something that many people can relate to.
She said that she used to equate going gray with "giving up," but now thinks, "maybe giving up long, brown hair, complete with time-consuming and expensive highlights and lowlights isn't necessarily a give up. Give in. Embrace. Sure. I'll try it." She did joke that she would be willing to change her mind if some "fancy pants company with a thick checkbook wants to entice me out of dye retirement."
https://www.instagram.com/p/B3-8ZmSnSng
Of course, while Blair's message is laced with her signature brand of humor, we understand the weight of her decision to embrace her hair as it is now. So many of us—especially women—are given messages that equate our hair with femininity and youth, and proudly sporting gray hair or a shaved head runs counter to those societal messages.
Hair can be an intensely personal part of our appearance, and we're thankful to Selma for being so candid about her experiences. We're certain that her photos and her words will help someone else going through similar experiences feel a little less alone. And, for the record, we think she looks flawless with any hairstyle.