Selma Blair dyed her hair for the first time since growing it back after MS treatment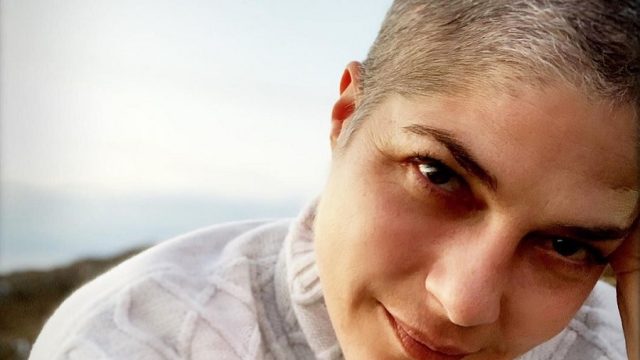 As we adjust to life in quarantine, plenty of us—including celebrities—are taking beauty matters into our own hands. We're trying at-home dye jobs to keep our strands looking fresh for our Zoom calls. Selma Blair is the latest celeb to change up her hair color at home, and she's showing off her new look in a meaningful Instagram post.
Since last summer, Blair has been rocking a shaved head, revealing to her followers that she had lost her hair amid her chemotherapy treatments for multiple sclerosis. She then shared that she was embracing her "salt and pepper" strands as they grew back in. She recently joked that she'd ditch professional dye jobs unless "some fancy pants company with a thick checkbook wants to entice me out of dye retirement."
While we've loved seeing her gray strands in action on her Instagram page, Blair surprised her followers by dyeing her hair for the first time since she revealed her MS diagnosis. It wasn't even a "fancy pants company," either. Her stylist and friend Lorri Goddard sent the Cruel Intentions star an at-home color kit to use herself.
Blair posted a picture of her new, rich chocolate-brown shade to Instagram on Friday.
The color looks similar to the shade she had in some of our favorite movies, like Cruel Intentions and Legally Blonde.
In her selfie, the actress can be seen wearing a custom-designed tee by Los Angeles-based brand Janey Lopaty Vintage that says "I Miss You." She tagged many of her famous friends, including Kris Jenner, Claire Danes, and Sarah Michelle Gellar (aw!) in the message. She also thanked Goddard in the caption for dropping off the at-home color kit, and it seems like she's loving her new look as much as we are.
Blair continues to be candid about her health journey. Recently, on Miley Cyrus's Bright Minded Instagram Live series, Blair opened up about how her medical history has given her a unique perspective on quarantine amid coronavirus (COVID-19). She said she hopes others can "find the real gift" in the extra time at home, which for her includes dance parties at midnight with her 8-year-old son, Arthur.
We appreciate Selma bringing us into her hair journey, and we're inspired to do a little at-home hair dye now, too.