Selma Blair defended her grey hair — though she shouldn't have to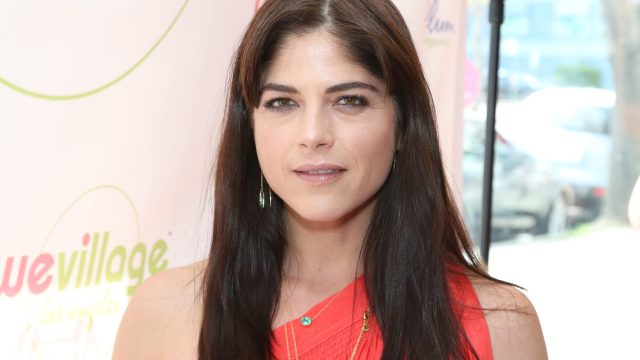 Leave it to Selma Blair to handle unflattering paparazzi shots with humor and grace. The American Crime Story actress took to Instagram on Tuesday, and did just that. Blair defended a photo of her grey roots — even though she shouldn't have to — with a quippy caption joking about the photo and her reaction to it. She wrote,
"Happy Monday. Things to do: turn off Google alert. Stop eating four cupcakes a day. Ask The Daily Mail if they could possibly start using filters. Wear exquisite hats!"
https://www.instagram.com/p/BUuIg7TAexw
Reading about celebrity flaws in tabloids is getting so exhausting. In the grand scheme of things, grey hair and uncolored roots are incredibly unimportant things to dwell on. Plastic surgery procedures, weight gain, weight loss, who has cellulite, who has the perfect "bikini body" — it's all ridiculous!
Thankfully, some of those celebrities, like Selma Blair, can see through the shallowness and are able to make fun of it. Life is too short to worry about silly things!
In fact, Blair included in her caption that she wouldn't mind going fully grey at some point in her life. She wrote,
"I think I have a fantasy I will grow my hair gloriously grey. But it doesn't seem a real option."
We have to disagree, Selma! Grey is not only oddly on-trend right now, but natural grey hair looks beautiful on everyone!
https://www.instagram.com/p/BIqeDOUAaiM
https://www.instagram.com/p/BUcIj31DKp0
Just something to keep in mind!
Blair has the awesome skill of working positivity into any situation and sees passed the silliness.