Selma Blair debuted her shaved head on Instagram and shared an update on her MS treatment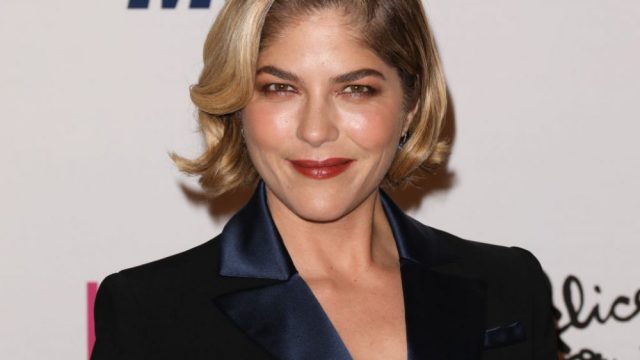 Selma Blair is living with multiple sclerosis, and she often uses her platform to share what that means for her. She's given interviews about MS, has posted emotional updates about her chronic illness, and has generally been very open about her day-to-day life. In June, Blair shaved her head, a decision that she announced with a (since-deleted) picture of her son Arthur holding the scissors. Now, on Arthur's eighth birthday, the actress has shared the first photo of her new look.
Today, July 25th, Blair posted a picture of her sporting her shaved cut at the doctor's office.
In the photo, she smiles into the distance while leaning against her walking bike. "Today is a banner day," Blair wrote. "I am being discharged from the care of an incredible team of nurses and techs and a visionary Dr. who believes in my healing as much as I do. This has been a process. And will continue to be one."
https://www.instagram.com/p/B0WCYC6HOyp
The Cruel Intentions star shared that her immune system will be compromised over the next few months. She explained that she had refrained from talking about her hospitalization because she wanted privacy. Blair thanked her followers for their support and added, "I am excited to share this journey when I am ready." She ended the post by referencing Arthur's eighth birthday.
"This is the best gift I could give to Arthur. #newimmunesystem #whodis?" she concluded.
Earlier in the day, Blair got candid about how difficult it was to be apart from Arthur on his birthday.
She recalled her difficult labor and her son's delivery via C-section and accompanied the post with a picture of the day he helped her shave her head. In the picture, she stands upside down while Arthur trims her short locks with scissors.
"Jason cut the cord and said he looked like me," she wrote. "And now my kid can cut his moms hair and make jokes and assure me just by being him that I am good enough. Even if we aren't together for this birthday. Which makes tears well, I know he is happy with dad, dancing and playing on the beach later today. What more could I really ask for. Happy birthday. My son. I love you oceans, mama."
https://www.instagram.com/p/B0VScVKnu7o
We're sending so much love to Selma and Arthur today.