Yes, please: This machine turns selfies into chocolate, gold-dipped lollipops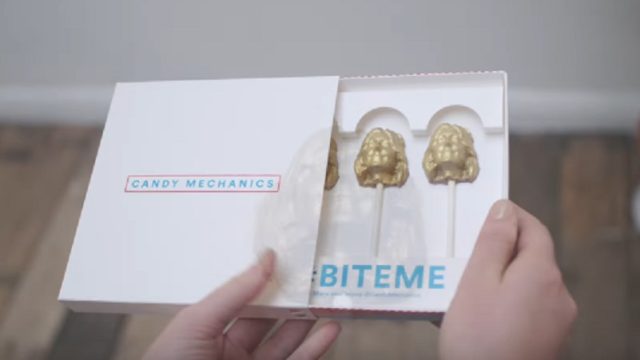 We've all taken at least one selfie in which we look downright delicious. If you haven't, get to work on refining your yummiest facial expression because this machine turns selfies into chocolate, gold-dipped lollipops and we can't think of a single person who wants an awkward smirk on their candied likeness.
Obviously, this is the most fitting gift for the obsessive selfie-taker in your life (or you, if the shoe fits), but even if you're not on queen selfie level with Rihanna (tbh, who is?), you can still appreciate this because it's hella creative and these lollipops will definitely take your Instagram likes to the next level.
According to Cosmo, the bite-sized candy busts are called Lolpops. To turn your face into candy on a stick, you take a video of yourself and submit it to UK-based company candymechanics.com. For around $21, you'll get a box of three mini 3D lollipops of your face, so make sure you send them your most fierce look.
To preview what a 3D chocolate of your face looks like IRL, here's a video that explains the process.
https://www.youtube.com/watch?v=BCbJU_nbWHw?feature=oembed
So, we thought that bust of The Weeknd's face was rather impressive, but this is pretty friggin' cool, huh?  Tbh, we're at a point where we prefer animal selfies over human selfies (this app that sends you cat selfies all day is literally EVERYTHING).
As much as we adore our fellow homo sapiens, animals are the jam, y'all, which means we may or may not have just ordered a ton of cat-faced lollipops.