Selena Quintanilla received her Star on the Hollywood Walk of Fame, and fans dressed to impress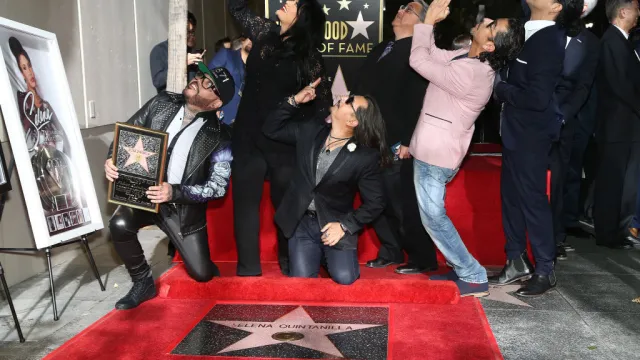 Although it's been more than 20 years since her untimely passing, Selena Quintanilla-Perez continues to live on in our hearts as the Queen of Tejano music. The Mexican-American crossover star mesmerized the world with her catchy tunes and continues to be an inspiration to many people of all ages. That's why it's no surprise that Quintanilla received her star on the Hollywood Walk of Fame last night. It was a very emotional night for many.
The aptly named celebration "Selena Day" was the perfect time for fans to dress up like the "Bidi Bidi Bom Bom" singer. Of course, we emulate her style whenever possible, but it was extra special last night. Remember when Demi Lovato dressed as Selena for Halloween? They looked like identical twins!
The Selena Day festivities took place in front of the Capitol Records building with Selena's sister Suzette, her brother A.B., her widower Chris Perez, and other members of the Quintanilla family. Hundreds of fans also gathered and waited for hours to see the star unveiled.
Suzette helped prepare the star and spoke in honor of the late singer. Though Selena's presence is still alive in today's pop culture, her presence was everywhere during the emotional ceremony.
"Selena was an angel," said Los Angeles Mayor Eric Garcetti, People reports. "While she was taken from us way too early, we now have something permanent that generation after generation can see in the most famous neighborhood anywhere in the world."
Suzette spoke on her sister's behalf and stressed that everyone "can succeed as long as we put in the hard work." She also hopes that Selena's time "sets the example for all of our youth that's out there."
Actress Eva Longoria was in attendance as well and shared her words regarding the talented singer's impact.
"Because as Eric said, this star isn't only for Selena. It's for every Latina who's out there, who has ever had a dream. Growing up there was no reflection of me anywhere, not on TV, not in movies, not in music, and it was as if someone like me didn't exist in American mainstream," Longoria added, according to People.
It was a huge moment for Selena fans of all backgrounds and was an excellent opportunity to bring people together. Look at these outfits!
This young girl gets it.
So does this one!
So many mini Selenas.We're in love.
We think Selena would approve of this hat.
This T-shirt too.
https://www.instagram.com/p/BbD1tgDDEbp
Here's the crowd singing along together.
Suzette concluded the evening by quoting her late sister, saying, "I think Selena said it best, 'The impossible is possible.' I'll leave you with this. Selena said, 'The goal isn't to live forever, but to create something that will.' And I think tonight is a perfect testament to that."
The perfect words for a perfect person. We miss you, Selena.