26 Years After Her Death, Selena Is Still the Pride of Her Texas City
"Selena had humble beginnings, captivated audiences with her talent, and left this world tragically too soon."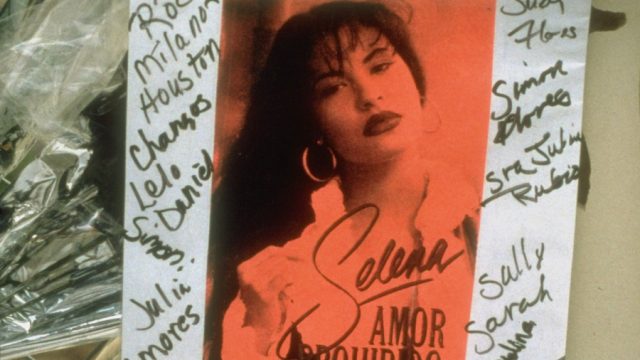 April 16th is Selena Quintanilla Perez's birthday.
In 1996, producers for the Selena movie came to my hometown of Corpus Christi, Texas. Selena had been killed the previous year, and news of a movie about the talented Latina had my city abuzz. On one morning, in particular, our local paper ran a casting call looking for a girl to play young Selena. Our fourth-grade teacher read the announcement to my class and suggested that two of us would be great for the role: me and the only other Latina student in the room. I was a chubby 10-year-old who looked nothing like Selena—a fact I was well aware of—and considered her suggestion pretty ridiculous. Still, the thought that I could play such an important person left me feeling flattered and proud for the rest of the day. That memory stuck with me; not because it's that interesting of a story or my teacher's casual racism.
I remember it because it's my Selena story.
Like so many others who grew up in the town where the famous Latina lived and died, I have a vested interest in—and a few personal anecdotes about—Selena. Just like Whataburger and our pristine coasts, the Tejano artist is a point of pride for all Corpus Christi residents. In her lifetime, she quickly captured our hearts with her bright smile, effervescent personality, and genuine appreciation for her fans. Her untimely death forever cemented her as our city's favorite daughter.
Those of you who didn't grow up with Selena might not understand why her voice still resonates with her fans so long after her death. It's for many of the same reasons why legends like Elvis, Tupac Shakur, and Marilyn Monroe are still revered. Like them, Selena had humble beginnings, captivated audiences with her talent, and left this world tragically too soon.
From an early age, Selena exhibited perfect pitch and musical timing. She started off singing at her parents' Mexican restaurant while her family's act, Selena y Los Dinos, played anywhere they could. Her father and manager Abraham Quintanilla, Jr. at first had difficulty securing gigs for the band. Many Texas venues insisted that the group would never make it big with Selena as their lead singer. Being a woman in a male-dominated field made it difficult for Selena to get her fair shot, as so often is the case.
Selena was up against a lot of machismo, and Tejano music wasn't considered a genre for young people. It wasn't thought of as hip or innovative, and Tejanos were looked down on by Mexican audiences for being too "unsophisticated." Selena wasn't the blonde-haired, light-skinned star that Latin audiences were used to seeing on telenovelas. She was brown, her conversational Spanish was kind of terrible, and she performed in revealing bustiers. Latin audiences weren't used to any of this.
Yet between the time she signed with EMI Latin Records in 1988 and her tragic death in 1995, Selena accomplished enough to make her a Latina icon. In that short time, she became a spokesperson for Coca-Cola, released four studio albums, and became the first female Tejano artist to win a Grammy for Best Mexican/Mexican-American Album. Selena also married the love of her life, cemented bedazzled bustiers as an enduring fashion trend, and made Tejano music more popular than it has ever been, before or since her time.
Perhaps the biggest part of her legacy is the genuine joy that emanated from her when she entertained. Whenever you saw Selena perform, you knew that she loved doing it. She performed as much for her own appreciation of music as she did for the cheers of her fans. And we loved her for it.
When Selena was betrayed by family friend and fan club president, Yolanda Saldívar, it was the end of her mortal body. However, memories of the Queen of Tejano have endured—especially in the town she called home for most of her short years.
If you visit Corpus today, you'll still be reminded of Selena at every turn.
Along the seawall, just miles away from where the Queen of Tejano was laid to rest, you'll find Mirador de la Flor, a monument to the late artist. There, looking out toward the Corpus Christi Bay, is a 5'8″ bronze statue of the Tejano singer. Every year, over 300,000 people visit Selena's Seawall to pay their respects to the late Latina.
A short distance away is Q Productions, the studio still owned and operated by the Quintanilla family. This working studio is where Selena recorded her last album and where several scenes were filmed for Selena. Since her days behind the mic, Q Studios has grown to include the world's only Selena Museum, featuring memorabilia like Selena's red convertible, her Faberge egg collection, and her most iconic looks. On any given day—even now, 24 years after the Latina's death—the museum still draws crowds that stretch outside their doors.
Selena's spirit is immortalized in so many other ways throughout Corpus. You'll see her star on the South Texas Music Walk of Fame, you'll find several murals of the icon painted throughout the city, and you can visit a permanent exhibit honoring Selena at the Corpus Christi Museum of Science and History.
In fact, Selena is so tied to Corpus Christi that her memory echoes even in the most ordinary of places. In the park where her mother taught her how to dance the "Washing Machine." At the courthouse where she and Chris Perez became husband and wife. And, more morbidly, at the hotel where she was shot. All these places are alive with her spirit.
March 31st marks the 26th anniversary of Selena's death. Heartbreakingly, she has now been gone for longer than she was allowed to live. Fans around the world grieved. We mourned and wondered about the what-ifs, the could-have-been of Selena's life. Her music was played, both her soulful ballads and up-tempo numbers. She was remembered for the vision and voice she gave us, and we will keep remembering.
A lot more could be said about her life and legacy, but I think the plaque at Mirador de la Flor expresses it best: "Selena's stage is now silent yet her persona enriched the lives of those she touched. And her music lives on." Que en paz descanse. May she rest in peace.