Selena Gomez's mother wrote a letter to the daughter she lost in a miscarriage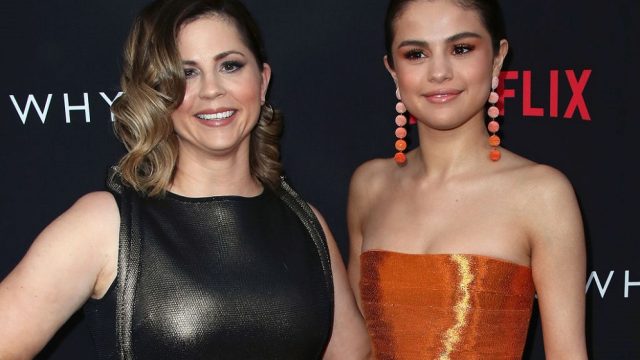 Even though it's a topic many people stay hush-hush about, miscarriages are more common than you may think. Selena Gomez's mom, Mandy Teefey, had a miscarriage in 2011, and Gomez was more than supportive when the news broke. The baby girl, whom Teefey had with husband Brian, was going to be named Scarlett. To this day, they find creative and special ways to honor her.
Defined by WebMD as a loss of a pregnancy before 20 weeks, miscarriages can affect as many as 50% of pregnancies. Around 80% of miscarriages happen in the first trimester, which is the reason why women often wait before making a big announcement. This also means many women may not even realize they've had a miscarriage, and might mistake bleeding for a late period. No matter their circumstances, miscarriages can be devastating, and for many women who were anticipating a baby, the experience will stay with them forever.
Like many babies lost to miscarriage, Scarlett has her own day of remembrance — December 17th. Fans of Gomez made sure to give Teefey their thoughts and best wishes, which she acknowledged on Instagram.
Teefey also posted a few photos and wrote a heartbreaking caption about how they celebrated baby Scarlett.
https://www.instagram.com/p/Bc3udRFheLS
In the post, she shared photos of her with Gomez as a baby — as well as a photo of Gomez lovingly holding Teefey's baby bump.
"Thank you to all the fans who honored our Scarlett yesterday," Teefey wrote. "Dec 17th will never be the same, but we decide to celebrate her by writing her letters on red balloons and releasing them. Now the 17th is intertwined with the wrap of S2. So, she was there in spirit as always. A moms love for their children is pretty fierce. In order of my girls, Selena, Scarlett and Gracie. Family is what matters, blood or not."
Teefey is referencing her show, 13 Reasons Why, on which she — along with Gomez — serves as an executive producer.
We're so happy that Teefey has found a way to celebrate the memory of Scarlett, and that she clearly has so much support from family and caring fans. Her post is also a reminder that having a miscarriage doesn't mean you've done something wrong — and more people than you realize have suffered from one, too.