Selena Gomez's zebra-print coat makes a real statement, and it's totally affordable on sale
Selena Gomez always knows how to make timeless fashion look brand new. With smart styling (by a dedicated team of experts, we're sure) she can make the basics look anything but. Her go-to style often includes a few wardrobe essentials, like a solid black turtleneck or a trusty pair of great-fitting jeans. Then, she'll top it all off with a bold lip or a statement piece to take the look from classic and cool to Fashion with a capital F.
Back in December, Gomez turned getting dressed into a sporting event—which she obviously won. During a press tour in London, she made not one, but three outfit changes in the course of one day, and she killed it each time. Her four-outfit marathon included a Canadian tuxedo, glittery gold trousers, and three coats that could each hold their own in any fashion race.
Her round sunglasses, dark mauve lip color, and '70s inspired shag bangs were a constant throughout, but there's one piece we just can't stop thinking about: That. Zebra. Print. Coat.
And it just so happens that somewhere, somehow, the fashion gods are looking out for us because it'ss on major sale.
Basically, it's the coat that you tell your go-to, camel coat not to worry about. And don't get us wrong, we love the camel coat trend for everyday wear. But this Mango Belted Faux Fur Coat is the statement piece our hearts have been longing for.
Shop Selena Gomez's zebra-print, faux fur coat for yourself below while it's still on sale at Mango.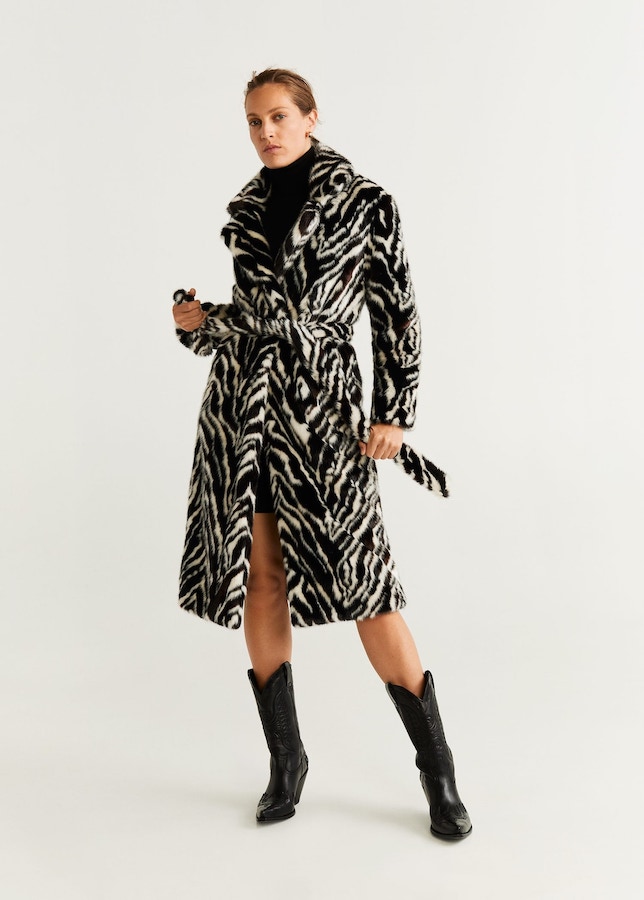 $199.99 (orig. $299.99)
Shop it
Mango
Once you've secured the coat, you might as well copy Selena's entire look because, why fix what isn't broken?