Selena Gomez and The Weeknd gave the matchy-matchy look a try in NYC this weekend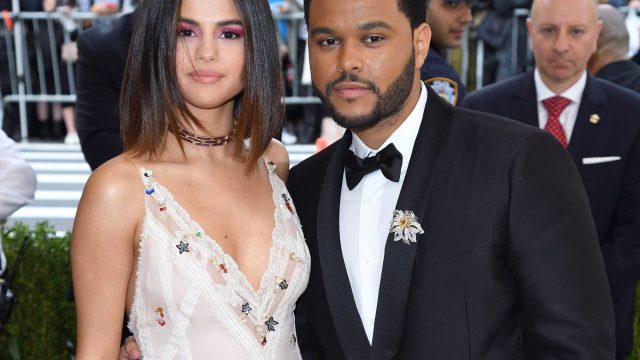 Wow, this is a big relationship milestone. Selena Gomez and The Weeknd wore matching outfits while out and about in NYC this weekend, and it's a sign that the adorable couple is, well, really adorable. They might be the most adorable couple ever to exist, in fact, but adorable probably isn't the look that they're going for, considering their matching look was more bad-ass biker couple than Lucy and Ricky Ricardo.
BUT! Gomez and The Weeknd snuggled with puppies this weekend in the city, so maybe cute is what they were aiming for — in an early-aughts band Cute is What We Aim For kind of way.
ANYWAY! Regardless of their intention, they looked amazing in matching leather jackets
They're perfectly edgy and chic together!
Wearing matching clothes with your S.O. can easily be cheesy or, to use a term from Project Runway,costume-y, but it's no surprise that when Gomez and The Weeknd do it, it's anything but.
They are basically the opposite of Justin Timberlake and Britney Spears in matching denim outfits.
You know the outfits we're talking about…
Gomez and The Weeknd did come close to copying that notorious early-2000s fashion disaster when they matched in blue outfits earlier this summer.
But they managed to pull it off pretty effortlessly.
It seems that Gomez and The Weeknd often coordinate outfits before leaving the house, which is actually so sweet. For instance, they rocked complementary athleisure looks at Disneyland recently.
https://www.instagram.com/p/BYEXQL2lvOh
And they also had perfectly color-coordinated outfits on for a dinner out in NYC earlier this summer.
https://www.instagram.com/p/BU_XHGJA2Ae
We have to say, Selena Gomez and The Weeknd are making matching couple outfits way more amazing than we ever could've dreamed they'd be. Of course, it helps when both members of the couple are individually stunning and stylish.
https://www.instagram.com/p/BYSPtvNFz-N
They really can't go wrong, and we love them for that.