Selena Gomez's heartfelt speech about BFF Taylor Swift will make you believe in the power of female friendship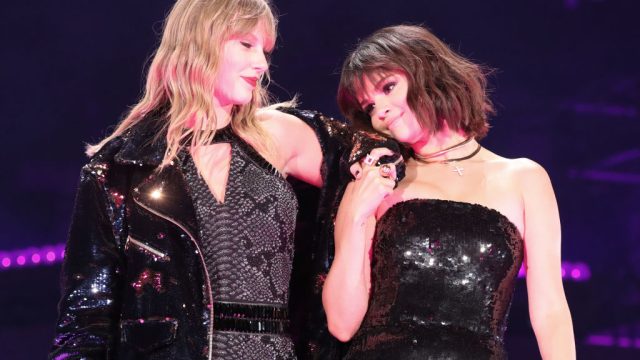 During Taylor Swift's May 19th, 2018 Reputation Tour stop at the Rose Bowl in Pasadena, she surprised fans by bringing Selena Gomez to the stage for a joint performance of "Hands to Myself," a song that Swift introduced as an "iconic bop." The girls slayed their duet and then to Swift and the audience's surprise, Gomez decided to speak and things got real. Still out of breath from the song, Gomez turned to the audience and launched into the sweetest tribute to her friend Swift.
"I have to say thank you to my best friend of 12 years, almost 13," Gomez began her speech. "The reason why she has been one of my best friends is because this person has never, ever judged a single decision I've made. She's always met me where I've been, she's encouraged me when I've had nothing to be encouraged about. I don't know if I'd be as strong as I am if I didn't have you or your family, because you've changed my life."
Our jaws are just like…hanging out on the floor.
Gomez continued by turning her attention to the audience: "Honestly thank you from the bottom of my heart for supporting someone that I know that is the most beautiful, strong, independent woman I've ever met. So thank you for supporting my best friend."
Even Swift's face, while it was happening, was like, "Girl, where are you going with this?"
Swift seemed genuinely surprised by the mushy speech, which probably explains why she posted her own heartfelt note to Gomez later on Instagram.
"To the person I could call at any time of day, who has been there no matter what… you absolutely KILLED IT tonight and everyone was so excited to see you. I love you, and 60,000 people at the Rose Bowl loved you too," Swift wrote to Gomez on Instagram.
You can watch the entirety of their duet and Gomez's powerful speech here — she starts talking around the 3:13 mark.