Selena Gomez just broke this gigantic Instagram record, and she wasn't even trying
All we've got to say to Selena Gomez right now is, "good for you," girl!
The pop star can firmly plant a crown on her head today, because she just broke a massive social media record — Selena officially has more than 100 million Instagram followers, which makes her the first person ever on the photo- and video-sharing app to hit that major milestone.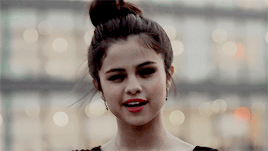 Selena hasn't posted anything to her Insta account in several weeks… if you'll remember, she is taking a break from the spotlight to take care of some health issues, as she told People in August. At the time, Selena said,
"As many of you know, around a year ago I revealed that I have lupus, an illness that can affect people in different ways. I've discovered that anxiety, panic attacks and depression can be side effects of lupus, which can present their own challenges. I want to be proactive and focus on maintaining my health and happiness and have decided that the best way forward is to take some time off. Thank you to all my fans for your support. You know how special you are to me, but I need to face this head on to ensure I am doing everything possible to be my best. I know I am not alone by sharing this, I hope others will be encouraged to address their own issues."
Her fans not only understood her desire for some quiet time, but did everything in their power to get their queen to the top of her Instagram game, getting the hashtag #SelenaBreakTheInternet trending to bump her up to the 100 million follower mark.
Selena's fans have proven time and time again how loyal they are to her by way of "double taps" — back in July, Selena also broke the record for most Instagram likes on a single photo, which now has more than 5.6 million likes.
Here's hoping that Selena is taking the time she needs to feel better. Her fans — all 100 million of them — are always by her side, no matter what.