Viewers are accusing Selena Gomez of lip-synching her AMA performance, and her fans are NOT having it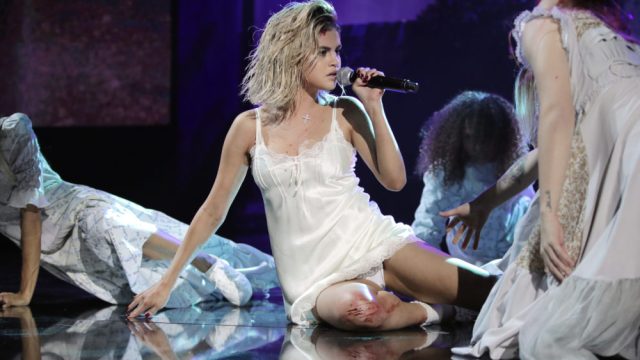 Mere hours after stepping out into the world as a brand new blonde, Selena Gomez performed at the AMAs. She took to the stage with Marshmello, and performed her hit song, "Wolves" to a cheering crowd, and thousands of viewers watching at home. While her performance was amazing, and she totally nailed it, some viewers couldn't help but notice that Selena might have been lip-synching. They took to Twitter to point this out.
And Selena's legion of fans immediately took to Twitter to shut? them ? down.
To put it simply, Selena has had a year, and every challenge that has come her way she's faced with grace and strength. This past summer she released a slew of brand new songs and she had a kidney transparent — and subsequently, went completely MIA to recover (and we continue to wish her well!). She also just recently broke up with her boyfriend, The Weeknd, and may or may not be dating Justin Bieber again (¯_(ツ)_/¯). The American Music Awards performance is her only live performance slated for 2017, and obviously fans were eager to tune in. However, some were left a little less than thrilled, noting that at certain points during the song, it appeared as if Selena's mouth wasn't moving — but she was still "singing," meaning that she had been lip-synching the whole thing.
false
Before any of these lip-synch accusations really took off, Selena's loyal fans were quick to jump in and defend the singer. She's had a YEAR, and if she didn't feel up to singing live, it wasn't required of her. She just needs do to what she's comfortable with, and if that means no singing, she doesn't sing. false false false
false
Though it's completely unconfirmed, Twitter also believes that Selena had a panic attack just before going on stage — and you try performing to a packed house, on live TV, after a panic attack. So, whether Selena actually lip-synched or not shouldn't really matter. What matters is that she's had an up and down year, and felt that now was the time to start performing again — and we're just so happy to see her making music again and getting up on stage. Also, now we're listening to "Wolves" on repeat, brb.