Stop everything: Selena Gomez and Justin Bieber were seen kissing in public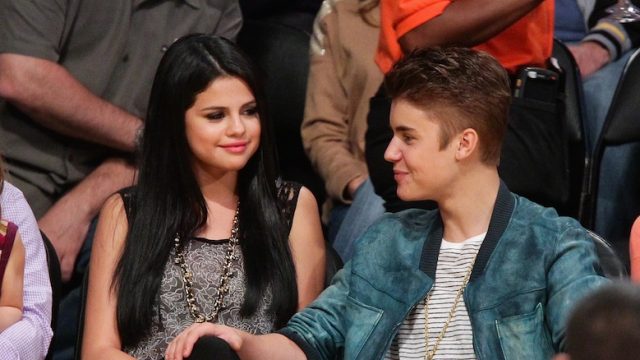 Over the past few weeks, it certainly seemed like these two were more than just friends, but now we have pretty definite confirmation because Selena Gomez and Justin Bieber were spotted kissing. If we had to make any bets about it: Jelena is back on.
In case you've somehow missed it, in late October Selena and Justin got breakfast together, sending the internet into a frenzy. Then the news broke that Selena had broken up with The Weeknd. She was later spotted wearing one of Justin's hockey jerseys to watch him play the game.
The pair was next spotted together twice in one day, causing many to speculate they had rekindled their romance — though nothing was confirmed. And now, it seems Justin and Selena are ~officially~ back together, because they are on a kissing level, and let's be real: pictures don't lie.
The kiss occurred in an ice hockey ring while Selena watched Justin play. Justin, in full hockey-gear, skated over to the sideline to check in with Selena…at which point she leaned over the divide, rested her hands on his shoulders, and planted a smooch right on his mouth (not a peck — a smooch). Nearby paparazzi captured the moment. false
false
As exciting as this may be, a kiss still doesn't mean they're officially back on. They could just be enjoying each other's company in a low-pressure, casual situation, which we would also be entirely here for. We just hope they're both having fun, because both have had some turbulent times this past year, and they deserve to be happy.
We're sure they'll confirm or deny the romance rumors in good time, meaning when it makes sense for them. And if you must (you probably must), you can check out the photos here.