Selena Gomez dancing at "boyfriend" The Weeknd's concert is totally the heart eyes emoji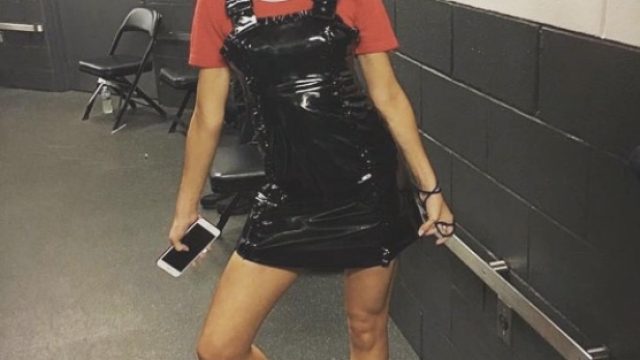 Selena Gomez and The Weeknd (or Abel Tesfaye) are one of our fave new couples. The two seem so in love! It would be nauseating if it wasn't so cute! After Selena's rough few months last year, we are beyond thrilled to see her so happy.
A testament to this couple's cuteness? Selena's adorable dance moves while watching her boo perform last night. The singer, actress, and 13 Reasons Why producer caught Tesfaye's show in Brooklyn and couldn't help but bust a few moves to his hits.
But, first? Gomez decided to grab some cheesecake before his concert. Lol, random, but okay. In an Instagram video posted by a friend, Gomez calls The Weeknd her "boyfriend" while she shoves cheesecake in her mouth by the fork-full. Yas.
She, then, took an adorable pic backstage at his show and posted it on her Insta:
Then, the cutest part, we have Selena LOVING her boyfriend's performance of "I Feel it Coming." So precious! false
And another of her bopping to the music. Props to Selena for dancing all night despite that she had a stomach full of cheesecake. false
These two have been dating since January, but have been relatively quiet about their relationship. They made it "Instagram official" in a sense back in April, when the Weeknd posted this photo:
https://www.instagram.com/p/BSnh3GMh4yZ
Selena followed up with this pic about a week later:
More recently, the duo went to the Met Ball together!
Selena recently said that she loves having the opportunity to be supportive of Tesfaye by going to his shows. "I love just being there and having someone's back," Selena told SiriusXM's Nicole Ryan. "It feels good. I haven't had that feeling in awhile."
We love seeing these two so happy together! We hope to see more vids like this soon!