8 spoilers we can decode from Selena Gomez's new video for 13 Reasons Why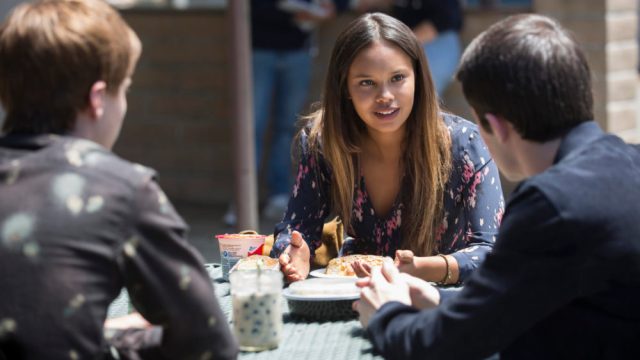 Ahead of the highly anticipated Season 2 release of 13 Reasons Why next week, Selena Gomez has dropped a personal new song from the show's soundtrack. In "Back to You," Gomez sings of regret and mourns a complicated relationship — seemingly referring to her relationship with Justin Bieber, which is reportedly over for good — prompting a lot of buzz.
When she premiered the song on Beats 1, Gomez told host Zane Lowe that the song wasn't specifically written and recorded for the series, but the singer felt the "beautiful" and "complicated" message was something that would resonate with the series. She said,
"I want it to be a beautiful message in a really complicated way, but really fun. But I think that 'Back To You' is more of my special project that I wanted to give to Season 2.
Sure, the lyrics are riddled with apparent Bieber references, but in the new "Back to You" lyric video, it's all about 13 Reasons Why. The Netflix breakout hit is in new territory for Season 2, pushing past Jay Asher's source material in a pretty big way — and fans are eager to catch up with the Liberty High teens when the series returns. But considering the numerous cliffhangers Season 1 ended on, fans have been picking apart Season 2 promotional material, looking for clues.
Gomez's lyric video for "Back to You" is no different.
https://www.youtube.com/watch?v=ulNswX3If6U?feature=oembed
The mournful lyric video is full of references and hints about the upcoming season, from grief to reconciliations.
Here are the 13 Reasons Why Season 2 sneak peaks we found in the "Back to You" lyric video:
Clay is seeing Hannah everywhere.
This one isn't too much of a surprise, considering Clay's overwhelming continued grief was considerably present in the Season 2 trailer — to the point where he's been seeing her…everywhere. The "Back to You" video dives deeper into Clay's grief as he mourns the relationship he didn't have with Hannah, full of regret that he never told her how he felt about her.
Alex Standall has survived his suicide attempt – and is rocking new hair.
One of the biggest cliffhangers from the Season 1 finale was whether Alex survived his suicide attempt…and it appears he did. Alex was largely hidden in the official Season 2 trailer — though if you look closely, he definitely makes an appearance or two — but the "Back to You" trailer heavily features the teen, and it seems he's ditched the bleached blonde locks for a more subdued brown.
A very different Justin Foley returns.
Serial predator Bryce Walker may be coasting into Season 2 like it's no big deal, but it appears Justin is (rightfully) consumed by guilt from his role in Jessica's rape. After skipping town at the end of Season 1, the formerly cocky, letterman jacket-wearing jock is back and looking pretty terrible — and it appears he's looking to make amends.
Jessica and Alex have renewed their friendship.
Much of Season 1 featured the friendship among Hannah, Jessica, and Alex — which fell apart after Jessica and Alex began dating and later broke up. But it seems Jessica and Alex may be giving friendship — or more? — another go after regretting how things went down the first time around.
Tony gets in a fight…and seeks comfort from his boxing coach.
We've seen Tony's smashed car, and we've seen a still of him being comforted by Caleb, his boxing coach. But the lyric video adds to the picture as we clearly see Tony sporting a bloody nose. The Season 2 release announcement and trailer already hint at the messy season to come for Tony, marking a serious change for the guy who was outside the action for most of Season 1.
Clay gets a semicolon tattoo.
After Season 1, Gomez and much of the cast got semicolon tattoos in support of Project Semicolon, an organization dedicated to suicide prevention. Based on the lyric video, which shows Clay getting a semicolon tattoo of his own, it appears Season 2 may bring the Project Semicolon conversation to the small screen.
There's a big dance during Season 2.
Much like Season 1 featured a big dance, it appears Season 2 will find the Liberty High teens gathered around the school gym. Buried towards the end of the lyric video is an emotional moment at the dance, as Clay seemingly embraces Jessica in a hug while Tony and Alex watch on either side of them, with Zach joining the mix and putting his arm around Alex. The lyric video also includes a quick clip of Justin and Clay dancing, and Jessica slow dancing with what looks like the back of Justin's head. Could this clip be from the end of Season 2 when Bryce is arrested and scrubbed off the face of Liberty High? We'll be keeping our fingers crossed.
It's going to be an emotional season.
The lyric video features a devastating shot of Jessica sobbing into her pillow, Alex knocking everything off his bureau in anger, and Clay tearily looking at his manifestation of Hannah. Considering Season 2 finds many of our teens on the road to recovery after the events of Season 1, it's definitely going to be an emotional, but hopefully cathartic, season.
Season 2 of 13 Reasons Why will begin streaming on Netflix on May 18th.