Britney Spears makes a cameo on Jamie Lynn Spears' new TLC documentary, and is the cutest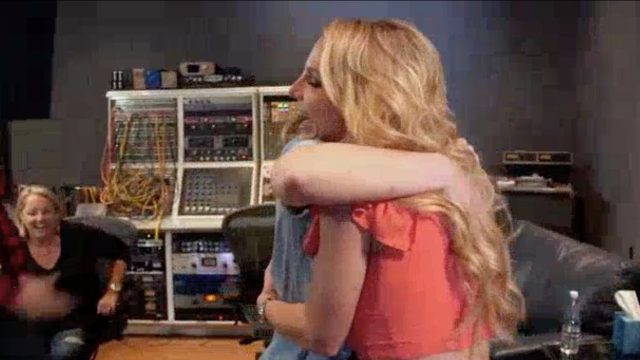 Among all the young singers who are getting their name out there, Jamie Lynn Spears is leading the pack. She recently launched her comeback to music (somehow she found time, because she's been kind of busy being a mom and wife!) and we're pretty excited that her TLC documentary "When the Lights Go Out" has documented her emotional personal story and rise to fame. OH, and we're even more thrilled that it includes a cameo from her big sis, BRITNEY! Honestly, it wouldn't be complete without that, right?!
Check out the moment when mega-star Britney joins Jamie Lynn in the recording studio, to listen to her new single, "Sleepover." It's a familiar place for Britney, but there's no trace of an ego here. It's clearly all about Jamie, and her music. false
What a beautiful family affair! Of course, there's more where that came from. false
As you can see, Britney was on top form (would you expect anything less?) false
It's great that Jamie Lynn has support from Britney, who has obviously been there a million times, and done that. She's also Jamie Lynn's biggest fan, which is pretty adorable.
If you weren't able to catch the documentary when it aired on June 26th, at least you can hear Jamie Lynn's country single,  "Sleepover." Give it a listen right here. She's a talented gal! Must be in the genes. https://www.youtube.com/watch?v=
Best of luck to Jamie Lynn! We know that she will continue to kick butt, both in music and in her family life.