Regular girls with amazing street style fashion at Berlin Fashion Week are slaying harder than the models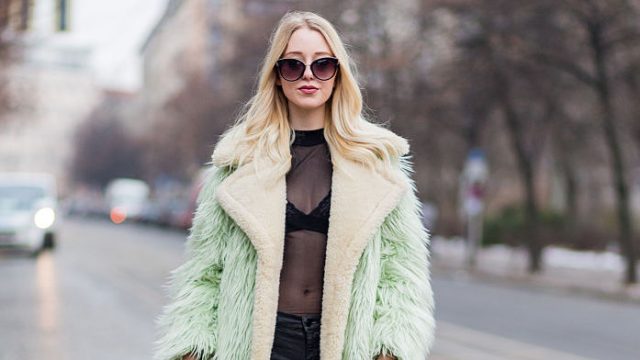 There are a lot of fashion weeks happening now, but in Germany it's officially Berlin Fashion Week and the regular girls are killing it with their street style looks. This week kicked off the Mercedes-Benz Fashion Week in Berlin, Germany, but it's the non-runway looks that we're obsessed with.
Whether its models, celebrities or just your average person, the streets of Germany have been filled with style inspiration this week.
We've rounded up the best 14 looks from people just like you — mostly ladies, but a few fashionable men as well — to give you serious style envy. It's not about the catwalk anymore…we're taking it to the streets!
Girl On The Go
We are loving this combo of black and brown. The brown furry coat perfectly accents Luisa Lukasczyk's all-black moto-inspired look. Plus, who doesn't like a big bag?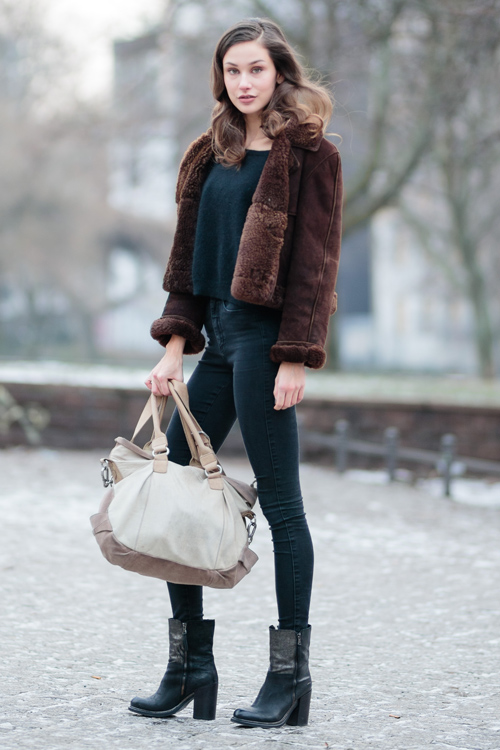 Red Leather Love
PR guru, Sonia Lyson was totally checked out — or in — with this fabulous coat. We're a little more into her red, PVC pants from Topshop, however. They are SO outrageous and yet, the perfect pant.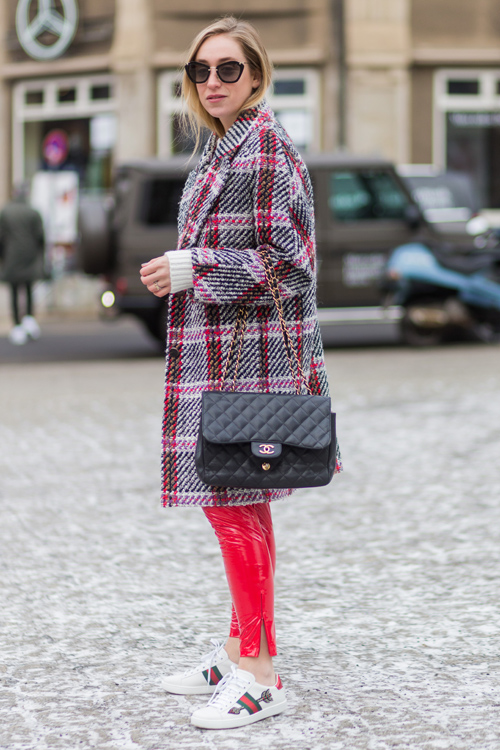 Burgundy Pops
Calling all burgundy lovers, this look is for you. The combo of a casual sweater, navy overcoat, ripped jeans and pops of burgundy are ideal for winter.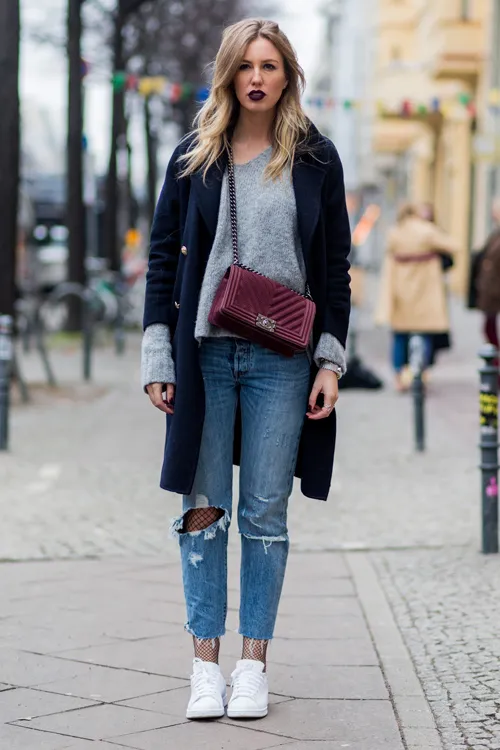 Coat Cool
Who says guys can't rock giant coats? Especially, if they are soft and grey like this one.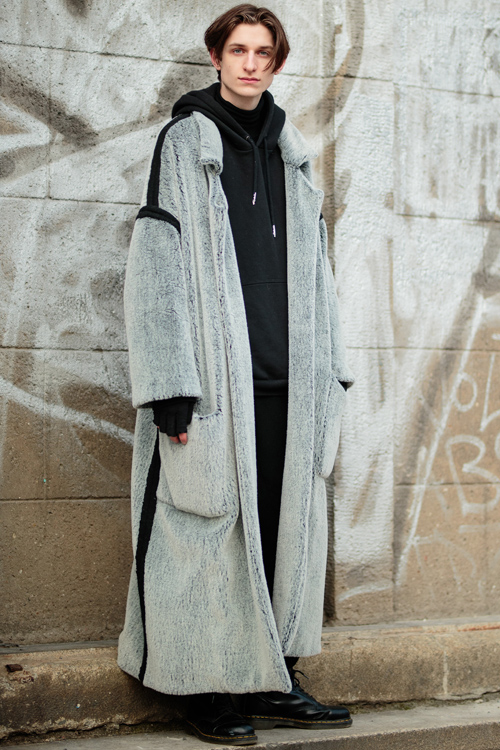 Mustard Muse
We've always loved mustard as a color for fall, but seeing it as a full suit has given us serious inspiration for any time of year.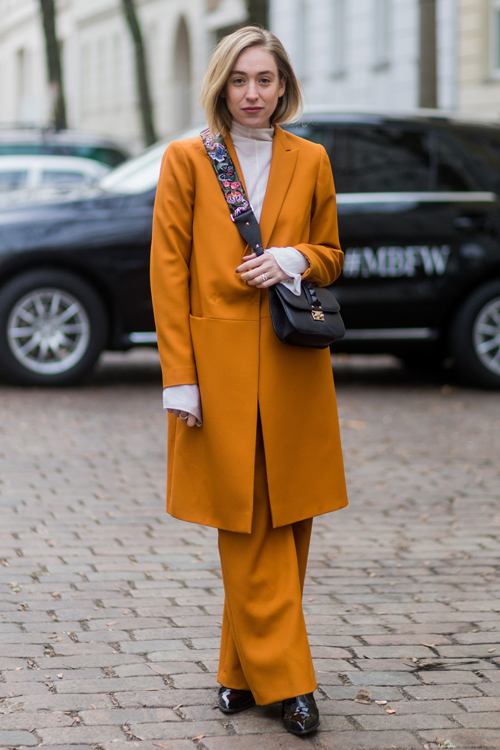 Black Beauty
Black is never a bad idea, because it clearly never goes out of style. You can make your all-black wardrobe even more chic by adding a fun hat and stylish coat.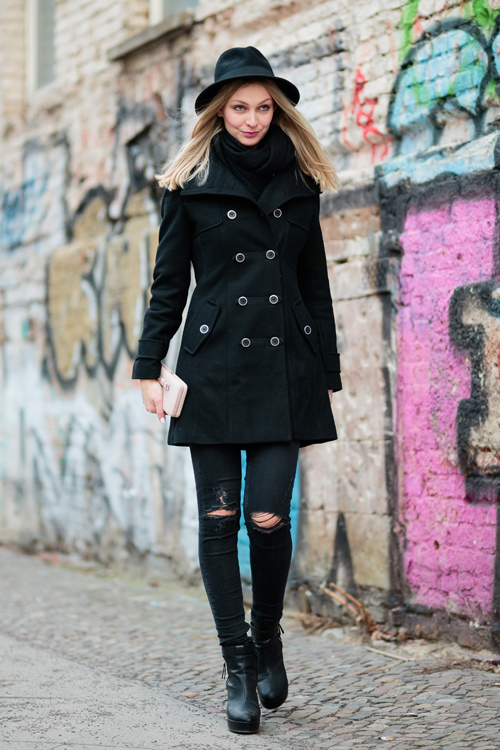 Maxi Dress Goddess
Wearing a maxi dress never looked so chic! We're loving the blue color paired with a leather jacket and winter accessories for a more edgy vibe.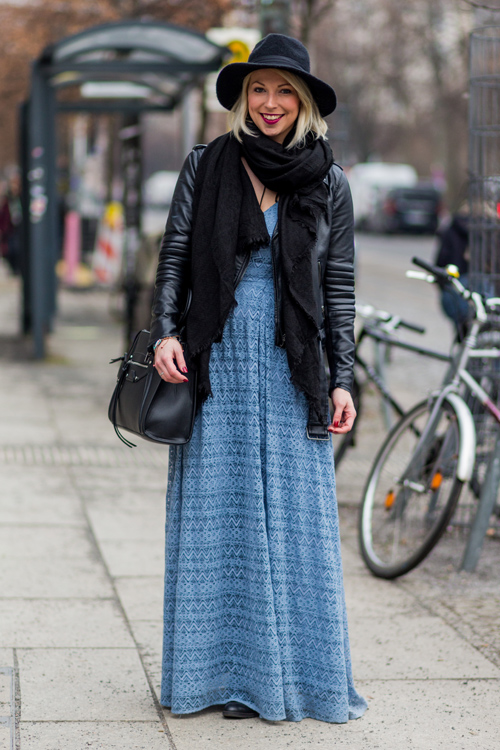 Hipster Guy
Seriously, can we meet this guy? He has such a unique style…mainly that furry coat and striped shirt combo.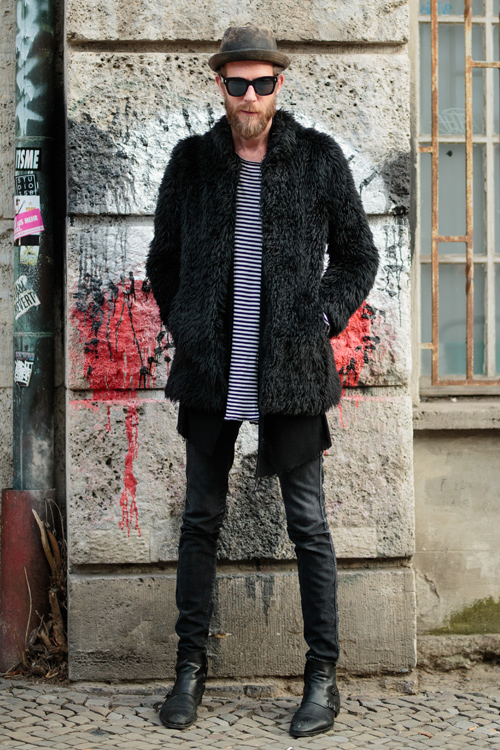 Color Explosion
This might be one of our favorite street looks, because you don't know where to look. The yellow jacket seems retro, but the multi-color, flower boots are so funky and new. It's just a great creation.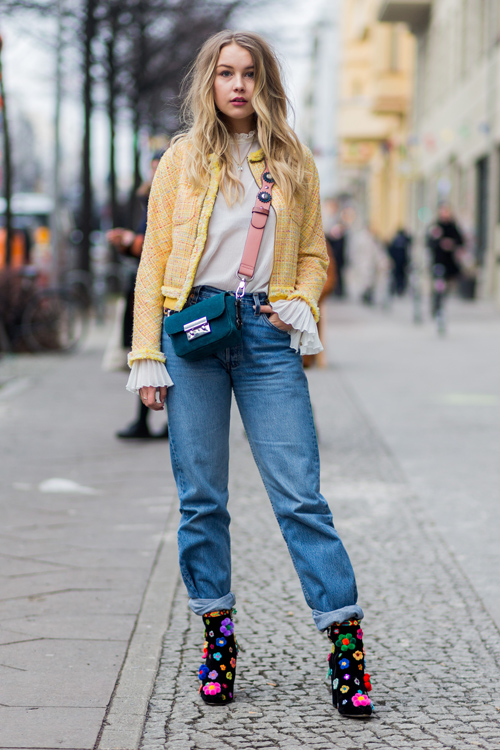 On The Edge
Blogger Diana Buenger, creator of The Fashion Anarchy, channeled her inner rockstar with this edgy ensemble.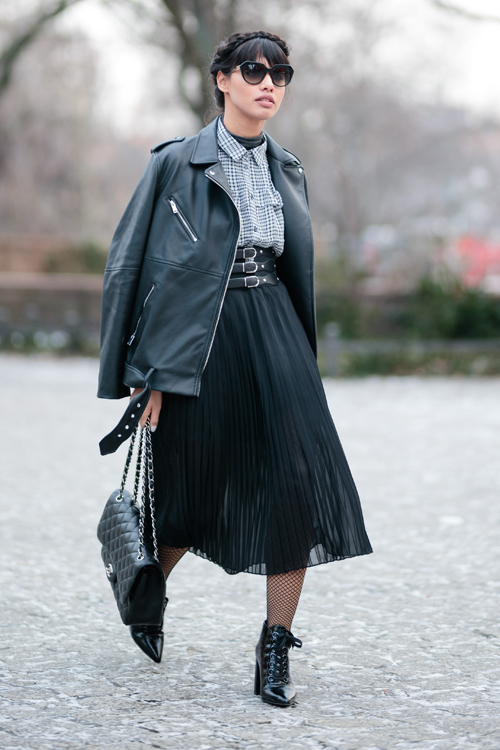 Our favorite part? The sassy "Girls Rule" leather jacket, duh!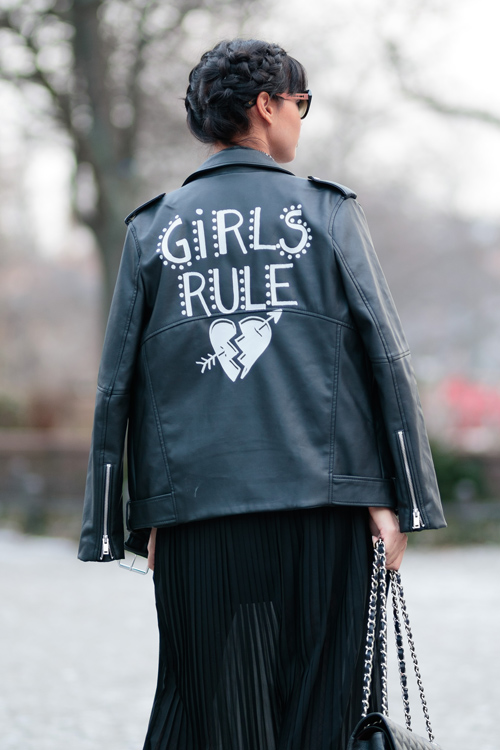 School Girl Chic
Calling all school girls, here's how to spice up your style! The decision to rock a vintage plaid coat, with a knit sweater, skirt and of course fishnets, is so school-girl sexy it hurts.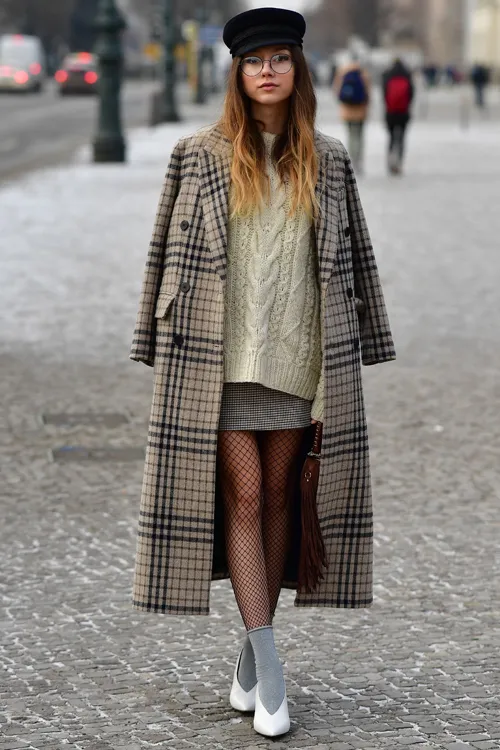 Street Style Success
We can't get enough of this mini skirt (that looks textured), red top and leather jacket style. The baby pink beanie and bordeaux handbag take it to the next level of cool.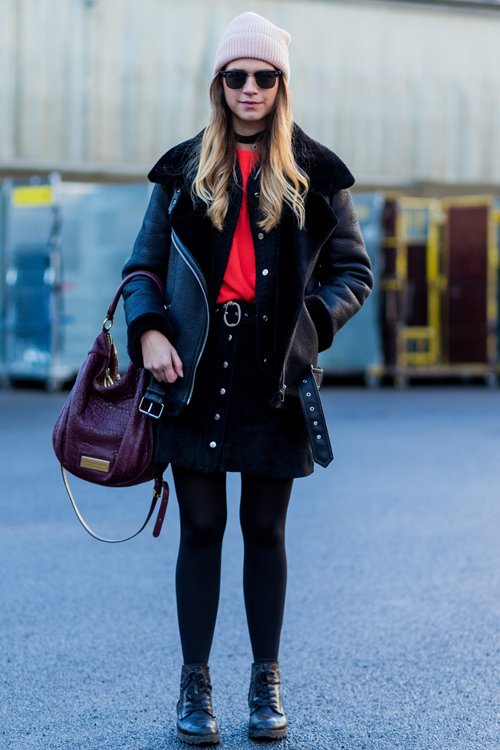 Red Jumpsuit Alert
You don't see this kind of wardrobe walking down the street every day, but it's worth being on display for sure. The color alone makes it a standout look, not to mention the sassy boots to top it off.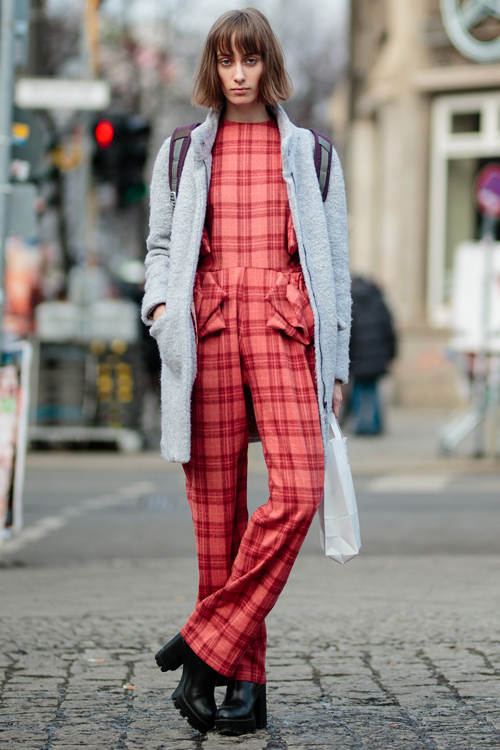 Professional Stylista
We need to recreate this look ASAP! The Gucci skirt and black turtleneck look even more sophisticated and feminine when paired with the perfect brown coat and knee-high boots.
Which street style ensemble is your favorite?