7 all-natural secrets to good skin, according to Reddit
You're missing out on some of the most useful skincare hacks if you haven't ever submerged yourself into the Reddit beauty world. There are thousands of beauty enthusiasts and seasoned makeup users who offer suggestions on which mascara to buy, which foundation to rely on, and which moisturizer will keep you from breaking out. Reddit could easily become your go-to place for beauty tips.
One thing Reddit users particularly love talking about, though, is skincare. You'll find all kinds of skincare suggestions that feature all-natural oils and ingredients, each of them tested by trusty Reddit users before they've been suggested for the rest of us. You'll just as easily find a hack for getting rid of puffy eyes as you will a new kind of oil that changes your whole life. Take notes!
Here are seven secrets to good skin that Reddit users swear by.
1. Using Manuka honey to fight acne
https://www.instagram.com/p/BRSjTPdhLVU
Manuka honey isn't just any old honey. It's the honey harvested from bees in New Zealand that use the nectar from Manuka flower bushes, and the hydrogen peroxide it naturally contains has strong antimicrobial properties. Megmec444 sings its praises and insists that "its antibacterial properties that are highly effective against acne."
There are all sorts of skincare products out there that use Manuka honey in their formula, but you could go straight to the source, get some Manuka honey yourself, and create your own face masks that will reduce oiliness on your face and decrease acne breakouts.
2. Applying sweet almond oil to dry skin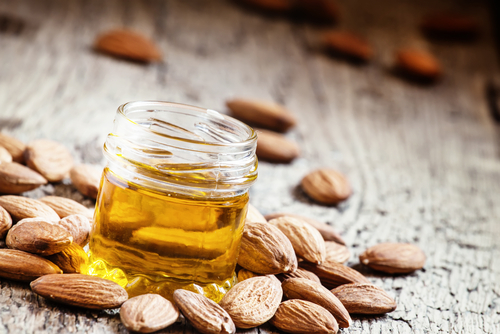 One thing Reddit users have been asking each other is which oil is best to use for dry skin. There was an overwhelming consensus on sweet almond oil, which can be used as a straight up moisturizer and even an eye makeup remover. Annieoats says sweet almond oil is "made of mostly the same fatty acids as your skin and will become part of your skin, bolstering the lipid barrier and reducing your need to moisturize frequently." Plus, it smells amazing.
3. Turning tea tree oil into a facial spray
Tea tree oil is a very strong product, so it needs to be diluted before it's used directly on the skin. Reddit user nexttonormal suggests combining tea tree oil and witch hazel spray, then diluting it and putting in a small spray bottle. Just like that, you've got an all-natural facial spray that treats pimples and leaves your face feeling (and smelling) fresh as a daisy.
4. Using castor oil as a face cleanser
Castor oil is one of those natural oils that breaks up the sebum below the surface of your skin without leaving your skin feeling greasy. It's non-comedogenic, and naturalrecipe says it "removes scars of acne" as well, so you've got a lot to gain from castor oil if you're pimple prone. Some Reddit folks use it as a facial cleanser, but others will even use it as a moisturizer. They even claim it makes your eyelashes grow faster. Um, yes please!
5. Using tea bags for puffy eyes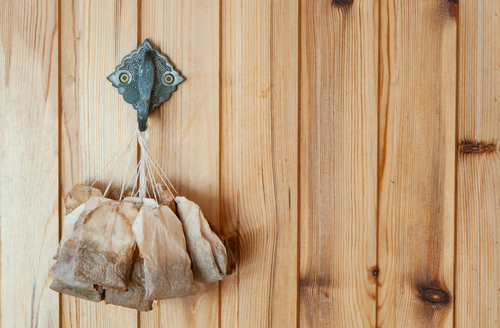 If you wake up with some particularly hellish under eye bags, Reddit users suggest using tea bags to get rid of the puffiness. These are the instructions according to kadikadikadi, "Make a cup of tea (green or black, something caffeinated), let it steep awhile, hold the bag to your eye/undereye once it's cool enough." Sounds easy enough to us. This apparently soothes your puffy eyes and reduces redness.
6. Only washing your face at night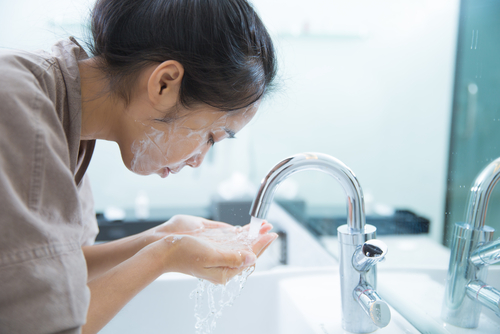 A lot of Reddit users swear that their glowing skin is partly due to the fact that they only wash their face once a day — always in the nighttime. "I break out and have issues if I use a cleanser more than once a day," accieyn claims. Most people will just rinse with water in the morning and wash only at night, to get all the dirt and oil off from the day. It apparently keeps their skin beautifully clean and less greasy. Of course, if you've gotten particularly sweaty, there's no problem in cleaning one extra time that day.
7. Putting a few drops of rosehip oil in your night moisturizer
"I mix a few drops of rosehip oil in with my moisturizer at night," lornabalthazar says. "My dark spots have faded dramatically." Rosehip oil is apparently a magical elixir for dark spots and high pigmentation on the face, so if you already have a night moisturizer you trust and love, think about adding a few drops of rosehip oil into it. It's also very hydrating, which means you'll wake up with impossibly dewy and radiant skin.