This Secret deodorant commercial is a perfect takedown of sexism in the tech industry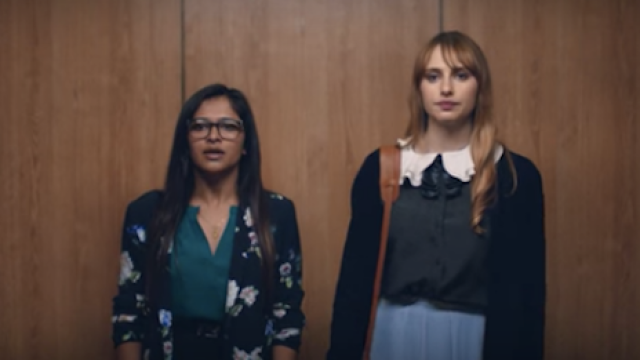 Ever since Secret's Stress Test campaign debuted in April 2015, the brand has placed a strong focus on spotlighting workplace sexism and gender bias. And this Secret commercial about sexism in the tech industry boldly shows that gender bias in the field of technology is so strong that it's come to be expected.
The 30-second ad, titled "Pitch," is simultaneously comedic and enlightening. It depicts two women in an elevator as they prepare to pitch their startup to the "boys' club."
From perfecting their handshake ("solid" and "strong," but not too strong) to vehemently defending their ability to excel in tech, the pair's prep makes a strong statement about the sexism faced by women in the male-dominated field.
https://www.youtube.com/watch?v=mvgAdQItsI0?feature=oembed
The woman playing the sexist businessman tells her business partner, "I doubt you girls could pull that off," despite her impressive ability to rattle off impressive stats without batting an eyelash.
Although the ad takes a humorous approach, it's hardly an exaggeration of what women in tech deal with — many of the women who attended the 2017 Consumer Electronics Show reported experiencing gender bias.
This isn't the first time Secret's Stress Test campaign has excelled at exposing gender bias — other ads have depicted a woman giving herself a pep talk before asking for a raise and a trans woman anxiously exiting a stall in a crowded women's restroom.
The ads are empowering, and "Pitch" makes another important statement — solidarity between women in the workplace is invaluable. It's easier to break barriers when we act as allies, rather than competitors.
Bravo to Secret for another powerful ad — we can't wait to see which gender bias angle the brand tackles next.