A second woman has accused Al Franken of sexual misconduct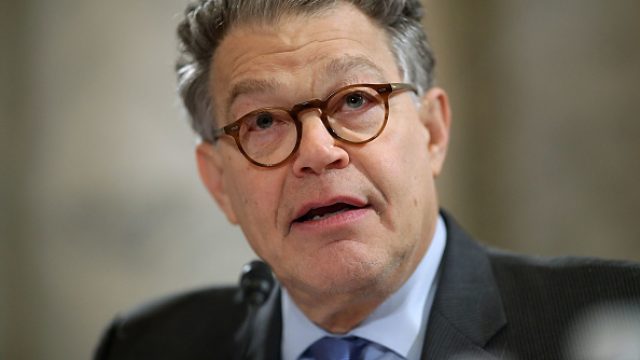 On Thursday, November 16th, Senator Al Franken was accused of kissing and groping broadcaster Leeann Tweeden without her consent. And today, November 20th, another woman has made a second groping allegation against Franken.
Lindsay Menz told CNN that at the 2010 Minnesota State Fair she was running a radio booth for her father's small business, which is ultimately where she met Franken. Menz said that as Franken pulled her close to pose for their photo together, he placed his hand on her rear.
"It wasn't around my waist. It wasn't around my hip or side. It was definitely on my butt," she told CNN. "I was like, oh my god, what's happening."
Menz's husband, mother, and father all recall Menz telling them about the incident after it happened. In a comment on the photo, which she later posted to Facebook in a private post, Menz wrote to her sister that "Al Franken TOTALLY molested me!"
In a statement to CNN on Sunday, November 19th, Franken said he didn't remember taking the photo with Menz.
"I take thousands of photos at the state fair surrounded by hundreds of people, and I certainly don't remember taking this picture," he said. "I feel badly that Ms. Menz came away from our interaction feeling disrespected."
According to CNN, under Minnesota law, "the intentional touching of the clothing covering the immediate area of the buttocks" is not considered criminal behavior.
Following the initial accusation by Tweeden, Franken issued an apology, saying that he would cooperate with a Senate Ethics Committee investigation into his actions. In his statement, which he posted to Facebook, Franken wrote that women who come forward with stories of sexual assault "deserve to be heard, and believed. And they deserve to know that I am their ally and their supporter."
It's admittedly disappointing to see someone you admire accused of sexual assault, but it's still important to hold these people accountable. Franken's acknowledgment of the way he harmed Tweeden was a step in the right direction (though still in no way excuses his actions), and we hope he takes responsibility for his behavior toward Lenz as well. In the meantime, we stand by Lenz and hope she gets the closure she deserves.