Sebastian Bach from "Gilmore Girls" wants a real Hep Alien concert to happen, and we're 100% on board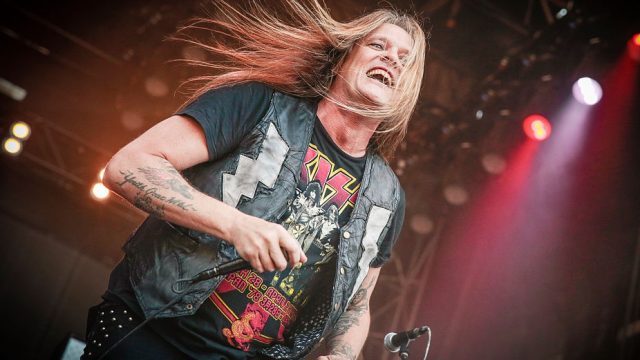 Fans of Gilmore Girls were probably relieved to see their favorite band reunite during the reboot — albeit, briefly. In an interview about the Netflix sensation, Sebastian Bach, guitarist for Gilmore Girls band Hep Alien (and a real-life rocker off the set) noted that a real concert with his castmates would be something he'd love to see come to fruition.
Playing the role of Gil, Bach joined the show in the middle of its run. As a replacement for Adam Brody's character, Bach took over as the lead guitarist. And while he was a bit older than the rest of the bandmates, nobody could deny that they all made beautiful music together.
Prior to being cast on the show, music fans knew Bach best as the famous frontman for the band Skid Row.
So, it must be an honor for his castmates to hear that he'd love to take their fictional band on the road. In an exclusive interview with US Weekly, Bach was incredibly positive over working with the likes of Keiko Agena, Todd Lowe, and John Cabrera.
"We get a lot of Hep Alien fans coming to my concerts across the country, and between songs, I'll start 'Hollaback Girl' and the whole crowd finishes it for me. The whole place sings it. I think there's a demand for that!"
The famous Gwen Stefani song was not only covered by the band during the show, but it's was Bach's favorite song to play while filming.
"When we did that shoot, the director, Dan Palladino, was like, 'Hey, do you want to do a key lower because it's Gwen Stefani and you're a dude?' I was like, 'Who you talking to? We don't change the keys! We don't do that in Hep Alien! We do it in the original key,'" Bach said with a laugh. "'That's the way we roll.'"
Speaking of covers, Bach pretty much insisted that Hep Alien would never cover a Skid Row song — and, we get it. It'd be like two worlds colliding.
"I think it would take the viewer out of the experience," Bach mentioned. "I'm Gil, this guy who owns a sub shop. I'm not Sebastian."
If the band ever goes on tour, we'll definitely be lining up against the stage. For now, we can keep watching the reboot while reading Sebastian Bach's just-released book, 18 And Life On Skid Row, and dream.