Seasonal Affective Disorder Might Be the Absolute Worst This Year—Here's How to Treat It
Plus, the light therapy box you'll need to lift your mood.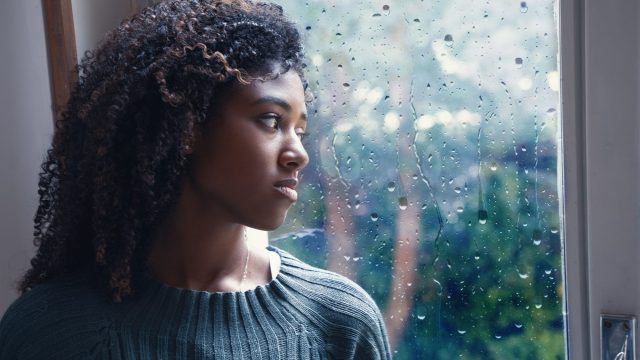 If you're like me, you probably freak out a little bit when it starts getting dark at 5 p.m. And as fall turns to winter, you might even experience symptoms of seasonal affective disorder, or SAD. "SAD is a constellation of symptoms that typically start after the change of season from summer to fall, worsening from fall to winter," Dr. Teralyn Sell, a psychotherapist and brain health expert, tells HelloGiggles. It has a lot to do with the colder weather and reduced sunlight, which can cause symptoms like feeling depressed, irritable, socially withdrawn, and more tired than usual.
In years past, however, I've made a concerted effort to go to the gym, meet up with friends, and stay as busy as possible—all things experts recommend if you're feeling blue. But it got me thinking: How are we going to cope with SAD this year during the pandemic, since many of those options are off the table?
Dr. Sell agrees that SAD very well may be the worst this year. "Many people have already been struggling with increased mental health symptoms because of the uncertainty of the pandemic and are already at their stress limit," she says. "Additionally, we have been more isolated, working from home, not getting outdoors as much, and certainly not soaking in the sunlight the way we once have."
So what are some ways to prepare for SAD, and what should you do if it actually does feel worse this year? Here are some expert tips.
Seasonal affective disorder treatments:
1. Keep going outside.
Even though there's a pandemic going on, experts say it's still safe to go outside as long as you wear a mask and practice social distancing. So do yourself a favor and step out while the sun is bright, like in the morning or on your lunch break. Go for walks, ride your bike, drink your coffee on the stoop, or take a work call in the yard. "Don't wait for a warmer day," Dr. Sell says. Just bundle up and get out there as often as possible.
In fact, it's recommended that you get about 20 to 25 minutes of sunshine a day, Andrea Dindinger, LMFT, a licensed marriage and family therapist, tells HelloGiggles. Not only does the sun help ward off SAD symptoms, but it's also an easy way to boost your vitamin D levels, which can improve your mood.
As if that isn't enough, going outside is also a good way to feel social—or at least a little less isolated. You might see a friend at the dog park or have a chance to chat with a neighbor if you take a stroll. It really is a win, win, win.
2. Sit by a "SAD" lamp.
To supplement going outside—or on rainy, extra-cold days—bring the "sun" to you in the form of a light therapy box. "Research suggests that sitting in front of a 10,000 lux SAD lamp for 15 to 30 minutes in the morning can help serotonin levels, which will help lessen irritability, sadness, and increase mood flexibility," Dr. Sell says. Do a quick search online, buy one with this brightness level, and make hanging out by it a part of your daily routine.
Another way to boost your mood? Simply open your curtains and blinds to let natural sunlight in, Dr. Julian Lagoy, M.D., a board-certified psychiatrist, tells HelloGiggles. If you're used to sitting inside all day in a dark, dimly lit apartment, this small change could make all the difference in the world.
Miroco Light Therapy Lamp
$$37.99
Shop it
Amazon
3. Try a meditation app.
If you've been meaning to get on the meditation train but keep putting it off, now may be the time to finally give it a try. "Just 10 minutes a day watching your inhale and exhale does revolutionary things to your mood," Dindinger says. She recommends a meditation app called Insight Timer. But you've also probably heard of Calm and HeadSpace, which are great options, too.
4. Sign up for cognitive behavioral therapy.
Many times, SAD symptoms stem from the way we think about a season. So you may want to look into doing therapy—specifically cognitive behavioral therapy, or CBT — either via an app or virtually.
According to James Genovese, LPC, LCADC, a licensed professional counselor, CBT helps you explore some of the narratives you may be telling yourself in response to this time of year, aka thought patterns that may exacerbate feelings of depression.
If you tend to think, "I only [have] love for summer, so I have nothing to look forward to in the winter," he says CBT will help you challenge the effectiveness and validity of those thoughts and may even replace them with ones that are more helpful—like, "It may be cold outside, but a walk in the park will give me more energy and make me feel better." Do it often enough, and soon cold days won't feel so bad.
5. Start exercising.
On top of everything listed above, Dr. P. Priyanka, M.D., a board-certified psychiatrist and medical director, also recommends exercising for mild to moderate symptoms of SAD. This might include the aforementioned walking and bike riding or something more intense, like online cardio classes, jogging, or whatever else feels good and gets your blood pumping. And research backs up this thought. According to a study that was published by JAMA Psychiatry, which used two genetic databases that included thousands of people, it was found that people who moved more had a significantly lower risk for major depression.
However, Dr. Priyanka says the key to this is to start doing it earlier than later. That way, as you head into winter, you'll already be maintaining your mood as well as creating a good routine for yourself that'll carry you through till spring.
If not, she says, it may be best to ask your doctor about medication. There's no need to suffer for the next four months when there are effective treatments for SAD available. So start doing these things now, Dr. Priyanka says, and you'll increase your chances of managing tough winter symptoms.