This might be why season 7 of "Game of Thrones" is shorter, and tbh it sounds like a good thing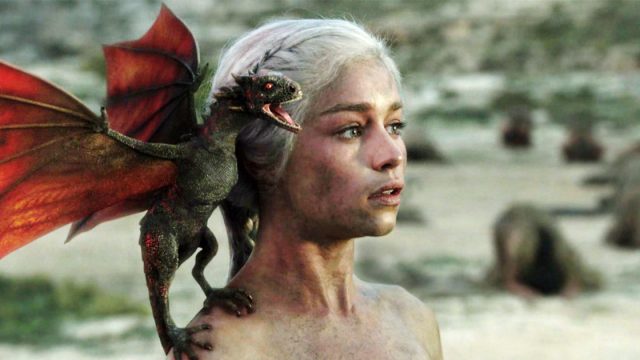 It seems that while it might be a shorter season, HBO is spending the same amount of time filming Game of Thrones' upcoming seventh season and now everything all makes sense.
Amidst rather detailed plot leaks and heaps of spoilers, it was announced by HBO that the seventh run of Game of Thrones would not only be the show's penultimate season but that it would also be airing slightly later in the year, too. What's more, the show's executive producers and creators, David Benioff and D.B. Weiss, revealed that the last two seasons of the show would be shorter than expected as well. Basically, Winter had come and EVERYTHING WAS RUNIND!
However, we've now learned some details about the shooting schedule for GoT and things are starting to make a little more sense.
While we know that season seven is set to be just seven episodes long, Iain Glen (who plays Ser Jorah in the show) revealed that the shorter episode run doesn't mean that any corners are being cut when it comes to filming. In fact, he said, they're spending the same amount of time working on seven episodes as they usually would do working on ten.
"They are taking the length of time it takes to shoot ten episodes to shoot just seven this year and six next year," Glen told RadioTimes.com. "There are fifteen more hours left in Thrones as we understand it, but that may change, but that's as far as we know."
Continuing, Glen went on to say that it was all essentially down to the scope of what they were shooting.
"I think the scale and size of the set pieces, the world that is being created it's just getting more and more extraordinary," he revealed. "They feel they need that time to shoot seven hours as opposed to ten."
Iain Glen was cautious not to reveal any spoilers about the fate of his character Ser Jorah, however, claiming that he didn't know whether he'd make it to the show's final season. That didn't stop him from teasing a little bit about season seven.
"This season you feel that the drama is moving towards its end game, more characters are overlapping so we are seeing a lot more of each other, than perhaps in the past," he teased. "In the same scenes and we are going to the same places."
To be honest, a lot of this makes sense to us. Given that the scale of the show is just increasing, it makes sense that the showrunners and those involved with creating it would want to focus their efforts on making sure that the scenes that they need are done right rather than squish in extra moments just for the sake of it.
Also, it seems that Glen accidentally let slip that despite the fact that we know there are only 13 episodes of the show left, there will be 15 hours in total. Whether that means that some episodes will be feature length or we'll be getting more episodes than planned is yet to be seen.
However, we now totally get why the decision to make the next two seasons of Game of Thrones shorter was made. Bring it on!
Game of Thrones season seven is expected to air this summer on HBO.