Here's how you can copy what the "Scream Queens" wore in last night's episode, "Warts and All"
Welcome to your official Scream Queens Season 2 fashion recap. Here we will discuss the various lewks in each episode, complete with affordable shopping recs so you too can mimic the grandiose style of Chanel Oberlin and Co. Warning: spoilers within!
The second episode opens with the aftermath of the gruesome murder of patient Catherine by the Green Meanie, with Chanel #5 being the only witness. As expected, #5 does not receive support from her fellow Chanels, and instead gets accused of being jealous of the other girls who were on dates with Dr. Holt and Dr. Cascade during the time of the killing.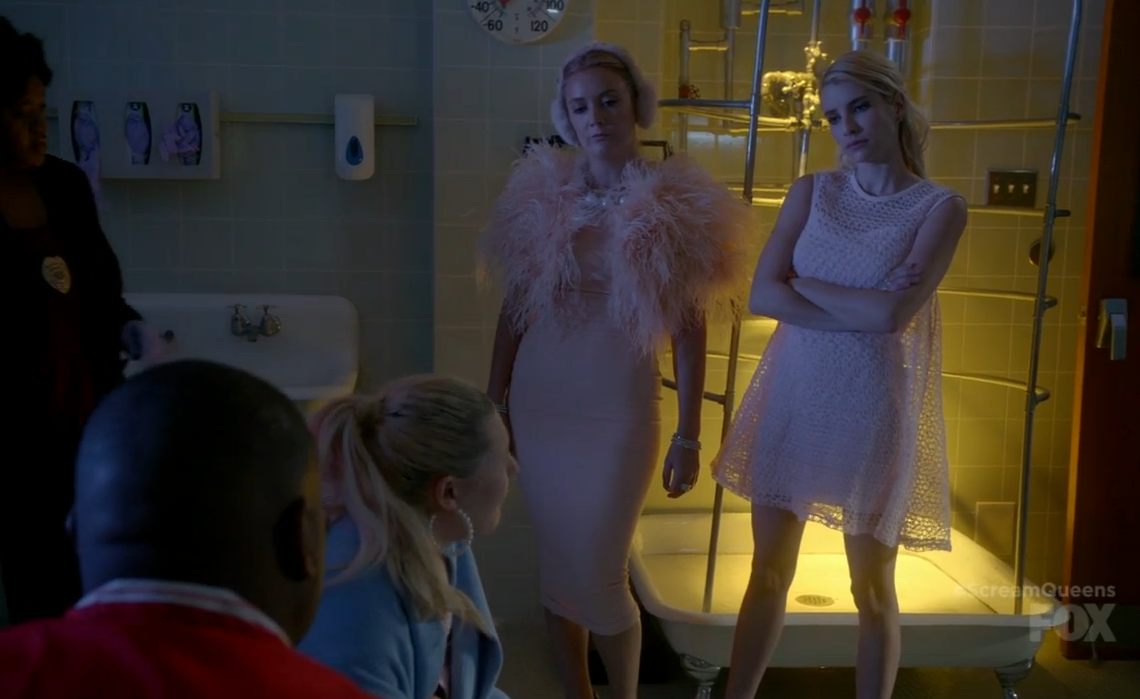 Little do they know, #5 is about to meet an unexpected love interest. Colton Haynes guest stars as a former conventionally attractive dude who loses his good looks after his entire body becomes covered in tumors. On Instagram, Haynes shared that the makeup took five hours and honestly, I'm not impressed. My last hair appointment took longer than that, COLTON.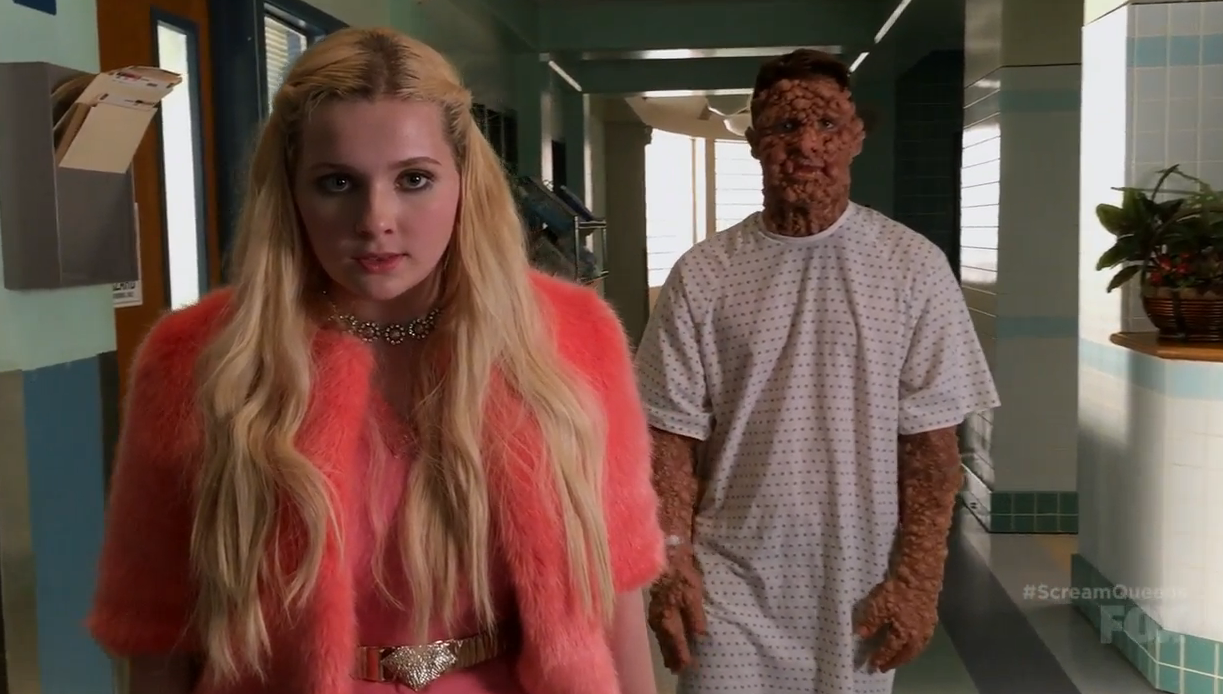 This episode also brings the return of three favorites from the first season — Chad Radwell (Glen Powell), scary ol' Hester (Lea Michele), and last but not least, Denise Hemphill (the incomparable Niecy Nash).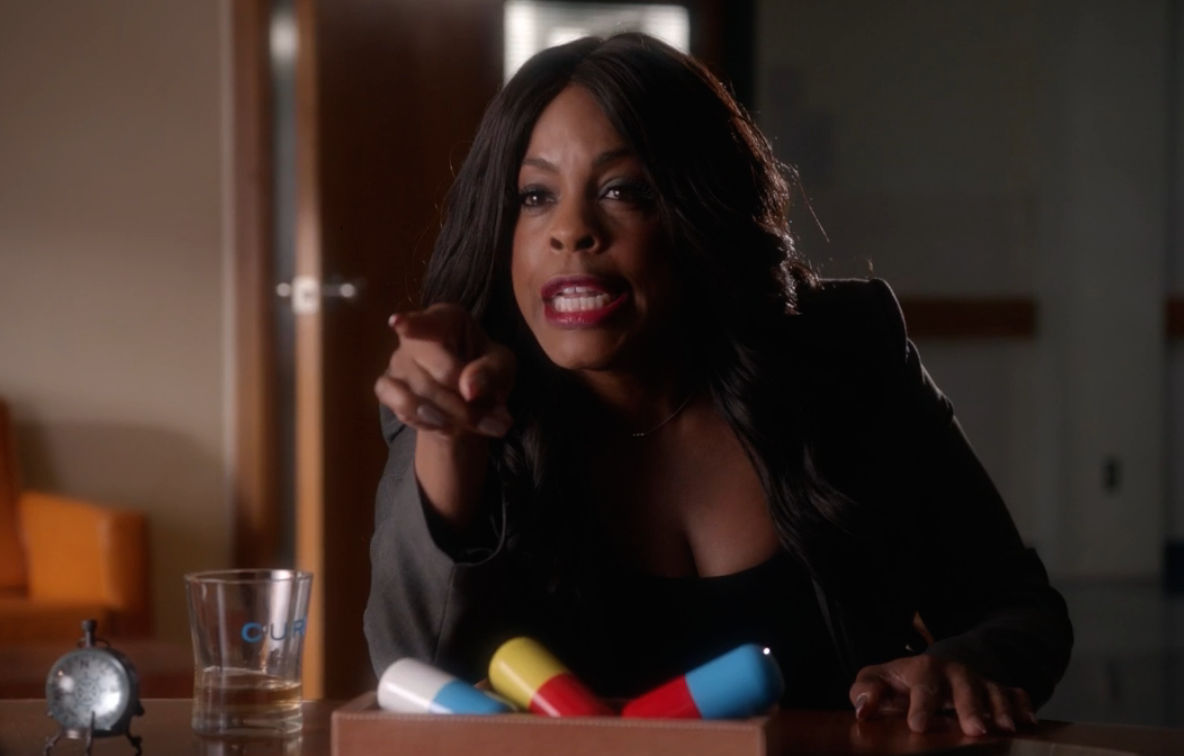 To get into the mind of the murderer, Munsch, Denise, Chanel, and #3 pay a visit to Hester who is locked up in jail and still very insane. Somehow, she knows alllll about the Green Meanie as well as the hospital's tragic past. How DOES this b have all this info?! They ask for her help but Hester ain't giving nothing away for free. She wants two things: to be transferred to the hospital and "super high-end beauty products." Um, got to hand it to her, that's a GENIUS request.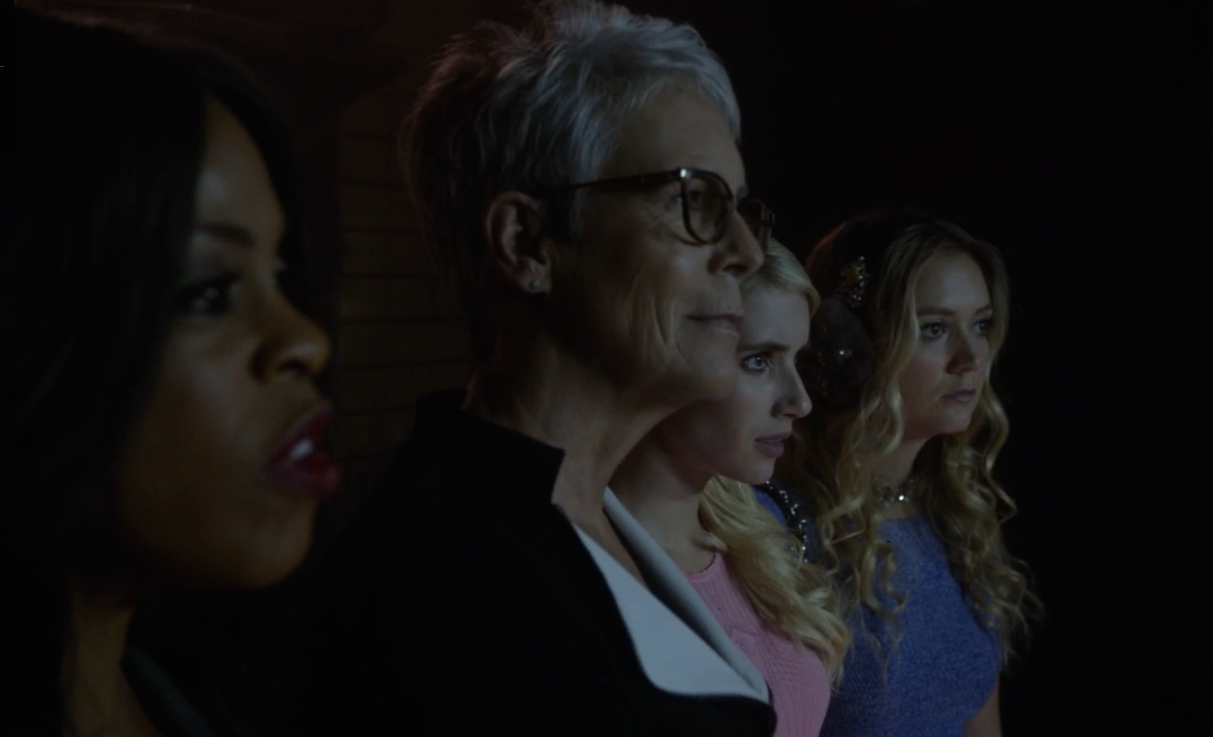 She rattles off a list of rare skincare products which, surprisingly, don't include any La Mer. Instead, they appear to be fictional, but I put on my Sherlock Holmes cap to try and decode the products to see if they might be lowkey referencing ones that actually exist. You can't fool me, Ryan Murphy!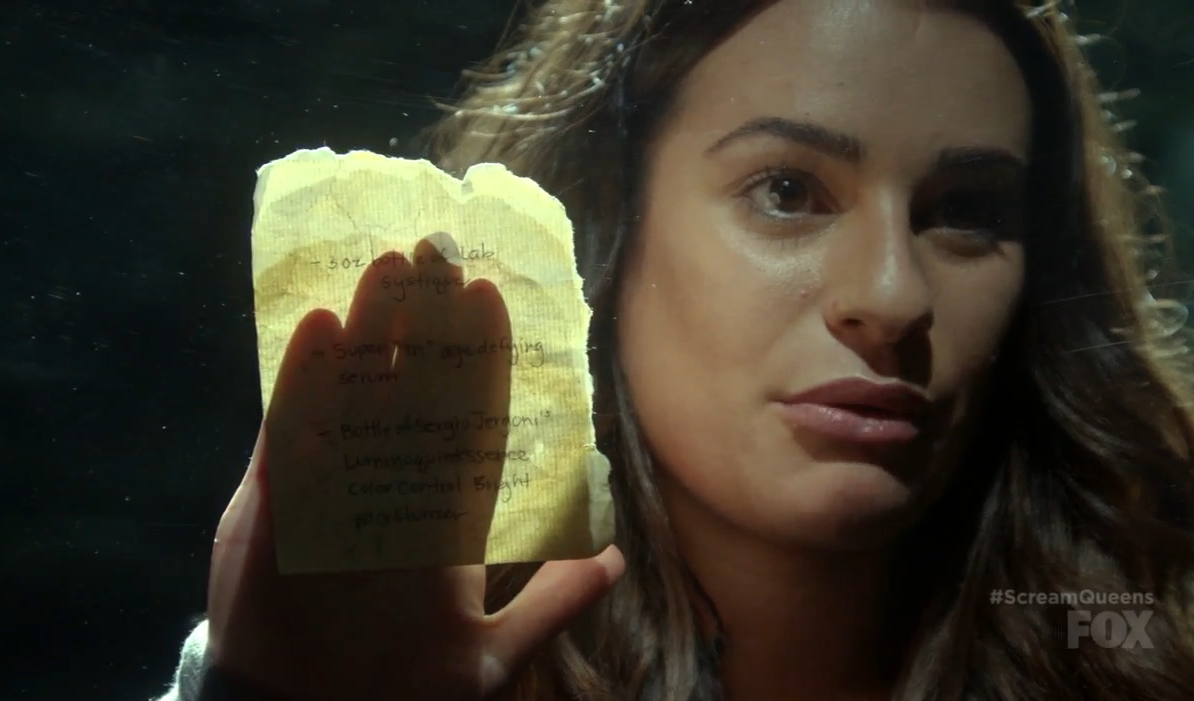 First, Hester asks for a 3 oz. bottle of Lab Systique's Super "M" Age-Defying Serum."It really just makes your skin extra glowy," Hester says. The IRL counterpart has to be 3Lab's Super "H" Age-Defying Serum, which you can get at Nordstrom for a cool $350.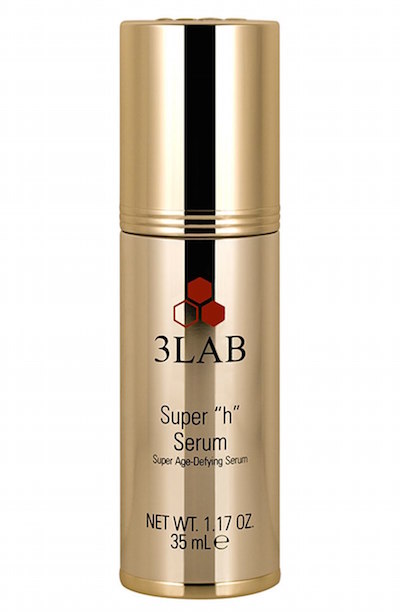 Next, she asks for Sergio Jergoni's Luminoquintessence Color Control Brightening Moisturizer, which she explains "will wake up any skin tone." My guess is this is a reference to Giorgio Armani's Luminessence CC Color Control Bright Moisturizer, which is $55 at Nordstrom.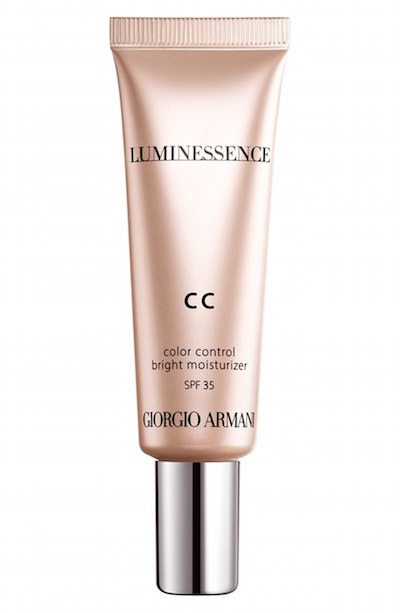 There isn't a cosmetics company called Sergio Jergoni in existence, but there IS a fictional designer named Sergio Georgini that is referenced in The Office. Is this similar moniker a hat tip or just a coincidence?
Now, let's move on from beauty tawk to the FASHIONS…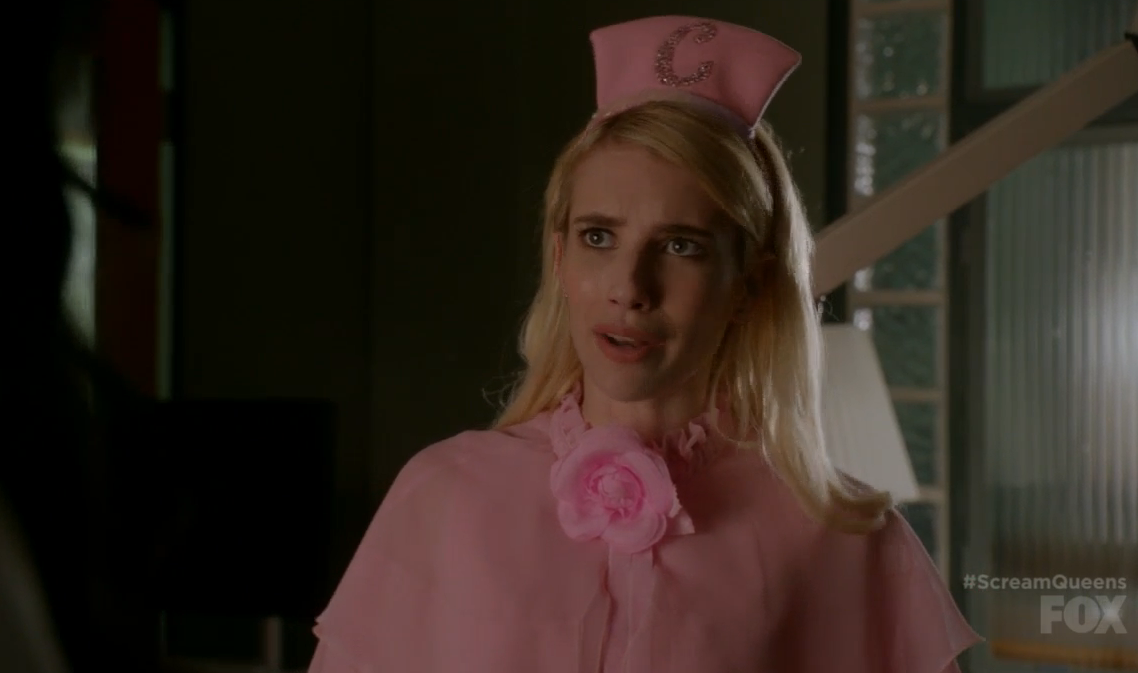 The girls are still in their custom pink medical uniforms, which, j'adore.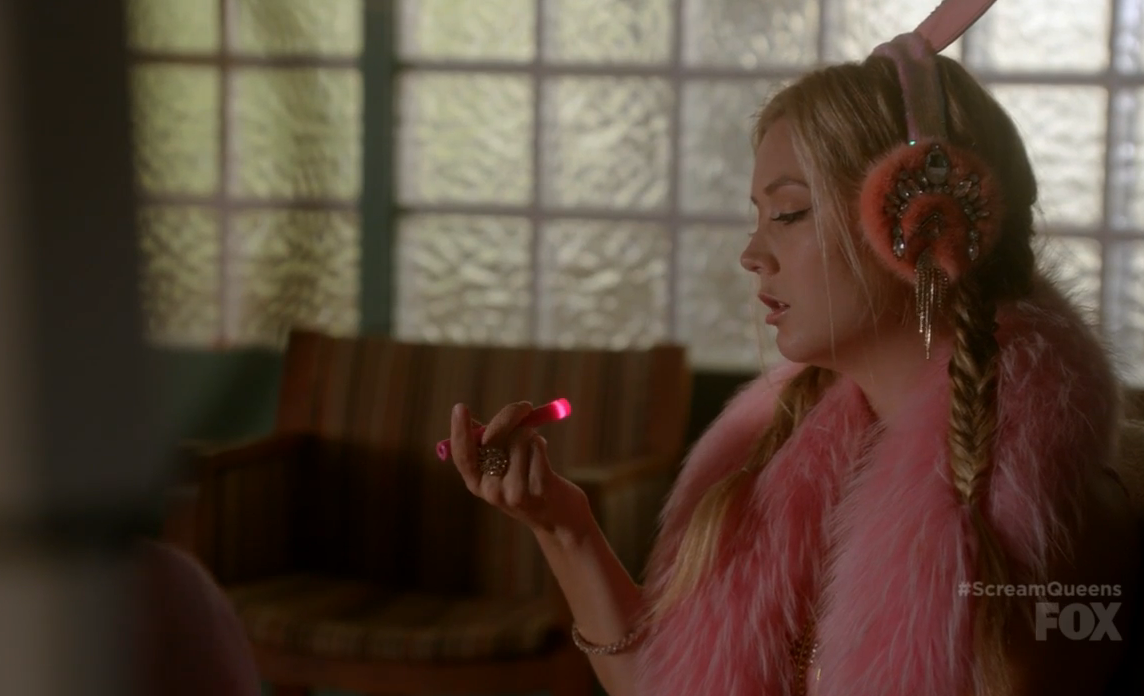 Zayday is officially embracing the statement necklace and lab coat look, which pretty much rules IMHO, though it's probably not practical for real-life med students.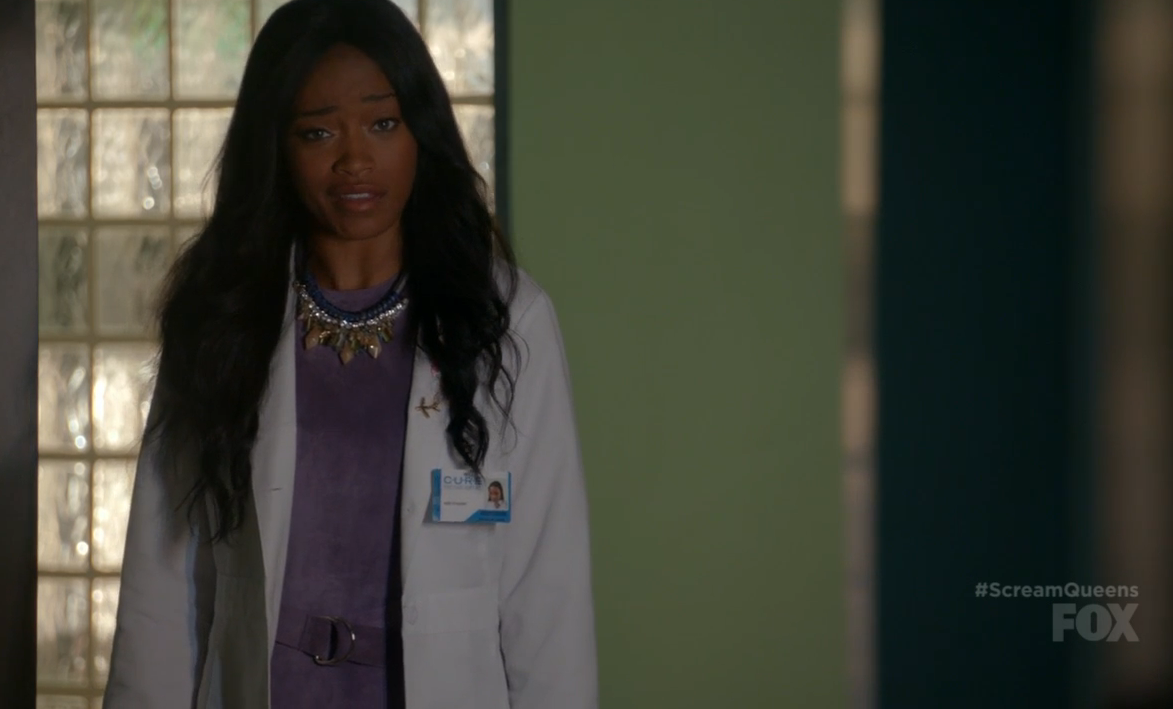 There's also this FAB sweater and skirt combo. Love how the pattern on the skirt kind of looks like crescent moons.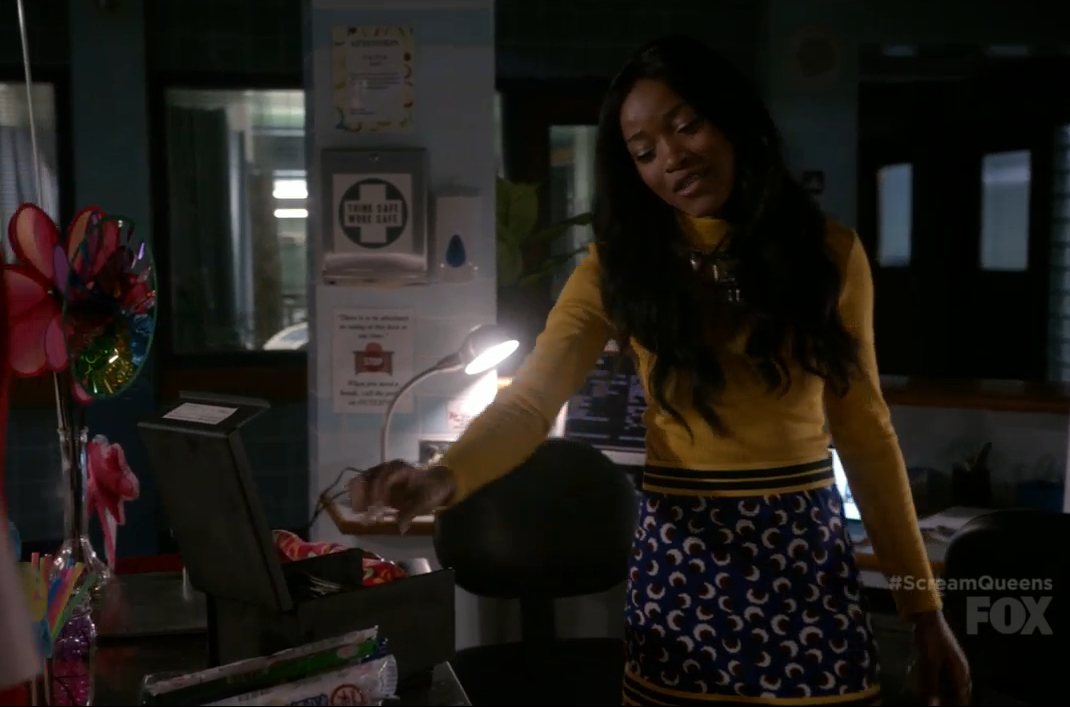 Honorable mention goes out to Dr. Holt looking fine as ever in a Lacoste tracksuit while playing a game of squash against Chad, aka his new rival. We get the murderous origin story of his hand transplant donor, which puts him higher on the list of suspects. And oh yes, there's ANOTHER shower scene with Stamos. Is this going to be happening in every episode? I am NOT complaining!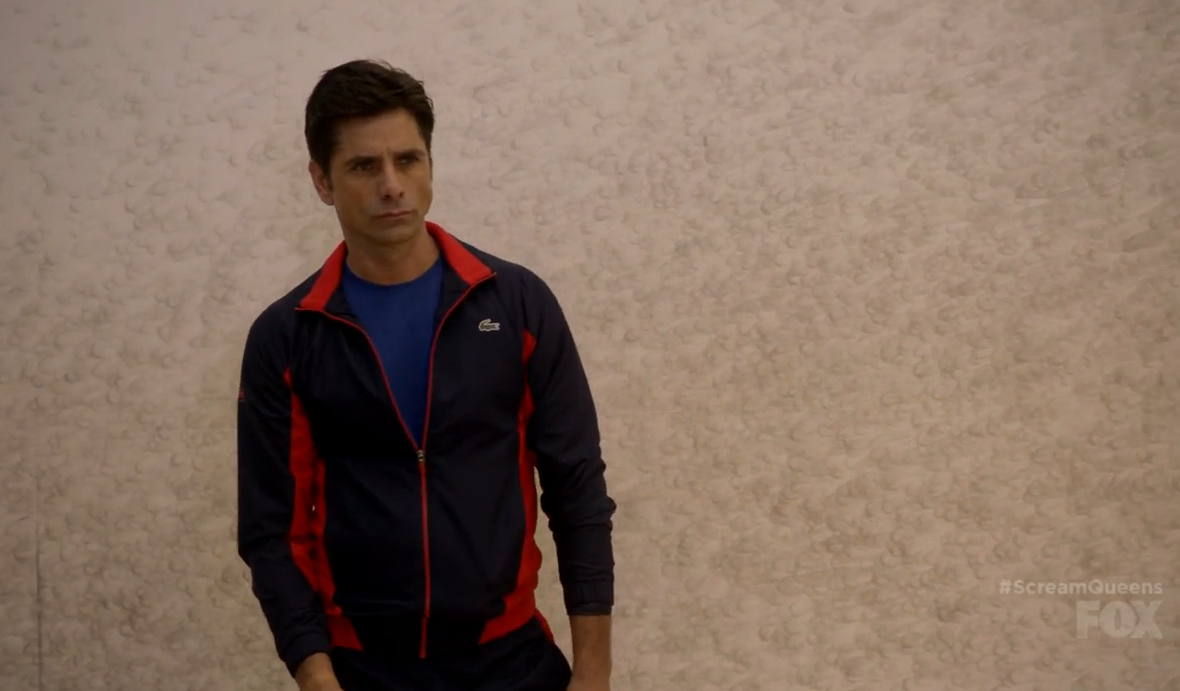 Chanel #5's look here was PRISTINE. Seriously, it deserves a chef's kiss. The white faux fur coat, the tweed houndstooth skirt, the "Dope" crop top and the sky-high platforms. This may be my favorite outfit of the entire ep!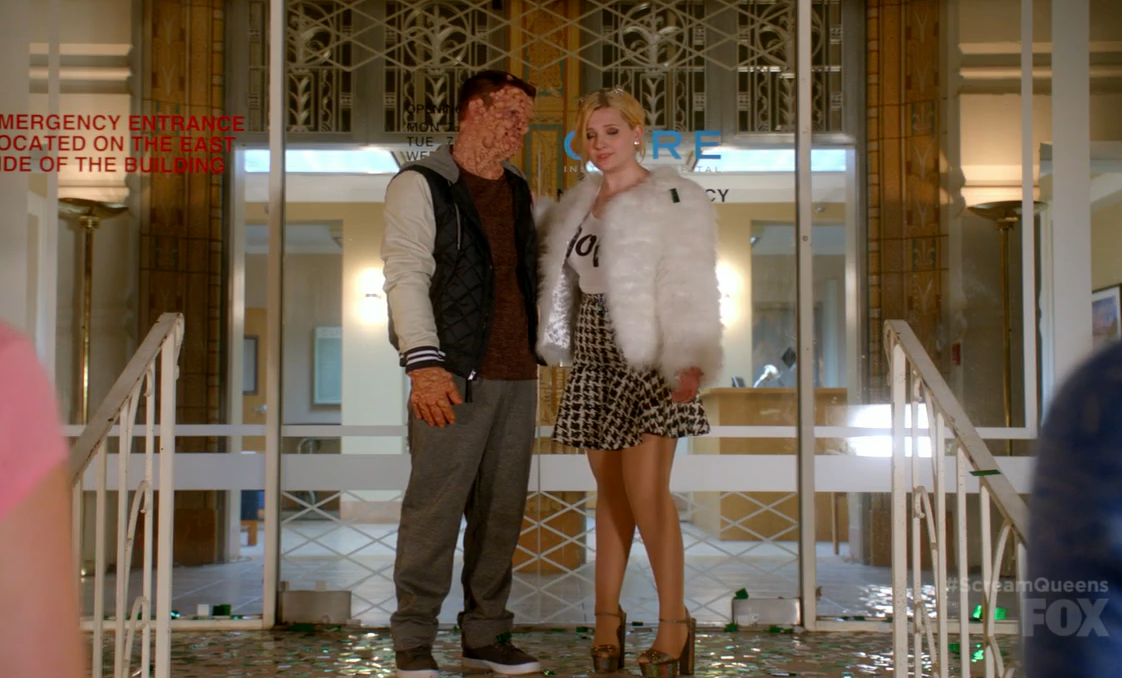 Spot some cute things from this episode that you want to wear yourself? Check out the suggestions below!
We're going to need #5's lipstick earrings RIGHT AWAY.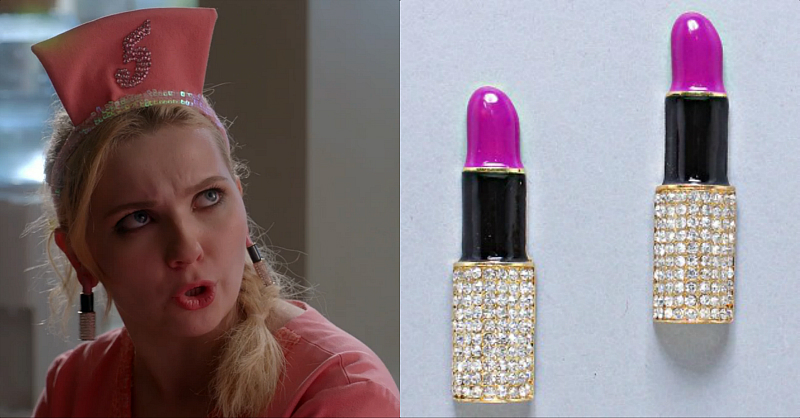 You can cop all sorts of lipstick earrings online, but this similar pair goes for $12.25. Find it here.
Chanel's babe choker is TOO CUTE.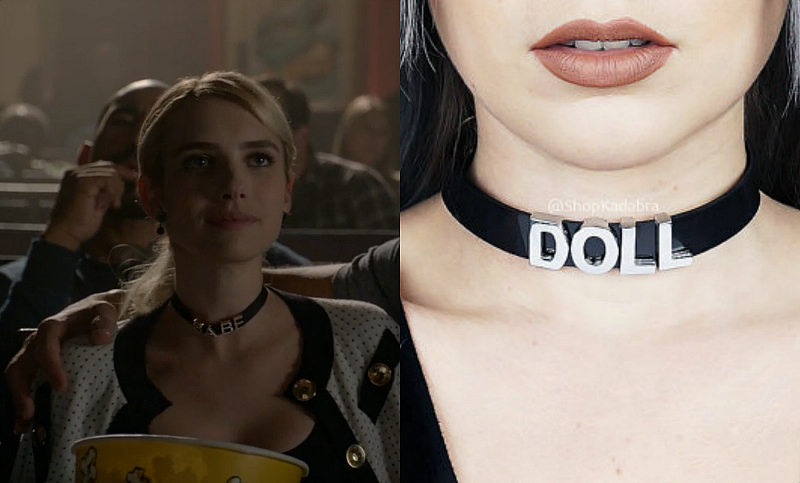 Sadly, this "Babe" choker is sold out at Zara, but you can get a custom one made on Etsy for $38.
#3's matching crop top and skirt set is EVERYTHING.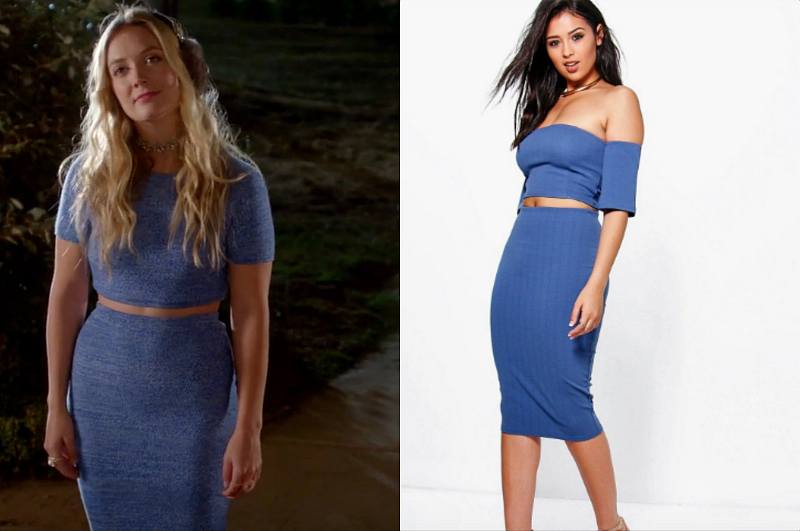 The original Alice + Olivia design is sold out, but this similar looking off-the-shoulder style is a pretty fierce substitute. Get it at Boohoo for $28.
Subtle cat ears make a perfect date-night accessory.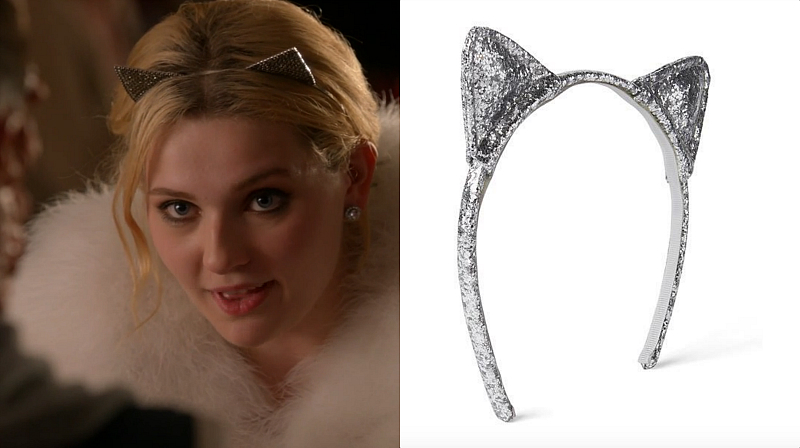 Gap has you covered with this cat ear headband (which also comes in different colors) for $16.95.
Metallic silver and pink is a most excellent combo.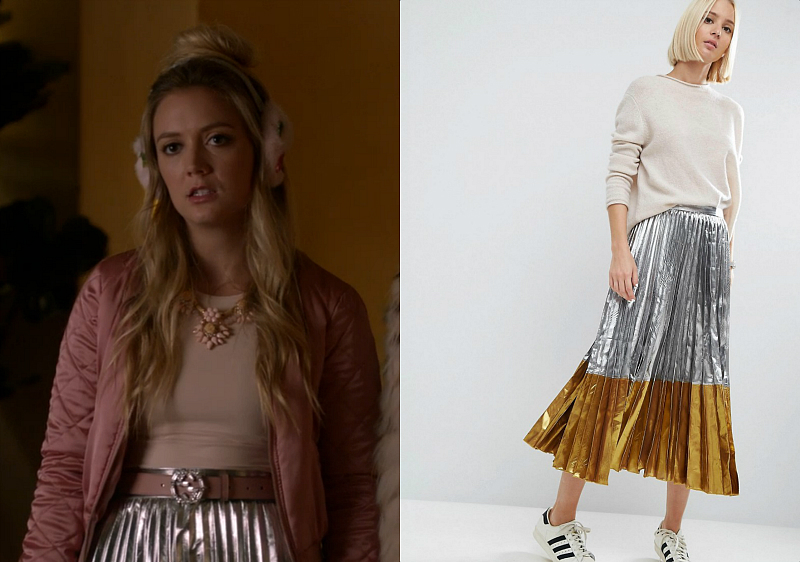 The pleats on #3's skirt are KILLER. ASOS has a $65 silver and gold midi skirt that is just as amazing.
Chanel's retro lewk is to-die-for.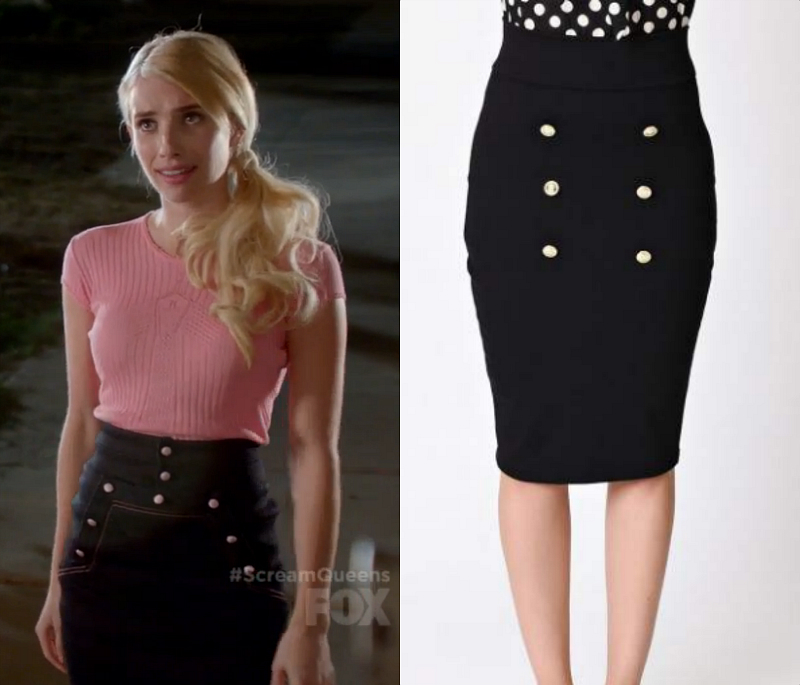 Chanel pulls off this retro-inspired look with ease. Find a similar high-waisted pencil skirt at Unique Vintage for $32.
See you next week, bitches!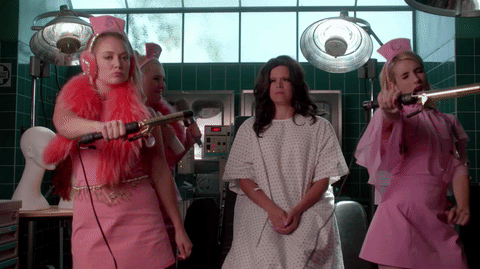 Read last week's Scream Queens fashion recap, here!