In which we recap what the Chanels in "Scream Queens" wore in "Scream Again"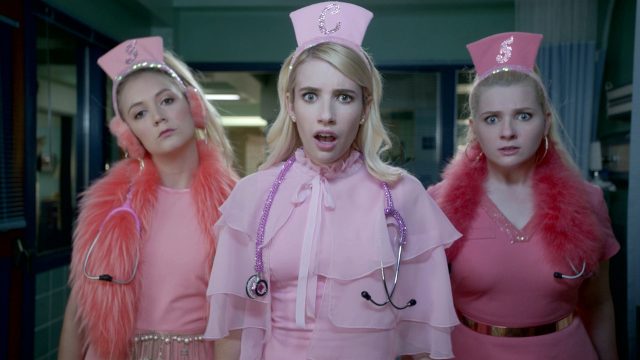 Welcome to your official Scream Queens Season 2 fashion recap. Here we will discuss the various lewks in each episode, complete with affordable shopping recs so you too can mimic the grandiose style of Chanel Oberlin and Co. Warning: spoilers within!
Since the first season of Scream Queens ended, we've been waiting with bated breath to find out exactly what happened to the surviving members of Kappa Kappa Tau. When we last saw them, our three favorite "idiot hookers" were locked up in a mental hospital after being blamed for the Red Devil murders. In the first episode of Season 2, we find out that Chanel #1 (Emma Roberts), Chanel #5 (Abigail Breslin), and Chanel #3 (Billie Lourd) became the focus of a Netflix documentary called Entrap a Kappa Kappa: Murder on Sorority Row and got released from the clink after Hester (Lea Michele) confessed. Though free, they find themselves disgraced by the public, and working in various medical fields.
The main Chanel, who realized she had a thing for blood, is a phlebotomist, #3 is doing janitorial work at a sperm clinic, and #5 is a receptionist at a children's dental office. Dissatisfied with their less-than-dazzling lives, Chanel reminisces of her time as Kappa's head b, you know, before all that gruesome murder started happening.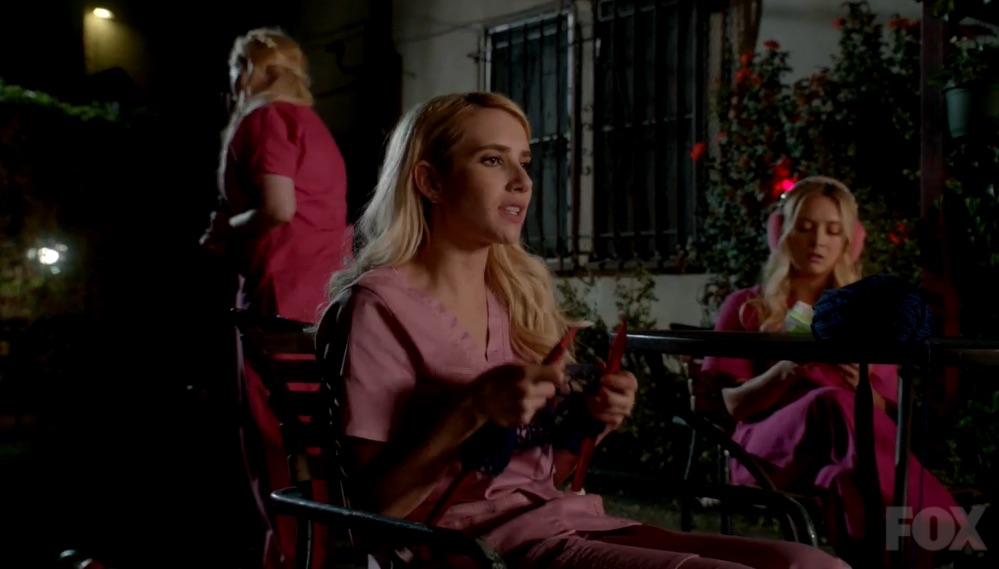 Zayday Williams (Keke Palmer) is the only one with legit career aspirations, paying off medical school loans while studying to become a doctor. The four of them soon become employed at Cathy Munsch's (Jamie Lee Curtis), new domain — the C.U.R.E. Institute Hospital, a place where people with medical oddities turn to in hope for a — you guessed it — cure.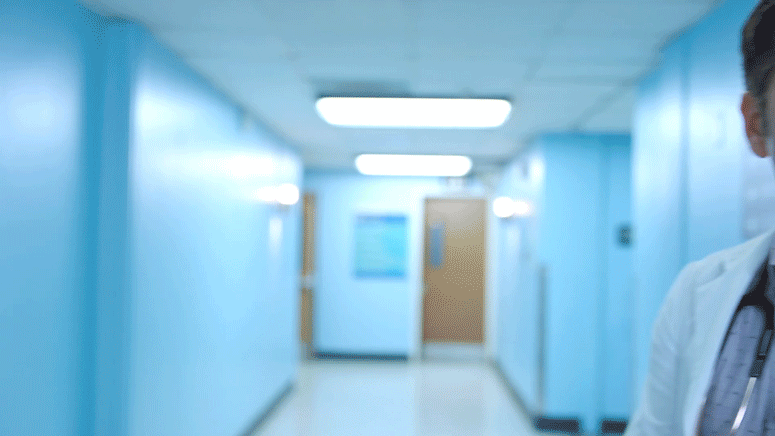 They are joined by Dr. Cassidy Cascade (Taylor Lautner) and Dr. Brock Holt (John Stamos). Hellloooo daddy.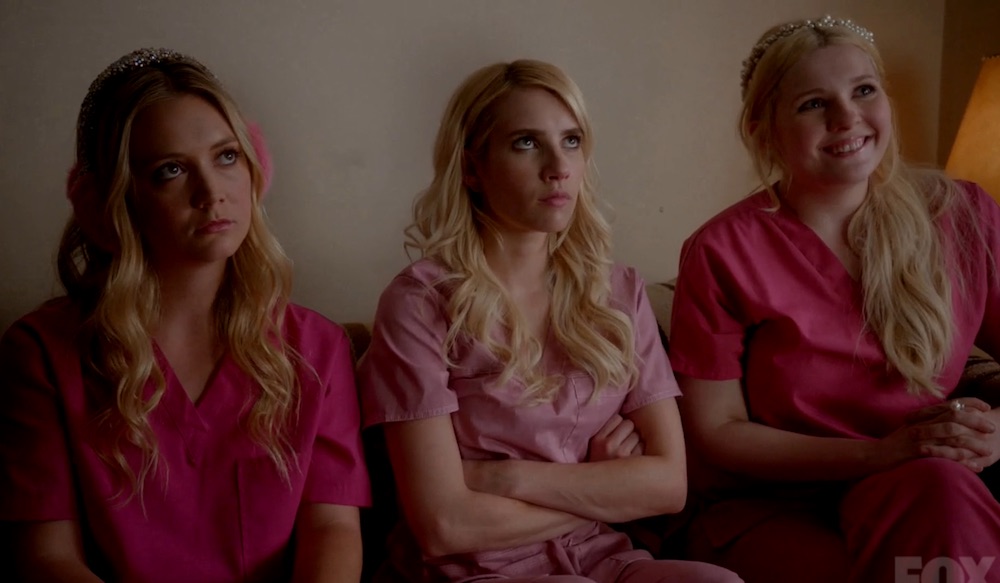 When we reunite with the Chanels, they are in — GASP — scrubs, albeit pink ones, retaining just a glimmer of their previous wardrobe. Though working in the medical field might render some people to be completely devoid of their personal style, the Chanels still somewhat manage to express themselves through their clothing. I see dem accessories, my ladies.
Do not fear, the bitches are back.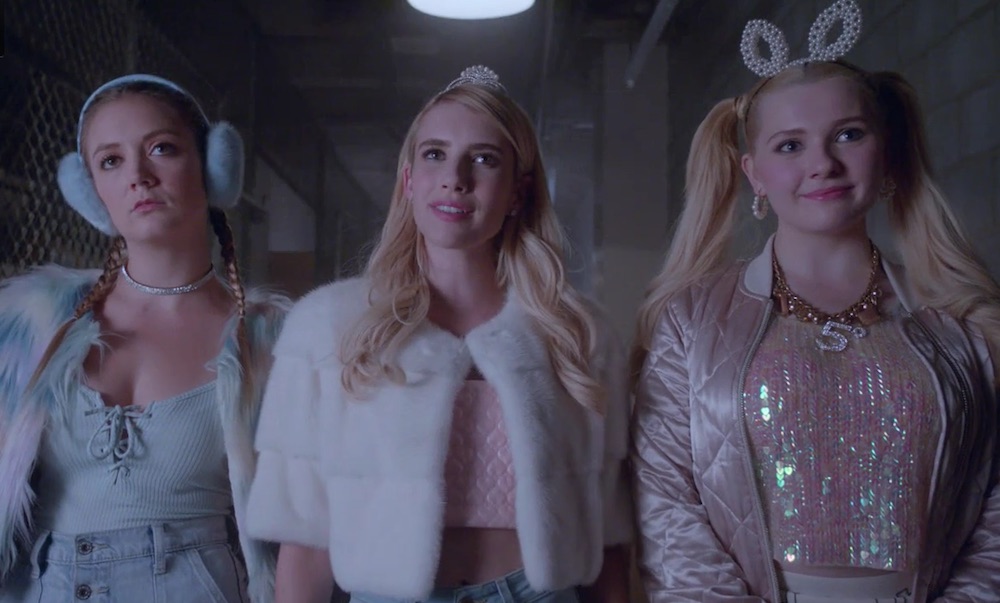 Seeing them in their "normal" clothes was a serious breath of fresh air. The Chanels without their pastel fluff is SIMPLY UNNATURAL. Gaze upon Chanel's quilted crop top and #5's bomber jacket.
There's enough baby pink in this scene that would make Dame Mariah Carey weep with unbridled joy.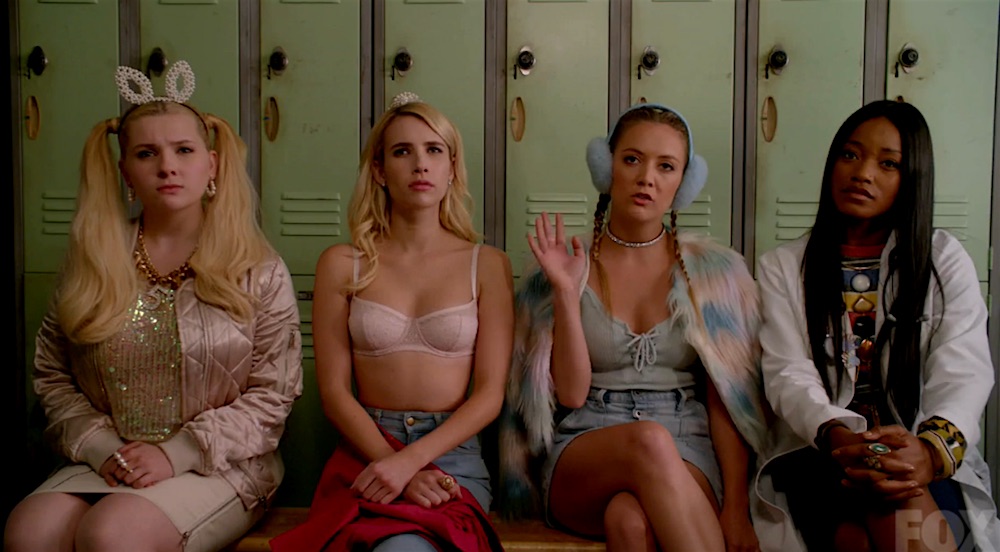 At the sight of a soaking wet Dr. Holt, Chanel instantly strips down (a move perhaps MANY of us might have done in the same situation upon seeing STAMOS), revealing matching undergarments. This makes me think that Chanel might have her shit together more than we think. After all, how many of us actually match our bra to our panties? That is an occurrence quite possibly more rare than a supermoon lunar eclipse.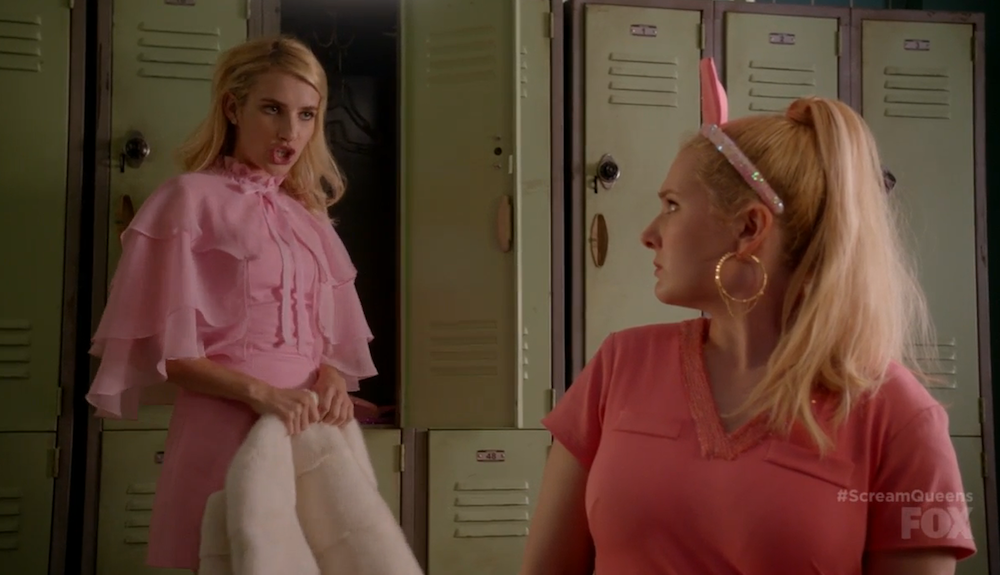 Although it's been two years since the events of the first season, I'm so glad to see that the trio's adoration for pinks and blues are still in full effect. THANK GAWD. I don't even want to imagine if their collective color story had changed from pink to something like…khaki.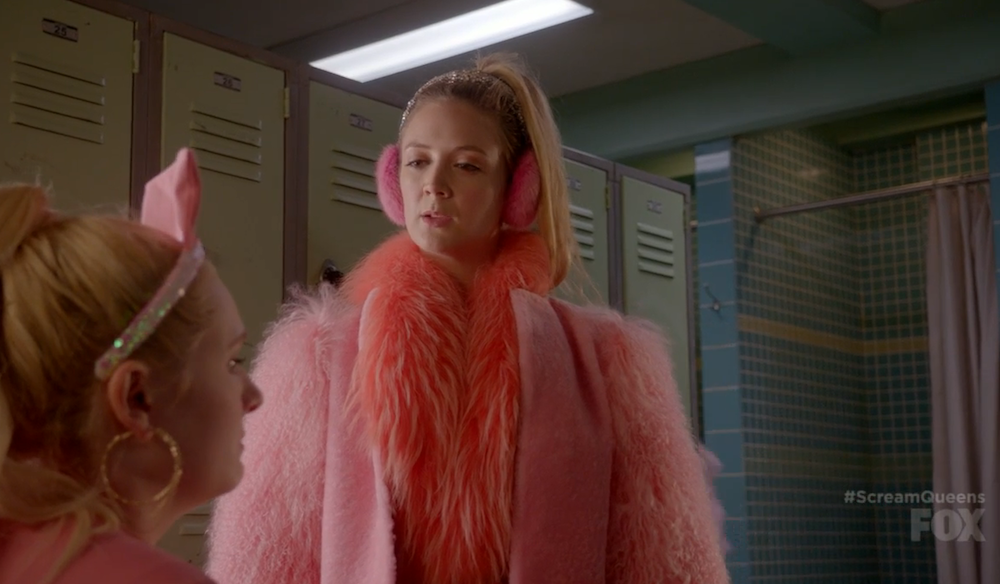 Ready to cop some of the Chanels' style for your own closet? Check out the suggestions below!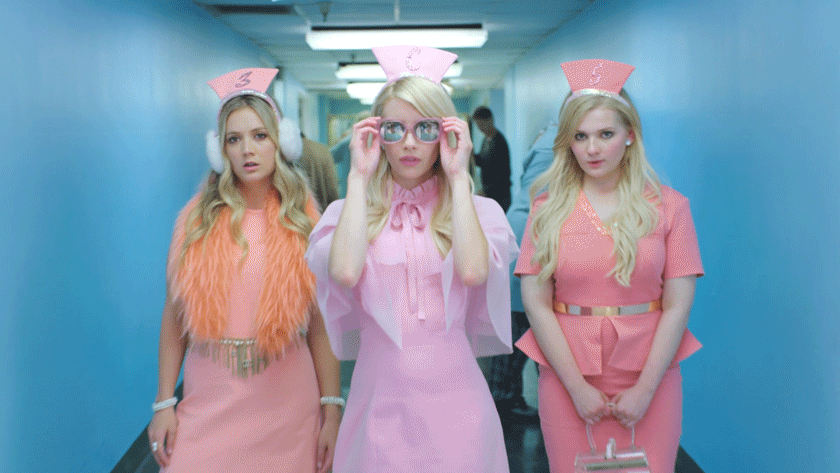 When Zayday isn't in her lab coat, she's sporting some retro-inspired elements, including an absolutely gorge stone necklace.
Get this similar-looking necklace here for $34.90.
Chanel #1 is wearing a glorious pink capelet that appears vintage…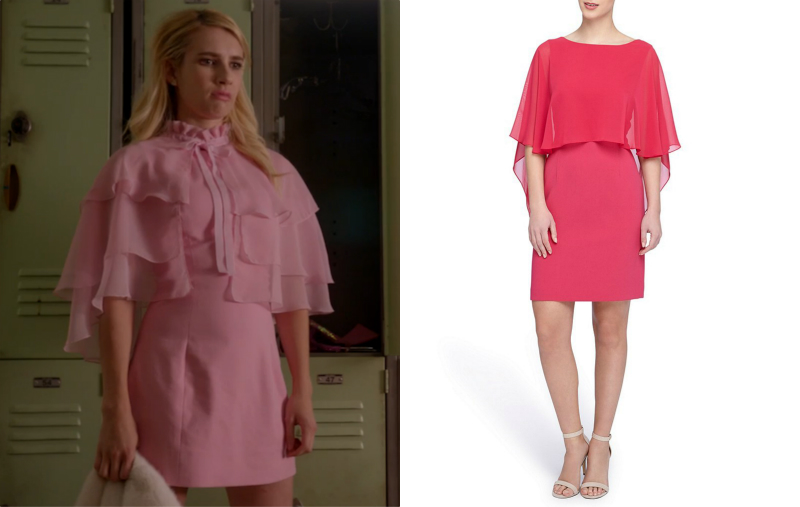 But luckily, cape dresses are running rampant in retail lately. So if you plan on replicating this lewk for Halloween, you shouldn't have a problem. (You may have to spend hours bedazzling a stethoscope though, but trust, bedazzling is a form of THERAPY.) Invoke Chanel's bubblegum pink lewk with this cape dress from Dillard's for $103.50.
PRAISE. #5 is back in her pearl bunny ear headband from last season.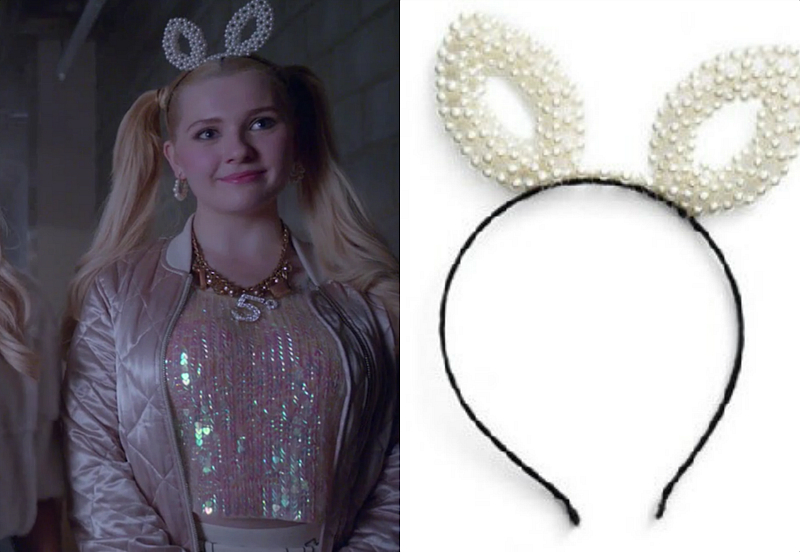 There's nothing like your favorite go-to accessory. For some, it's a simple necklace or ring. For #3, it's PEARL ENCRUSTED BUNNY EARS. Get a pair at Etsy for $13.99
#3's lace-up and denim mini skirt combo is emitting some Kelly Bundy-esque, '90s vibes.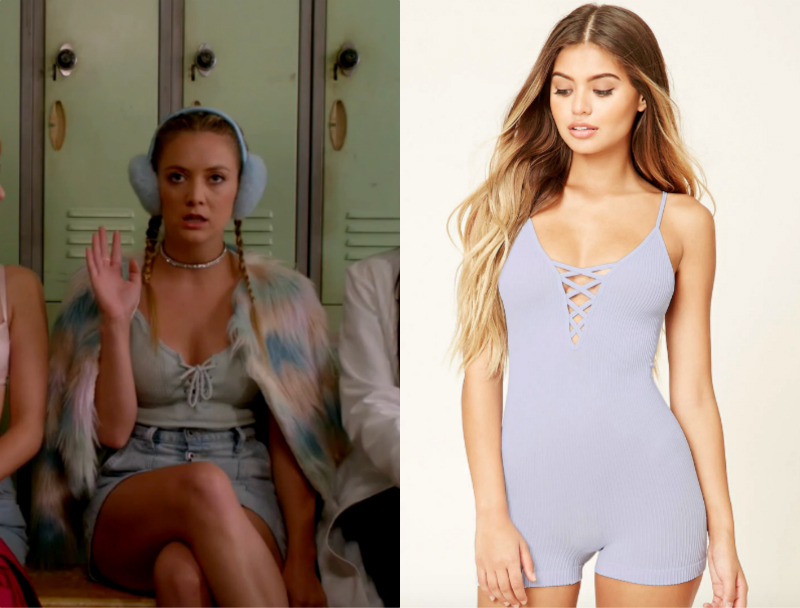 I'm loving the fact that #3 combined this trendy '90s throwback piece with her multi-colored fur. Get a similar bodysuit at Forever 21 for $10.90.
#5 refuses to settle for a plain robe.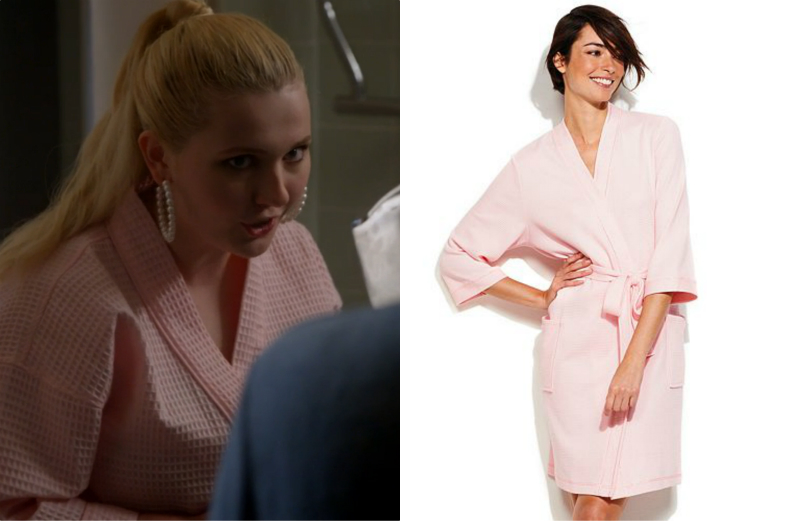 Get your own pretty-in-pink waffle knit robe at Kohl's for $29.99.
 No need to remove these glam earrings while soaking in a hot therapy tub.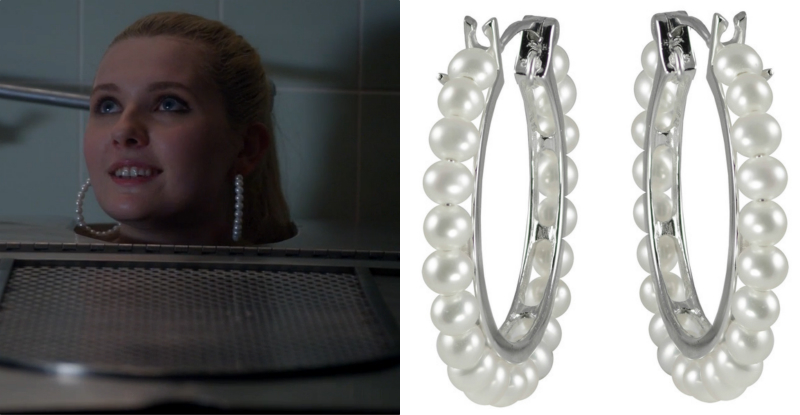 Get a similar pair here for $64.99.
Aside from these ~killer looks~, this episode had everything from a gory scene involving a garbage disposal, a makeover montage, a shower scene with John Stamos, and of course, a mysterious new murderer.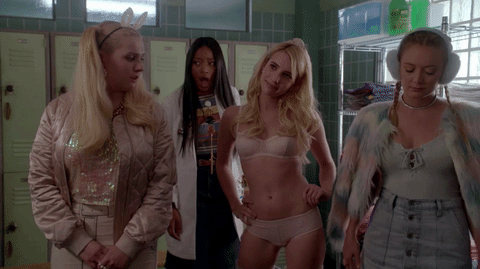 Until next time, bitches!