Science has given us a way to look at our phones at night without damaging our sleep
We all know the best practices around around sleep and screen time. All the experts recommend that you turn off the phone and shut down the tablet an an hour before bed. But come on, who's actually doing that? It requires a level of discipline that, frankly, we don't often have. So you can imagine how stoked we are to hear that humanity has developed a solution to this vexing problem — thanks to science!
It's pretty widely known by now that the lights of our digital screens mess with the body's natural sleep rhythms in a major way. Lucky for us, a recent study is here to help. Scientists concluded that the sneaky, sleep-killing side effect can be negated. How? Simply by wearing special glasses that block out blue light. Yep!
That's because there's a spectrum of light! And blue's the kind that keeps you alert and raring to go. The University of Houston figured out it out. If you wear blue light blocking glasses, you'll be able to fall asleep much more naturally and quickly than if you just keep on using that tech without any filtering at all (Snapchat selfie filters don't count). So go ahead, get yourself a pair of those light-blocking glasses and get your nerd on while scrolling through Twitter just before bed.
You know you're going to do it anyway! Might as well use scientific breakthroughs to be able to catch up on all your social media channels AND all your zzz's.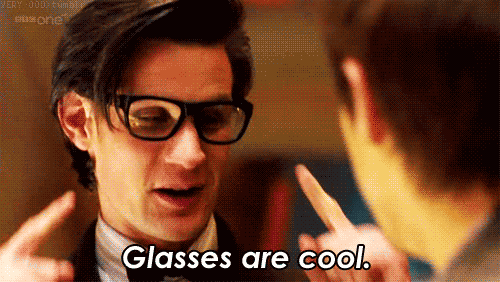 Oh, and if you're desperate to sleep but can't wear those funky glasses for some reason? Don't worry. Many newer phones and tablets are outfitted with a built-in blue light blocking feature. It dims the screen and keeps you from having to give up your Tumblr time. Just enable the feature and you're good to go. Best of both worlds, right? Count us in.