There have already been 18 school shootings in 2018, and that's unacceptable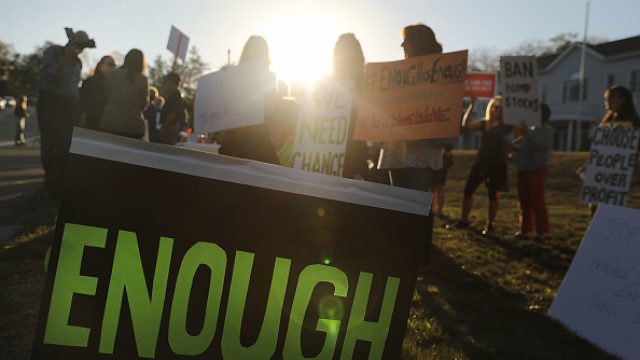 On February 14th, at least 17 people were killed in a Florida high school shooting. And sadly, it's far from the only school shooting the United States has experienced this year.
The gun control advocacy group Everytown USA defines a school shooting as when a firearm discharges on school property. And based on these criteria, ABC reports thatthere have been 18 school shootings since January 1st.
1 Parkland, Florida
In the latest and deadliest shooting of the year, at least 17 people have been reported dead from a shooting at Marjory Stoneman Douglas High School today, February 14th.
2 New York City
A gun was fired at The Metropolitan High School on February 8th. No one was injured.
3 Maplewood, Minnesota
A third-grader at the K-12 Harmony Learning Center pulled the trigger on a school liaison officer's holstered gun on February 5th. Luckily, no one was hurt.
4 Oxon Hill, Maryland
At Oxon Hill High School on February 5th two suspects shot a 17-year-old student in an attempted robbery. The victim survived.
5 Los Angeles, California
A 12-year-old girl accidentally shot four students at Salvador B. Castro Middle School on February 1st.
6 Philadelphia, Pennsylvania
On January 31st, a 32-year-old man was killed outside Lincoln High School after a fight was reported.
7 Dearborn, Michigan
Shots were fired at a basketball game at Dearborn High School on January 26th. There were no casualties.
8 Mobile, Alabama
At Murphy High School on January 25th, a 16-year-old student pointed a gun at members of administration before going outside and firing into the air.
9 Benton, Kentucky
On January 23rd, 17 students were injured and two were killed at Marshall County High School.
10 Italy, Texas
A 16-year-old boy shot a teenage girl at a high school on January 22nd. The victim survived.
11 New Orleans, Louisiana
A car shot at a group of students in the parking lot at NET Charter School on January 22nd, injuring one boy.
12 Winston-Salem, North Carolina
On January 20th, a Winston-Salem State University football player was shot at Wake Forest University in North Carolina. The 21-year-old Najee Ali Baker later died from his wounds.
13 Marshall, Texas
Shortly after midnight on January 15th, a car fired shots in the parking lot of Wiley College in Marshall, Texas. Although a bullet broke the window of a dorm, no one was injured.
nr=14] San Bernardino, California
Gunshots were fired at California State University, San Bernardino on January 10th. There were no injuries.
https://twitter.com/udfredirect/status/951323965598945281
15 Sierra Vista, Arizona
Coronado Elementary School in Arizona was placed under lockdown on January 10th when a 14-year-old boy entered the school and shot himself in the bathroom. No one else was harmed.
16 Denison, Texas
An accidental shooting occurred at Grayson College on January 10th. There were no injuries.
17 Seattle, Washington
On January 4th, New Start High School in Seattle was shot at twice, but no one was injured.
18 St. Johns, Michigan
On January 3rd a man committed suicide at East Olive Elementary School in Michigan. There were no other casualties.
The fact that so many school shootings have already happened this year is a sign that things need to change. In light of how common these shootings have become, we need to talk about gun reform. Our hearts go out to everyone who has been affected by school shootings.
This story was originally published January 24th, 2018 at 10:01 a.m. PST.
Note: This post has been edited to include seven additional shootings between January 25th and February 14th. A shooting on a school bus was also removed from this list to reflect Everytown USA's school shooting criteria.