The new Scary Stories to Tell in the Dark trailer will bring back your childhood nightmares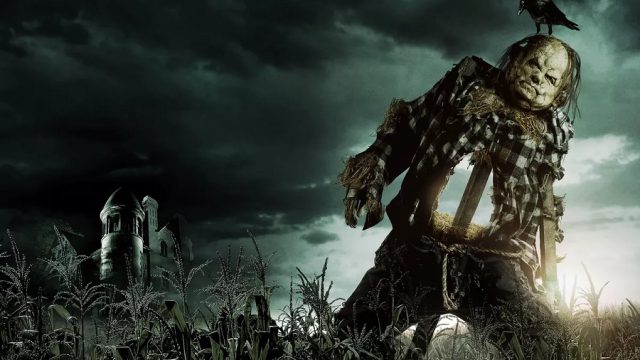 Get ready to relive your childhood nightmares because a new trailer for Scary Stories to Tell in the Dark has arrived. Based on horror trilogy that had an entire generation of elementary students suddenly sleeping with the light on again, the Guillermo del Toro-produced film weaves many of the books' most memorable tales together as a mysterious book haunts a community.
The film follows three teens—Stella, Ramón, and Auggie—who break into the long-abandoned Bellows house and discover a book written by Sarah, one of the Bellows children. However, since this is very much a horror movie, this book is no innocent anthology of stories. Instead, it contains a number of dark, terrifying tales that begin haunting the lives of the trio and their community.
While the film is full of references to the haunts of our youths, the new trailer focuses on a seemingly new monster: the Jangly Man.
While fans of the books won't remember the Jangly Man from the many stories keeping us up at night, producers from the upcoming film told the AV Club that the new monster is based on a number of unspecified monsters from the Scary Stories books.
Watch the full trailer below:
While this latest trailer is centered around the Jangly Man, another teaser, which dropped yesterday, July 23rd, references one of the most iconic tales in the book, "The Red Spot." In the story, and, it seems, in the movie, a girl is bitten by a spider and…well, we won't spoil the rest, but let's just say it sparked lifelong arachnophobia.
The first official trailer, released in June, also teased the many classic Scary Stories tales featured in the upcoming film—most notably "Harold," in which a scarecrow comes to life and seeks revenge on the teen who terrorized him, and "The Big Toe," which follows a young boy who digs up a missing toe and is later haunted by its owner.
Additionally, that trailer shows Stella flipping through the book, stumbling upon familiar titles, including "The Red Spot," "The Attic," and "The Cat's Paw."
Scary Stories to Tell in the Dark is set to be released on August 9th.