These 10 scary awesome Halloween-themed nails will get you into the spooky spirit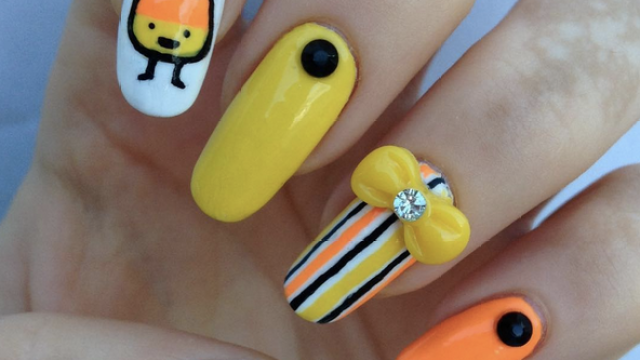 We're just a little over a week from Halloween, and we can't wait. We've been brainstorming about the perfect Halloween costumes to wear. We've been snacking way too much candy corn and ghost-shaped chocolates. We've carved our pumpkins, and we've even decorated our offices. And of course, we've been watching all our favorite Halloween movies on loop. And even with our nails, we want to celebrate the season. These fabulous Halloween nails are so awesome, it's scary.
1. These fabulous candy corn nails give us a sweet tooth.
https://www.instagram.com/p/BLwbYw-gpG6
2. These bright, fun Halloween nails are an absolute treat.
3. These bloody beauties will definitely get you in the gorey spirit.
4. These silvery spiderwebs are totally stunning.
https://www.instagram.com/p/BLwoJBqAifg
5. We are totally batty for these vampire-themed tips.
6. We love the sparkle on these scary festive nails.
7. This ombre graveyard scene is so stunningly spooky.
https://www.instagram.com/p/BLwm-e_h6U0
8. These creepy nails even glow in the dark.
https://www.instagram.com/p/BLwm1hOj5Pc
9. These cute polka dots celebrate Halloween in an adorable way.
https://www.instagram.com/p/BLwIX3pB81L
10. And finally, these tips will definitely have you running for mummy.
Now, we will be totally ready for the season.
Because this Halloween, we're gonna totally nail it.