Scarlett Johansson is playing a trans man in a new movie, and people are understandably not happy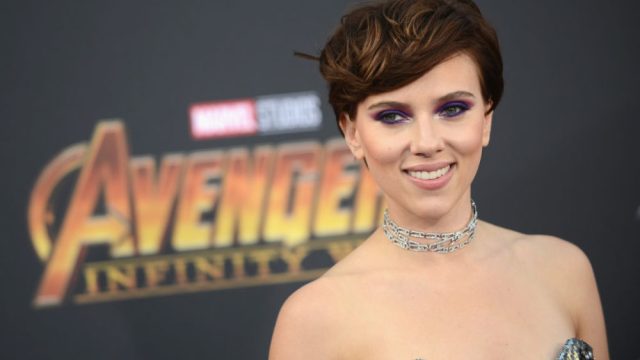 Update: A week after Scarlett Johansson involvement was announced, the actress has dropped out of the project. In a statement to Out.com, she explained: "In light of recent ethical questions raised surrounding my casting as Dante Tex Gill, I have decided to respectfully withdraw my participation in the project." Originally story continues below.
As the LGBTQ community has gained increasing visibility and acceptance, pop culture has slowly started to reflect this change. But although the number of queer characters onscreen has undeniably increased, there's still work to be done when it comes to representation — and part of this entails casting actual LGBTQ actors in LGBTQ roles. Sadly, like white-washing, straight-washing and cis-washing are still huge problems in Hollywood, and the recent casting of cis woman Scarlett Johansson as a trans man has angered many.
Vulturereported on July 2nd that Johansson is set to star in the upcoming film Rub & Tug, a biopic about the (very real) transmasculine crime boss Dante "Tex" Gill. Although Gill's 2003 obituary misgenders the crime boss, it states that he wanted "to be known as a man" and asked to be called "Mr. Gill."
According to The Hollywood Reporter, the new movie will be directed by Rupert Sanders, who previously worked with Johansson on 2017's Ghost in the Shell. It's worth mentioning that the 2017 action film, an adaptation of a popular anime movie, was widely condemned for casting the white Johansson as a character of Japanese descent.
Bustle reported that when the site asked Johansson for comment on her recent casting in Rub & Tug, the actress issued a statement via her representatives stating that, "they can be directed to Jeffrey Tambor, Jared Leto, and Felicity Huffman's reps for comment."
After the news spread that Johansson had been cast as Gill, Twitter users immediately voiced their disapproval online.
false false false false false false
Trans writer Magdalene Visaggio was not optimistic about getting an apology from Sanders.
https://twitter.com/udfredirect/status/1014208146540253187
Trans actor and comedian Jamie MacDonald wrote about how casting cis actors in trans roles is harmful to equality.
And trans actresses Trace Lysette and Jamie Clayton also spoke up, both pointing out the irony that cis actors get cast in trans rolls, but trans actors literally never get the opportunity to even audition for cis-gender parts.
https://twitter.com/udfredirect/status/1014313678441668608
https://twitter.com/udfredirect/status/1014355850159259649
While it's true that cis actors have played trans characters in the past, it doesn't make it right. Representation is hugely important, and it's high time that Hollywood makes good on its promise for greater inclusivity.