Scarlett Johansson dragged James Franco in her speech at the 2018 Women's March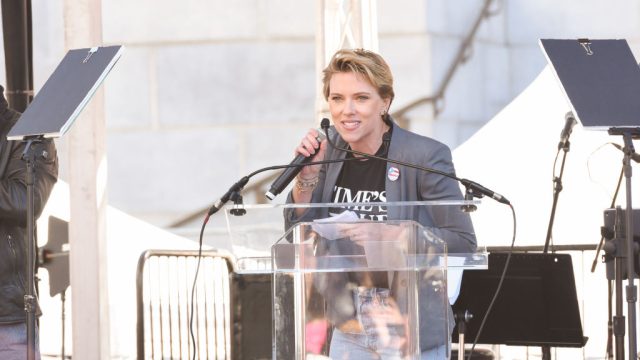 Scarlett Johansson is kicking ass and taking names. On Saturday, January 20th, the actress participated in the 2018 Women's March in downtown Los Angeles. In a blistering speech, Scarlett Johansson made it clear that she is done playing nice. She's ready to call out those accused of sexual misconduct — including James Franco.
James Franco has come under a lot of fire since the 2018 Golden Globes. While the actor walked away with an award for his performance in The Disaster Artist and was lauded for his part in the Time's Up movement (he even wore a pin to the ceremony), things took a decidedly different turn very quickly. Actress Ally Sheedy wrote a series of scathing (and now-deleted) tweets accusing the actor of inappropriate behavior. The next day, the L.A. Times published reports of five women accusing Franco of sexual misconduct. Franco denied the allegations, but it seems that Scarlett Johansson is unconvinced.
While ScarJo didn't use his name during her impassioned speech, it's clear who her rage is directed at. Further, representatives confirmed that she was, in fact, referring to Franco. Johansson did not mince words in her blistering commentary.
As one of the original signers of the Time's Up announcement letter, it's clear that Scarlett Johansson takes this issue to heart.
"How could a person publicly stand by an organization that helps to provide support for victims of sexual assault while privately preying on people who have no power?"
Johansson ended her takedown by adding, "I want my pin back, by the way." It was a passionate speech to make before the tens of thousands of people attending the Women's March — and a brutal condemnation of James Franco. Franco has not yet responded to Johansson's speech.
Watch Scarlett Johansson deliver her Women's March speech below.
Her comments about Franco begin around the 1:25 mark.
https://www.youtube.com/watch?v=GcZvORB_b1o?feature=oembed
Time's Up, and change is coming sooner than you think.