The Saved By the Bell revival finally has its cast, and Zack Morris's son is so on point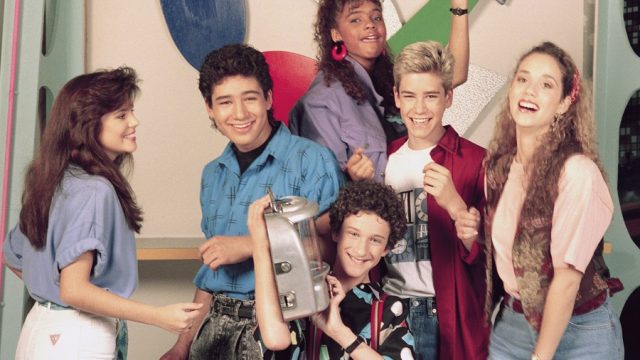 NBC's forthcoming streaming site, Peacock, just completed its cast list for the upcoming Saved By the Bell revival. It had already announced that Mark-Paul Gosselaar would, in fact, reprise his role as Zack Morris ("in some capacity")—this time the problematic Governor of California rather than the scheming prince of Bayside High. Now, Deadline reports that the rest of the cast has officially been assembled, including actors playing children of the original characters. And TBH, Peacock could not have picked a better person to play Morris's son.
Gosselaar will star alongside his former Saved By the Bell cast members Elizabeth Berkley (who played Jessie Spano in the original) and Mario Lopez (A.C. Slater). The Mixed-ish actor also hinted that Tiffani Thiessen, who played his love interest Kelly Kapowski "has been engaged with" the revival, as well, though she has yet to confirm this rumor.
As excited as we are to welcome back our favorite alumni, we're even more excited to see the new faces of Bayside High—including Zack Morris's and Jessie Spano's respective sons, Mac and Jamie. The casting is, as you'll see, *chef's kiss.*
Mitchell Hoog
https://www.instagram.com/p/B2UQLBjA0NM
Hoog, who most recently played Vince in Harriet, stars as Mac Morris, Zack Morris's "handsome, charming, and privileged" son, as Deadline describes. He will undoubtedly be Zack 2.0—style, attitude, good hair, and all.
Belmont Cameli
Jessie Spano's "man-child son" will be played by Belmont Cameli, whose only prior credit is a role in The Husband. Cameli's character, Jamie Spano, is the captain of the Bayside football team and most likely has a few qualms with…
Alycia Pascual-Peña
Pascual-Peña's character, Aisha, a new kid at Bayside High, will reportedly try to join the boys' football team upon her arrival, which may rub Jamie the wrong way. (Are we getting some Tori vibes here?) Pascual-Peña has previously appeared in the series The Chase and The Plug.
Haskiri Velazquez
https://www.instagram.com/p/B1wlnZMDtDO
Velazquez's character, Daisy, is also a new kid at Bayside High and Aisha's BFF. Daisy, a sophomore, attends Bayside after her low-income school got shut down under Governor Zack Morris's questionable initiative. Before Saved By the Bell, Velazquez acted in Facebook Watch's The Birch and 2020's forthcoming Lost Girls.
Josie Totah
https://www.instagram.com/p/B3kejwZpwRh
Earlier this month, we reported that trans-activist Josie Totah would star as a new lead in the Saved reboot. She plays Lexi, a "sharp-tongued cheerleader" who runs Bayside High. Prior to this role, Totah was best known for her role on Mindy Kaling's Champions.
Dexter Darden
Darden, best known for starring as Frypan in The Maze Runner franchise, will also star alongside Totah as a currently unnamed lead, according to Deadline.
We are so ready to see all these characters in one show. If Dustin Diamond ("Screech" Powers), Lark Voorhies (Lisa Turtle), and Principal Belding (Dennis Haskins) make surprise appearances, we don't know if our hearts will be able to take it.