Jessie and Slater are back at Bayside in the first meta Saved By the Bell revival teaser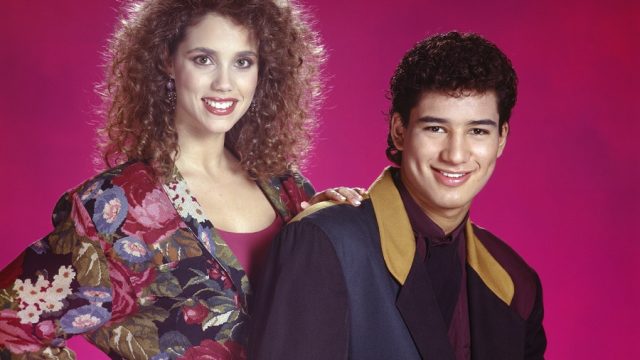 Hey, '90s kids: It's time to break out your giant cell phones and acid-wash jeans because the first official Saved by the Bell reboot teaser trailer is here. Yes, it's time to go back to Bayside. We've been following news about the revival series ever since it was announced last fall. Now, at long last, we have our first glimpse of what to expect from the Peacock revival.
The clip is just under a minute long, but it's packed with so much meta goodness that we just have to say it: "We're so excited! We're so excited!"
In the trailer, we finally meet some of the new Bayside High students—including Mac Morris (yep, Kelly and Zack's son), Jamie Spano (Jessie's son), and popular cheerleader Lexi, who is serving serious attitude. Good news: They're still hanging out at The Max, even if this version of Saved by the Bell features Justin Bieber jokes and digital textbooks.
As excited as we are for the new kids, we're so happy to see Elizabeth Berkley's Jessie and Mario Lopez's A.C. Slater again.  The former couple reminisce about high school—with Jessie asking, "Can you believe that was like 30 years ago?"—and it will hit you right in the feels.
So far, we know that Slater is now the gym teacher at Bayside High, and Mark-Paul Gosselaar will be back to play California Governor Zack Morris (!!). Tiffani Thiessen will reprise her role as Kelly Kapowski in some way. We still have so many questions, though. Will the new gang get summer jobs at the Malibu Sands Beach Club? Will Mr. Belding (Dennis Haskins) make an appearance? Can we get a Zack Attack reunion concert?!
According to Entertainment Weekly, production on Saved by the Bell was halted in March due to the coronavirus (COVID-19) pandemic, so a release date for the series is unclear for now. Peacock begins streaming in July, so here's hoping we won't have to wait too long.