Time out! Mark-Paul Gosselaar is officially joining the Saved By the Bell reboot, and he brings more good news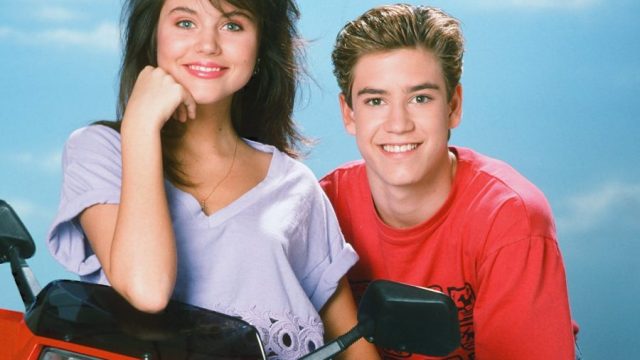 Update, January 10th, 2020, 9:15 a.m.: Don't panic. While it looked for a while there like the Saved By the Bell revival was going to happen without the original Zack Morris or Kelly Kapowski (it could never!), Mark-Paul Gosselaar has some good news.
"Everybody can sleep well at night," Gosselaar joked at an ABC party, according to the Pittsburgh Post Gazette, confirming he'll be joining Saved By the Bell "in some capacity." And be brings even more good news: "I think Tiffani [Thiessen] has been engaged with" the reboot, as well.
Zack and Kelly forever! It's unclear how often Zack Morris will appear in the NBCU's Peacock streaming service show. Gosselaar currently stars on another TV show, playing the hot dad (the official role title, of course) on Mixed-ish. But frankly, we'll take as much as him as we can get!
The Saved By the Bell reboot just cast trans activist Josie Totah to take on head cheerleader duties at Bayside. According to the synopsis, in this modern era, Zack Morris is the governor of California who shuts down several schools. Mr. Belding would have something to say about that.
Original post, October 3rd, 2019: Weirdly enough, NBCU decided to reboot Saved by the Bell and forgot to tell Tiffani Thiessen, who starred in the original series as Kelly Kapowski. According to Thiessen, neither she nor her former costar Mark-Paul Gosselaar got the 411 that the hit '90s sitcom was coming back, and this is really sad news.
"I don't know anything about it," Thiessen told Us Weekly on October 2nd. She continued, "Literally, Mark-Paul and I were like, 'Oh, wow! I didn't know that was happening.'"
Um, can someone say awkward?
In September, we reported that Elizabeth Berkley and Mario Lopez, who played Jessie Spano and A.C. Slater in the original sitcom, both signed on to star in and produce the Saved by the Bell revival coming to NBCU's new streaming platform, Peacock. According to NBCU, the spinoff series is set in a version of modern-day California where Gosselaar's conniving-yet-charming Zack Morris is governor.
With that idea being one of the big plot points in the new series, was it so wrong of us to believe that Gosselaar would at least make a few cameos, if not star in, the reboot? Apparently so.
When asked if she would sign on if asked to be a part of the revival, Thiessen answered bluntly, no: "Mark-Paul and I both have different shows." Thiessen is currently starring in Netflix's Alexa & Katie, and Gosselaar in ABC's Mixed-ish.
"We're not a part of it. It has nothing to do with us," she said. Oof. That hurts.
https://twitter.com/udfredirect/status/1179189532257898496
We're not sure what Bayside is going to look like without Kelly Kapowski or Zack Morris, and to be honest, we're not sure we want to find out.
But hey, we're trying to stay positive. With Lopez and Berkley at the helm, we have good reason to keep the faith that the Saved by the Bell reboot will be just as fun as the original.