Attention, Kelly Kapowski fans — a "Saved by the Bell" makeup line is launching soon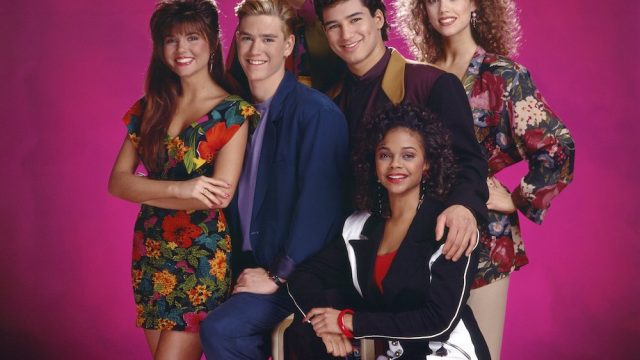 Fans of all things Saved by the Bell are freaking out over a new makeup line on the horizon from Sola Look.
Sola Look is a Boston-based brand started in 2013 by friends David and Yvette, a self-described "JewMinican" (Jewish and Dominican) duo. The goal of the cruelty-free company is to bring "mega-cool makeup" to the masses, and its previous pop culture-inspired palettes have done just that.
The '80s dance movie classics Dirty Dancing and Flashdance inspired two previous makeup palettes. Now, the beloved late '80s/early '90s television show is getting the Sola treatment. The color scheme of Saved by the Bell was fun, bright, and electric. This will definitely make for a fun collection.
Sola Look just posted a teaser image on Instagram announcing the release, but no details other than the release date of February 3rd are available. We're not sure about the price, or even what the exact product(s?) will be. Based on the brand's other releases, chances are good that we can expect a palette. Existing kits are priced in the $32-$36 range. The Dirty Dancing palette contains a liquid matte lipstick, four eyeshadows, and a highlighter, and the Flashdance palette contains four extra large matte eyeshadows. Both are packaged in what looks like DVD cases.
We're sure we'll get more info closer to launch, and we'll be sure to keep you posted.
We're so excited! (But not scared.)
https://www.instagram.com/p/BeHcU48gTQE
https://www.instagram.com/p/BZ7jRDYgEYH
A tribute to the 1983 classic.
https://www.instagram.com/p/BaDPOBQA-Ch
Nobody puts beauty in a corner.
Buy the Saved by the Bell x Sola Look collection on SolaLook.com starting February 3rd.