The Savage x Fenty lingerie line will go up to size 3X, and we're bowing down to Rihanna
We should probably just start having our paychecks deposited directly into Rihanna's bank account at this point, because we're giving her all of our money anyway. More details on RiRi's upcoming lingerie line, called Savage x Fenty, was just announced, and now we're even more excited. First of all, the line launches on May 11th (that's 15 days away!). Second, it appears that the lingerie line will be size inclusive, and go up to a 3X in underwear and a 44DDD in bras. We're. Here. For. This.
When you go to the Savage x Fenty website and enter your email for updates, you're then prompted to select your bra and underwear sizes. This is how people clued into the fact that the line would include plus-size lingerie. And the proof is in the screenshots: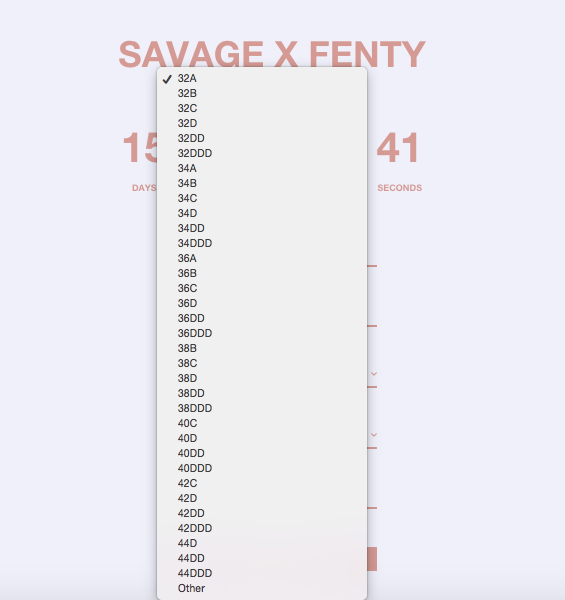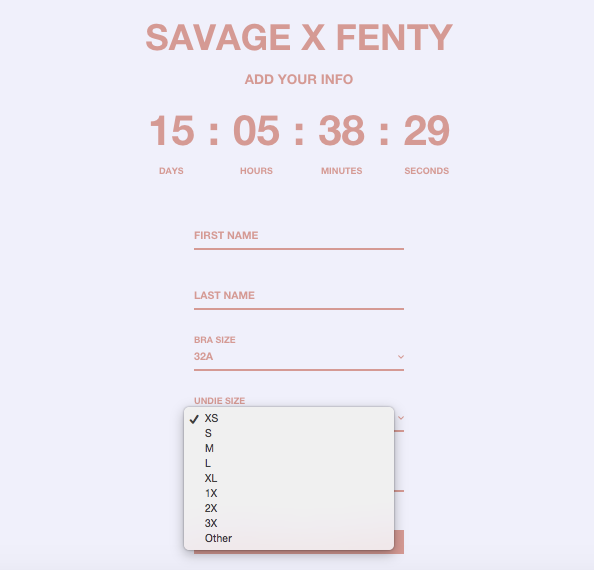 Twitter is freaking out, and here are some of our favorite reactions to the Savage x Fenty plus size lingerie news.
"If @rihanna drops that new lingerie line and there is plus size… I'M GOING BROKE. Here SIS! Have all my coins," says one user.
"I was nervous @rihanna wouldn't have plus size lingerie but it was just confirmed!!! Hallelujah! I don't even know why I doubted the queen… shame on me," another writes. false
We would 1000 percent apply to Fenty University.
Tbh, we feel the same.
"I appreciate Rihanna being here for all people! Most of the time celebs don't think of plus size when they create something but Rihanna making lingerie that fits all!!," says this Twitter user. false
This is too accurate.
The Savage x Fenty Instagram account posted a sneak peek of Rihanna modeling a piece from the line, and guys, it's so good. (One user commented, "I need this like I need air to breathe," which, same.) Rihanna also posted a teaser video on her Instagram account with the caption, "U better lace up! @SAVAGEXFENTY drops worldwide on May.11.2018."
Rihanna continues to be a game-changer in the fashion and beauty space, and we hope other brands take note.
Savage x Fenty lingerie will be available on SavageX.com beginning May 11th.