Saudi women break all the rules in this music video and it's awesome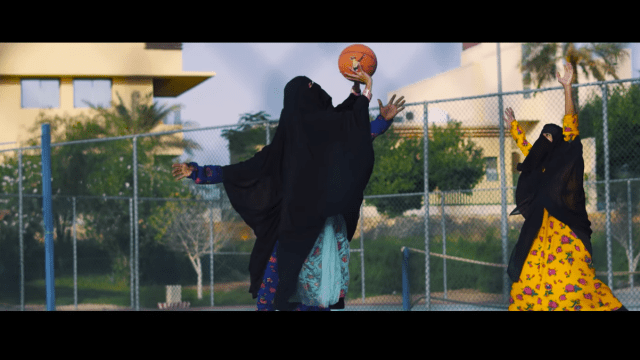 Imagine a trio of Saudi Arabian women clad in niquabs riding in bumper cars, playing basketball and rollerskating. Realistically these are things that these women are not allowed to do but in a new music video they do. In the video titled "Hwages," which translates to "concerns" the women reject all the things they are forbidden to do all while singing an upbeat pop song. One of the lyrics they chant has been translated to "May all men be erased as they've given us mental illness." You can't get much more lyrically powerful than that.
Since premiering on December 23rd, it has gained half a million views. false
The video focuses mainly on the women, who in addition to the above activities also skateboard, ride motorbikes and dance. There are several men in the video as well but all in authoritarian roles like government officials guarding a cutout of Donald Trump, disapproving men driving and a little boy driving their car, a mocking nod to the rule that states that women can't drive.
In addition to the driving ban, women are not allowed to go to the gym, browse fashion magazines, or file for divorce, among other things. They also aren't permitted to travel without a male companion thanks to the guardianship system. While the women seldomly have any sort of direct contact with men in the video, they are always lurking, giving the women reason to openly defy them.
The video, which was tweeted by Saudi activist Manal al-Sharif has been shared by others and praised for its brazen portrayal of modern women in an archaic patriarchal society.
The video, which was directed by Majed Alesa is a remake of a 2014 version of the song that is lesser known. It's hard to say why this is making an impact now, but one thing is very clear: Saudi women are beginning to lead the charge for their rights.
https://www.youtube.com/watch?v=1rUn2j1hLOo?feature=oembed
We applaud them and this provocative video.