Women in Saudi Arabia can finally drive, and the tweets and pics are everything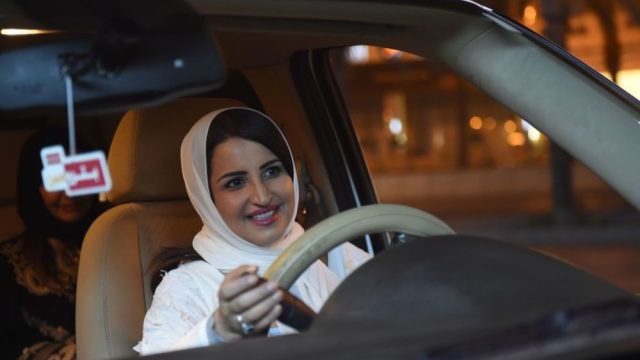 As clocks struck midnight on June 24th, women in Saudi Arabia celebrated their right to legally drive in their home country for the first time in decades. The government began issuing driver's licenses to women earlier this month, and now those women are legally allowed on the roads.
As CNBC noted, Saudi Arabia's crown prince Mohammed bin Salman pushed for the change, and the end of the ban was announced in September 2017. While the number of women on the road currently remains low, CNBC estimates that by 2020, three million Saudi Arabian women will hold driver's licenses, and many are currently taking lessons.
In recent years, women in Saudi Arabia have slowly gained an increasing number of rights. In 2015, they were granted the right to vote and run for political office. And earlier this year, women attended a Saudi Arabian football match as spectators for the first time.
As Time notes, under the former driving ban, women had to rely on hired drivers or relatives for transportation. These citizens have gained a newfound freedom, and many hope the change will encourage more women to enter the workforce (some women have already hit the road as Uber drivers).
"I'm speechless. I'm so excited it's actually happening," one driver, Hessah al-Ajaji, told the Associated Press.
As soon as the ban was lifted, women across the country celebrated with emotional posts on social media.
https://twitter.com/udfredirect/status/1010754993073385473
false
Others made gorgeous artwork to commemorate the occasion.
https://twitter.com/udfredirect/status/1010792453505462272
It was truly a day worth celebrating.
https://twitter.com/udfredirect/status/1010747256155394048
Traffic police even handed out flowers and chocolates to new drivers.
Even though Saudi Arabian women are making strides toward equality, they still face oppression on many fronts. As Vox reported, several women's rights activists who protested for the right to drive were arrested in May, and even now, at least three of them remain in prison. Additionally, guardianship laws in the country still require women to have a male relative's permission to do things like get married, study abroad, and work outside the home.
Congratulations to all the women who can finally get behind the wheel, and we sincerely hope even more progress is made — and soon.