"Saturday Night Live" started with a Trump singalong for the whole family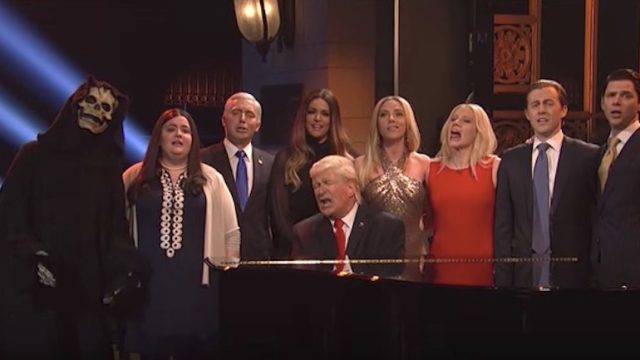 In the wake of Hillary Clinton's defeat in the 2016 election to Donald Trump, Saturday Night Live paid homage to the presidential candidate in song form. Kate McKinnon, SNL's resident Hillary impersonator, sat down at the piano, and sang "Hallelujah."
We've heard so many renditions of "Hallelujah" over the years. There's the original Leonard Cohen version and the super-popular Jeff Buckley cover. Rufus Wainwright, k.d. lang, and Pentatonix have all taken cracks at the ballad. But there was something particularly poignant about Kate McKinnon's Saturday Night Live cover.
Lyrics like "I did my best, it wasn't much, I couldn't feel so I tried to touch," and "And even though, It all went wrong, I'll stand before the Lord of Song, With nothing on my tongue but Hallelujah," seemed eerily suited to this particular moment in history.
In response to the chaos at the White House week, and the increasing uncertainty that Donald Trump will be allowed (or even able) to finish his presidential term, Saturday Night Live brought back "Hallelujah."
Only this time Trump was the one singing the ballad of defeat.
https://www.youtube.com/watch?v=70i8gTb3fZQ?feature=oembed
It was the last episode of Saturday Night Live for the season last night. Alec Baldwin famously impersonates the 45th President of the United States. But it's been a chaotic week in D.C. Comey, Russia, how has it only been a week? HOW HAS IT ONLY BEEN FOUR MONTHS?
America has never seen an administration like this. And it's entirely possible that, come fall, when Saturday Night Live picks back up, Baldwin's impersonation will no longer be needed.
Baldwin sits down at the piano, dressed as Trump, and begins his ballad.
A verse in, he is joined by Kate McKinnon. This time McKinnon is dressed as Kellyanne Conway, her other most famous SNL political impersonation. McKinnon has experience performing musically as Kellyanne. (Remember that Chicago parody? Geez, if there was ever a musical theater number for our times…)
Beck Bennet quickly joins as Vice President Mike Pence. Then come the Trump brothers, Grim Reaper Steve Bannon, guys, the gang's all here!
Note the moments of commentary. When the group sings "I told the truth, I didn't come to fool ya," Kate McKinnon makes a "Whoops" face and crosses her fingers.
And remember that at the end of McKinnon's Hillary "Hallelujah" she said "I'm not giving up and neither should you." So Baldwin's Trump concludes his number with "I'm not giving up because I didn't do anything wrong."
Time will tell the prescience of this parody.