Sterling K. Brown took the liberty to completely remake the "Saturday Night Live" opening, and honestly, we like this better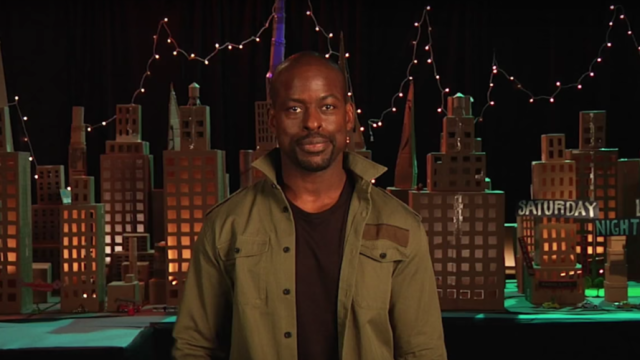 This Saturday, March 10th, Sterling K. Brown will do the unthinkable. We're used to him making us bawl our eyes off as he does on This Is Us, but this weekend, the Emmy Award-winning actor will attempt to make us shed a different kind of tear — the rolling on the floor, gasping for air from laughing kind of cry. Because on that fateful day, Sterling K. Brown will grace Saturday Night Live, and showcase his comedic chops through a series of iconic sketches. I know, I know, it's hasn't even aired yet, but this is Sterling K. Brown we're talking about here. So yes, it's already iconic.
To show us that his hosting gig on Saturday Night Live is serious business, Sterling took it upon himself to recreate the show's opening sequence using cardboard boxes and action figures. He built a model set of New York City and replaced the cast with toys (Beck Bennett is Fred from Scooby Doo, Kenan Thompson is the Hulk, and Leslie Jones is Tinkerbell, etc.). Of course, the sequence wouldn't be complete without a voiceover, which he so impressively executed. That is, until it got to the announcement of this week's host where he ended up confusing his name with Steve Martin's. LOL, classic Sterling.
Honestly, this Saturday Night Live promo is so creative and spot-on that we think he deserves to win an Emmy for Outstanding Production Design.
https://www.youtube.com/watch?v=Y5Zu1P4Hg3E?feature=oembed
Speaking with Cinema Blend, Sterling said he'll arrive at Studio 8H with a handful of pitches. He hopes to include a This Is Us-related spoof, and a chance at joining in on the "Weekend Update" fun.
"I would expect either a This Is Us or O.J. spoof, or both. I expect to do something definitely with Leslie [Jones]," he says. "But my biggest pitch will be, can I do something on 'Weekend Update?' Because the hosts haven't been doing a lot of 'Weekend Update' lately, so hopefully I can get a segment on 'Weekend Update.' That would be my only pitch."
Who knows, maybe he'll even perform a Crock-Pot bit, and end our ridiculous aversion toward the slow cooker once and for all.
Sterling K. Brown's Saturday Night Live episode airs on Saturday, March 10th at 11:30 p.m. We can't wait to watch!