"Saturday Night Live" just hired its first black head writer *ever* and you already know his name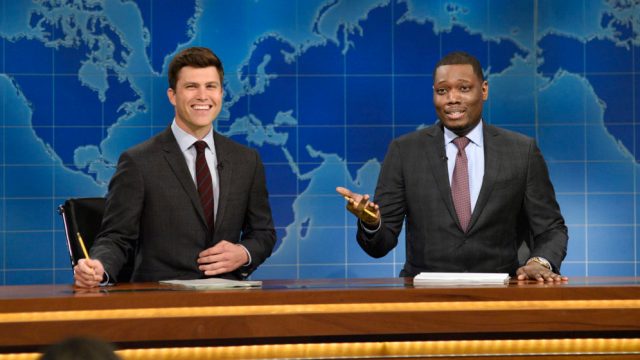 A number of Saturday Night Live's most legendary moments have gone down on Weekend Update And now, one of the segment's current anchors is behind a legendary moment in the show's 42-year history: Michael Che was just named Saturday Night Live's first black head writer.
The show also named Colin Jost — Che's Weekend Update co-anchor — as co-head writer, a position he previously held from 2012 to 2015, when he stepped back to focus on Weekend Update. The pair join existing head writers Kent Sublette and Bryan Tucker.
Che taking on the role is a big deal, especially when you consider SNL's not-so-great track record with diverse representation both on-screen and off.
After widespread criticism, recent years saw a big push to add more people of color to the cast, with Sasheer Zamata and Leslie Jones joining in 2014 (Zamata left the show not too long after) and Melissa Villaseñor came to the show last year.
Tiffany Haddish also became the first black female comedian to host the show when she appeared last month. And the changes have been reflected in the kinds of important, newsworthy topics SNL is now better able to tackle. "Black Jeopardy" — a sketch co-written by Che that offered sharp commentary on race in Trump-era America and featured Tom Hanks, for example — never could have happened in the show's previous iterations.
Before he was hired at SNL in 2013, Che, like so many other comedy greats, was a correspondent on The Daily Show. Since then, the Manhattan native has had his own comedy specials, appeared in Top Five with Chris Rock and Tracy Morgan, and held down the Weekend Update desk on the regular show and its summer spinoff series.
https://www.youtube.com/watch?v=wmXfmXY7n20?feature=oembed
Che and Jost are stepping up in the writers' room in a time when the show is having some of its best ratings in years.
The 2016-2017 season had an average of 11 million viewers and this season, it's still up at 9.6 million (keep in mind last year was an election year AND the year the world met David S. Pumpkins). Head writers Sarah Schneider and Chris Kelly left the show last year and, while we can't help but notice the new head writing quartet doesn't include any women, we're so excited about Che and Jost.
And we're hoping the co-anchors turned co-head writers keep up the good work.