A former "Saturday Night Live" cast member is joining the cast of "Hamilton" and we can't stop singing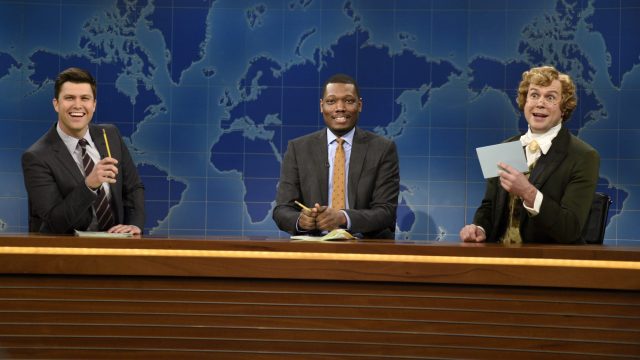 As you have probably been mourning the loss of Taran Killam on Saturday Night Live this season, prepare yourself for some truly exciting news. Because Killam is joining Hamilton on Broadway. That's right — even though this funnyman isn't on SNL anymore, he's still going to be performing live in New York City, thanks to this casting.
If you're familiar with Hamilton even in the slightest (and how could you not be at this point?), then you probably already know which role Killam will be undertaking without us having to tell you. He'll be portraying King George III, that damn British king who hangs out across the Atlantic Ocean far away from where all of the action of the musical takes place.
While Killam's singing voice might not be as gorgeous as Jonathan Groff's (who originated the role on Broadway, and come on, we're just being honest), he definitely has the comedic chops to nail the role. And honestly, that's not even a dig at Killam since whose voice is as gorgeous as Groff's?
Speaking of the extra humor that Killam will infuse into the already comedic role, he was even funny about announcing his casting on Twitter.
He referred to how he is proud to be doing another show that President-Elect Donald Trump doesn't approve of since Trump tweeted that the cast of Hamilton owed Mike Pence an apology after their speech to the vice president-elect. And, of course, Trump has been vocal about his disdain for SNL, calling it "unwatchable."
Politics — and his Los Angeles Rams references — aside, we don't think this is an example of stunt casting. We have confidence that Killam will be hilarious in this small (King George only sings three songs!), but important, part in Hamilton.
And as this is pretty much dream casting for us, it's now time to move onto our next dream: Sitting next to Killam's wife — the amazing Cobie Smulders — in the audience of Hamilton when Killiam takes over the role on January 17th. Let's make it happen, people!