"Saturday Night Live" offered a searing take on gun control, and we needed to hear this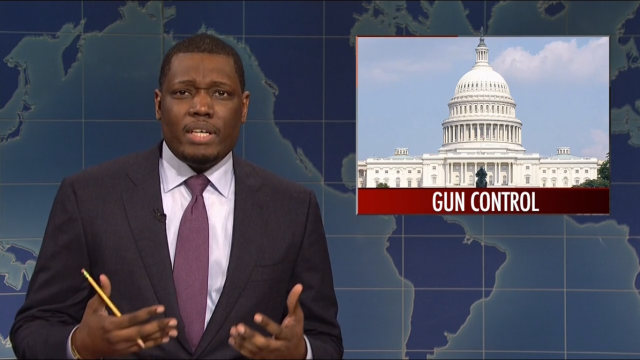 On October 1st, a gunman opened fire at a country music festival in Las Vegas, killing more than 50 people and injuring at least 500 others — making this horrific incident the deadliest mass shooting in U.S. history. Many have since been calling for better gun control, including the folks at Saturday Night Live, who addressed the issue on the show this weekend.
There seems to be a pattern emerging: Every time a mass shooting involving a white, male gunman takes place in America, the federal government finds a way to shift focus from the real problem — which is the need for better firearm regulations — by calling the gun control debate "inappropriate" in a moment of grief.
During last night's episode, the hosts of Saturday Night Live's "Weekend Update" didn't shy away from talking about gun control, offering a searing take we think everyone needs to hear.
"The investigation into the tragedy in Las Vegas has sparked a larger debate in America between people who want common sense gun control, and people who are wrong," comedian Colin Jost began.
https://www.youtube.com/watch?v=j7OQpRLDM9I?feature=oembed
"This isn't a partisan issue. The guy owned 47 guns," Jost continued. "No one should own 47 of anything. If you own 47 cats, you are not a 'responsible' pet owner, you are a crazy cat lady. And unlike with guns, the government will actually come and take your cats away because everyone agrees that's insane."
Co-host Michael Che brought the point home, saying there is really no need for anyone to own more than one gun with six bullets. "If you can't hit what you're shooting with six bullets, than you don't need to be shooting at it," he said. "Learn karate or use your words!"
Sure, the Second Amendment serves to protect the rights of those among us who want to bear arms, but keep in mind the Founding Fathers did not believe that African Americans or white people who did not swear loyalty to the patriot cause should be allowed to own guns.
And if we're being completely honest, most people don't *need* to own any guns at all.
"What we need to do is convince these guys that Obama wrote the Second Amendment to protect guns, the next day, Trump will be tossing our guns in the ocean like paper towels," Jost concluded.
That's definitely an interesting approach.
One of the musical guests on last night's episode was Jason Aldean, who was actually preforming at the country music festival when the shooting took place.
The country star opened the show with these words:
"This week we witnessed one of the worst tragedies in American history. Like everyone, I'm struggling to understand what happened that night and how to pick up the pieces and start to heal.
He then performed a moving rendition of the late Tom Petty's track "I Won't Back Down," a song with lyrics that inspire hope in tough times.
It was definitely an eye-opening episode of the show, and we can only hope those in charge are paying attention. Enough is enough.