Sasha Velour explains how drag's optimism can change the future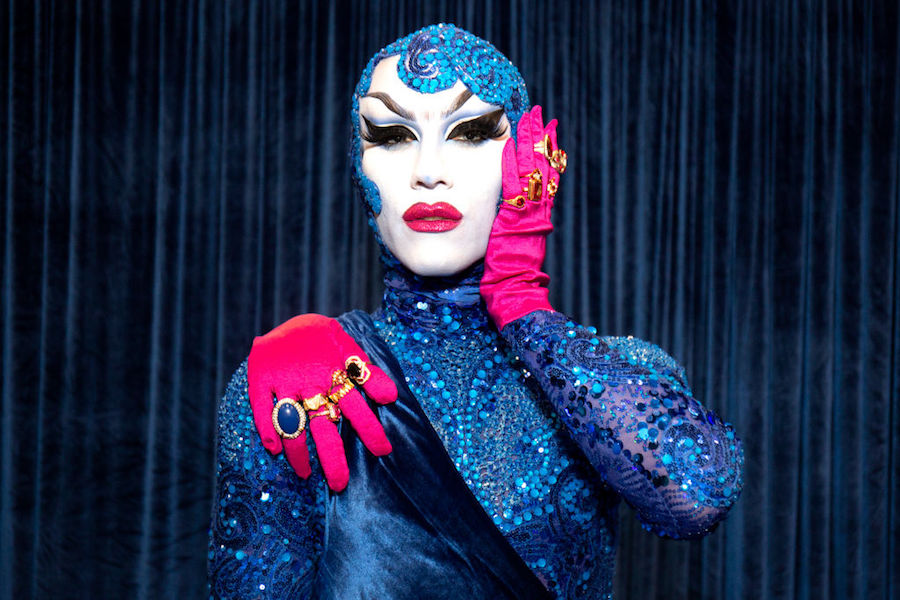 Many of us were first introduced to the brilliant and wildly artistic drag queen Sasha Velour in 2017, when she won the ninth season of RuPaul's Drag Race. But Velour's unique performances, beautifully bizarre fashions, and genderqueer approach to drag were making an impact long before her rose petal reveal during the "So Emotional" lip sync on Drag Race's Season 9 finale. Her influence is obvious when you look at the projects she's taken on since winning, and passing on, the crown.
Let's review 2018 alone. In June, Sasha Velour was a keynote speaker at the Teen Vogue Summit. In September, she was the creative director for Opening Ceremony's show during New York Fashion Week. In November, Velour published a coffee table art book, Velour: The Drag Magazine. Filled with poetry, essays, history, queer theory, magick, and striking photo series, Velour compiles all three volumes of her zine of the same name, which she started publishing in 2013. And in early December, she spoke and performed at The Smithsonian's The Long Conversation, where New York Times reporters, top surgeons, astronauts, and award-winning actors discussed the future. Velour also became the new face of Swatch, and her beloved New York City drag show, Nightgowns (known for its inclusive environment and celebration of gender-fluidity on stage), went to London. Her first solo show, called "Sasha Velour: Smoke and Mirrors" is touring Australia in January 2019.
As Velour and her partner, Johnny Velour, say in the editors' note of their art book, "There is no 'right' way to do or to even define drag." HG spoke to the queen herself about the complexity of drag performance, drag's ability to transform the future, the power of a good pair of denim bellbottoms, and more. Read our conversation with Sasha Velour below.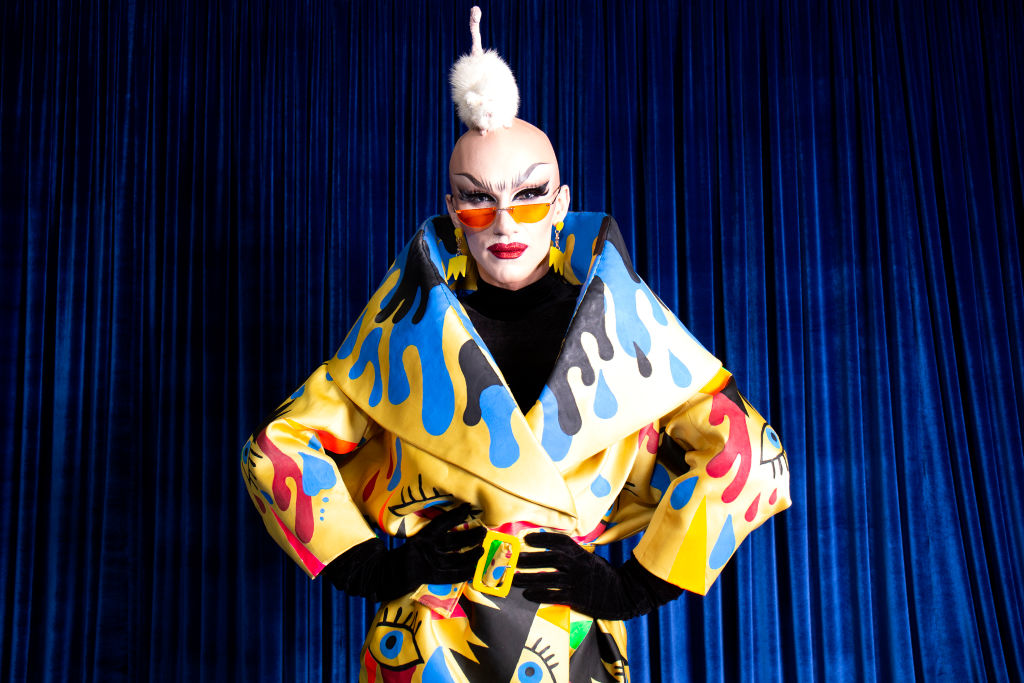 HelloGiggles (HG):Your new art book speaks to the countless forms of drag that exist. I was especially struck by "Gone," a moving photo series in which you wear a dress from your late mother's closet. Those unfamiliar with drag's history might only associate it with the lighthearted drag shows found at bars and seen on TV. Can you talk about how, historically, drag can convey camp and joy, as well as grief, pain, injustice, and more?
Sasha Velour (SV): When I started The Drag Magazine with my partner Johnny in 2013, I had really only just started doing drag. I knew the bare minimum (Divine, RuPaul, Paris is Burning). It was really through putting together the magazine—attempting to document all the many different ways that drag can be defined and practiced—that I realized just how varied and truly powerful it can be. I got to see trans performers like K. James and Charlene trying to dramatize deep questions about themselves with comedy, choreography, and costume. I saw artists like Untitled Queen and Chris of Hur disregarding male and female categories in favor of sublime non-binarity. I saw drag about deportation, rape, and mourning, but also drag about juicy revenge, polyamory, and the joy of tits. My favorite discovery was that all this is nothing new; that drag has been an experimental stage for queer performers since before we even had words for it.
From Siberian Shamans to Chinese Opera, from Medicine Men to Vaudeville, it seems that people have always loved cross-dressing to create a magical transformation (sometimes for sex, sometimes for spirituality, sometimes for laughs). Unfortunately, we haven't even really begun to chart the history and culture of drag, and documentation is still pretty uneven. My hope is that The Drag Magazine will be a positive contribution to the shared effort to fix that.
HG: You were at The Smithsonian's The Long Conversation in early December, among cancer surgeons and NASA leaders, to speak about the future. Why is drag a vital part of our future—politically, culturally, and beyond?
SV: I was excited and honored to be there! Drag queens haven't traditionally been seen as having a "real" job, let alone as being respected thought leaders, so I feel like these are exciting new times. I'm biased, of course, but I think drag has a lot to offer. Drag is unusually optimistic. If we don't like something, we change it, contour it, corset it, put a wig over it, re-name it…Drag doesn't admit defeat—it finds creative and communal solutions for success. I think that message grows ever more important in times when ordinary people feel very disenfranchised. There are ways to raise awareness and resources, and organize for change—and you can look amazing while doing it!
HG: Is there a message that you didn't get as a kid that you especially want to impart to younger Sasha Velour fans?
SV: Wear acrylic nails! Practice walking in heels! Learn to do the splits! I'm only partially kidding! In truth, I feel very lucky to have grown up in a family of hippies that wouldn't let me wear acrylic nails (because of the plastics) but in all other respects wanted me to choose my own path in life (sometimes to a fault: at age 5 I had to choose a religion; I panicked and chose Judaism because of all the snacks at temple). They encouraged me to play in dresses, fantasize about being a ballerina, and even fall in love with boys, if that's what I wanted. Every young person needs to hear that they are deserving of love, no matter how they identify.
HG: Do you have advice for people who gravitate towards drag, but haven't found the confidence to express themselves through it? Especially if they don't think they can be part of the drag community?
SV: Absolutely—get in drag! I resist giving specific advice because everyone makes their own path. Some people go see a lot of drag shows and slowly become part of that scene. Others take photos and videos and connect with folks online. I ended up starting my own show on an empty Thursday night at the local bar. I wasn't part of a scene; I just did it because I loved performing drag so much, practicing until I started getting good at putting on shows, and then begging people to come watch. Sometimes it was terrible. Other times it was genius. Eventually, word spread! I believe that putting hard work into developing your own style organically is important. It can take a really long time, so I recommend starting now. Go steal some lipstick!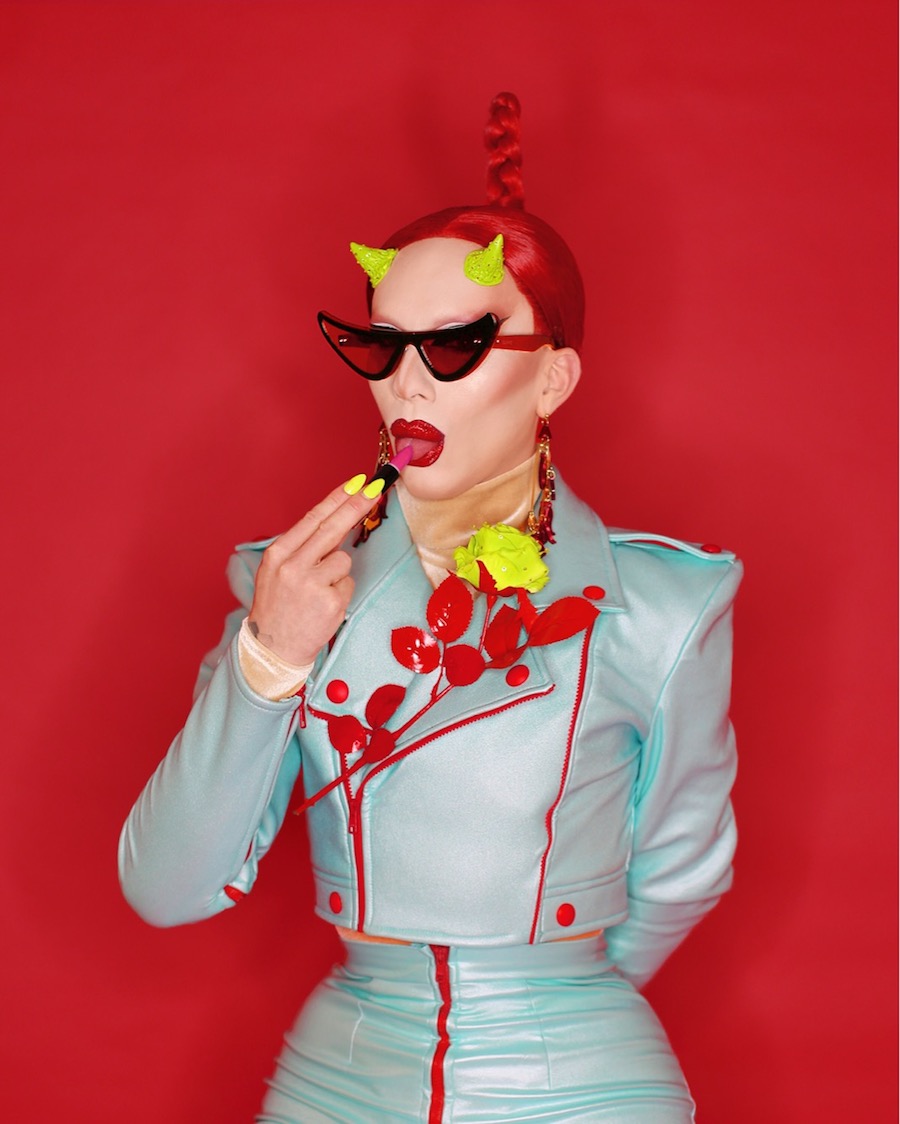 HG: Fashion is such a big aspect of your career, with you most recently being the creative director for Opening Ceremony's show at New York Fashion Week. In or out of drag, is there a specific ensemble or piece of clothing that makes you feel unstoppable?
SV: I love you for this question, because, yes, I really do love clothes. I'll never forget the first time I bought ladies' jeans to wear as "boy clothes." They were button-fly stretch bellbottoms, and I felt so strong and femme at the same time—like a gorgeous denim Clydesdale. I clomped through the hallways of my high school like a pro. I'm always chasing down that kind of fashion experience. I love clothes that feel extreme, so you don't forget you're wearing them. Strange clothes inspire me to be a more joyful and outlandish version of myself.
HG: I'm sure you have to keep some things under wraps, but what are you most excited for audiences to see during your first solo tour?
SV: This show has been a long time in the making. Back in the old days of "Nightgowns" (my monthly show in Brooklyn), I used to stage epic experimental one-off musicals. There'd be a loose story line, lots of theatrical production (video and pre-recorded foley and reveals and drama!), and a ton of amazing lip-synching. That style is uniquely my own, but I haven't really been able to share it with the audience that knows me from TV. My first solo show, which I'm calling "Smoke and Mirrors," is that kind of production. Don't think of it as a drag queen cabaret…think of it as an experimental bar mitzvah magic show!