Pretty Little Liars star Sasha Pieterse announced she's pregnant in this intimate Instagram photo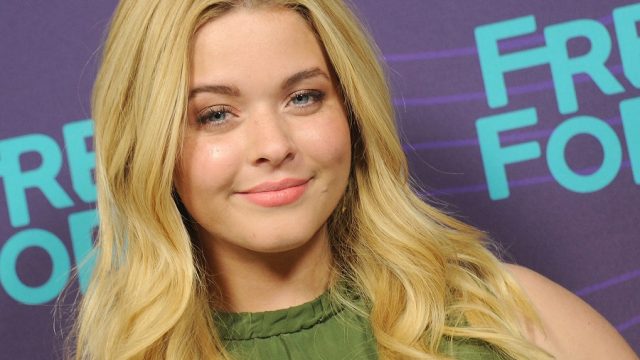 There's nothing we need more than good news right now, and a Pretty Little Liars star just shared some with all her fans. On Tuesday, May 27th, Sasha Pieterse announced she is pregnant and expecting her first child with her husband, Hudson Sheaffer. The 24-year-old posted a black-and-white photo of Sheaffer kissing her growing stomach on Instagram, along with a lengthy caption about her excitement for her baby and her love for her husband.
"We are so beyond excited to finally share our sweet news with all of you," Pieterse wrote. "We will be welcoming a precious little human this October!"
The actor, who played Queen Bee Alison DiLaurentis on the Freeform series, went on to wish Sheaffer a happy anniversary, as May 27th also marks two years since they got married.
"What better way to share our joy [than] on the day when our lives changed forever," Pieterse wrote.
She continued, speaking directly to her husband, "Thank you for making me a mom and for always being my unwavering rock and safe place. You bring out the adventurer in me and I feel like my truest self when I'm with you, luckily that's all the time! I love every part of you with every part of me and will continue to love who you are and who you become especially as we enter this brand new chapter."
https://www.instagram.com/p/CAsqEJvlxEO
Sheaffer also shared the news on his own Instagram account. Next to a photo of pregnant Pieterse, he wrote, "Hot baby Mama Sasha ? Happy anniversary @sashapieterse I'm constantly counting my blessings! You bring me so much joy it's incredible. I can't wait to see you with our baby! I love you more every day Sasha!"
https://www.instagram.com/p/CAsxds8B3Xd
Pieterse has been open in the past about her struggle with polycystic ovary syndrome, or PCOS, which can cause infertility. So this is some seriously happy news.
Clearly, these two are excited and some of Pieterse's Pretty Little Liars co-stars are, too.
Ashley Benson commented on Pieterse's post, "I love you I love you I love youuuuuu." Troian Bellisario wrote, "Over the MOON for you both! (This is one lucky human being to have chosen y'all as parents)." Lucy Hale added, "So happy for you guys!!!!!!" Janel Parrish posted, "CRYING AGAIN GOODBYE ??? AUNTIE J CANT WAIT TO MEET YOU BABY" Tyler Blackburn wrote, "Congrats!!" And Pretty Little Liars creator I. Marlene King commented, "I'm beyond thrilled for you and Hudson. Congratulations, Mazel Tov."
That's just a few of the comments from thrilled friends, fellow actors, and fans. Yeah, there's going to be a lot of people excited to meet this baby in October.
Lia Beck is a writer living in Richmond, Virginia. In addition to Best Life, she has written for Refinery29, Bustle, Hello Giggles, InStyle, and more.
Read more