"PLL" star Sasha Pieterse got real about how PCOS and its accompanying weight gain have affected her life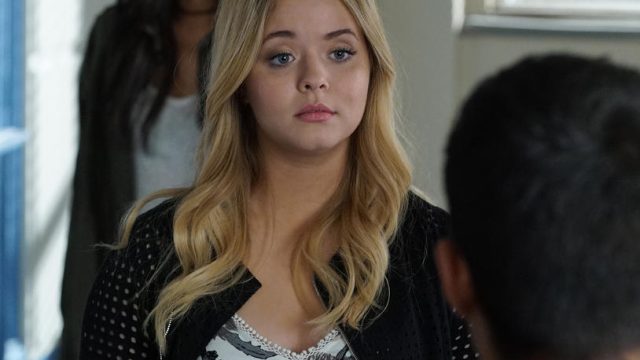 Pretty Little Liars star and current Dancing with the Stars competitor Sasha Pieterse recently opened up about her health issues and mysterious weight gain before she was diagnosed with polycystic ovary syndrome. Polycystic ovary syndrome (PCOS) is a hormone imbalance that affects around 10% of women — yet still mystifies medical professional and can sometimes go undiagnosed in women for years. Some common symptoms of PCOS can include adult acne, hair growth, pelvic pain, weight gain, and infertility.
Pieterse's DWTS performance song the other night was Hailee Steinfeld's "Most Girls," a song about not being quick to judge other women when you have no idea what anyone could be going through.
A conversation about dancing to that specific song got Pieterse talking about her health and body image.
https://www.instagram.com/p/BY_clEqjur3
"I love this song because it really resonates with me about what I've been through and what I'm still going through. I gained 70-ish pounds over two years," she revealed on the show. "It was really, really hurtful the way people reacted. People were saying stuff like, 'she's pregnant, you're fat.' They were angry, they were mad that I look like this."
"[It was] one of the hardest things I've ever been through. I had no idea what was going on and I didn't have any way of solving it, Pieterse continued. "Very recently I was diagnosed with PCOS, polycystic ovary syndrome, a hormone imbalance. Finally, I knew why this was happening to me."
https://www.instagram.com/p/BZcNracjvty
We're so happy she learned what was going on with her health, and that she found an outlet like Dancing with the Stars to help her feel more in control of her body.
"Now, I'm seeing results, Pieterse says of dancing on the show. "I think most importantly, I'm feeling like me again. Being on the show, I've lost over 15 pounds.
We applaud Sasha for being truthful about this often-misunderstood women's health issue, and know that other women going through the same thing will appreciate her resilience and candor, too.