Sarah Paulson SLAYS Salt-N-Pepa's "Shoop" because there is nothing she can't do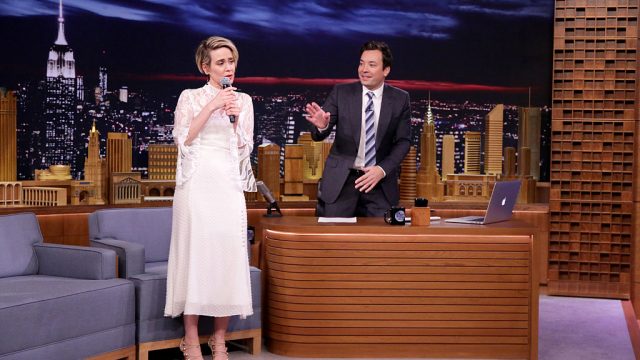 Sarah Paulson is seriously bad ass. You've seen her kick major male-chauvinist expectations to the can when she portrayed prosecutor Marcia Clark in The People vs. OJ Simpson: American Crime Story (which garnered her an Emmy), and you've seen her play various roles with freaky aplomb in American Horror Story. Now, OBSERVE: a true master.
While appearing on The Tonight Show Thursday night, Fallon sprung a microphone on the unsuspecting Paulson who oh so cooly slipped into the chillest rendition of Salt-N-Pepa's "Shoop."
Bright as the sun, I wanna have some fun Come (come) and (hmmm) give me some of that yum-yum Chocolate chip, honey dip, can I get a scoop? (please) Baby, take a ride in my coupe, you make me wanna...
https://www.youtube.com/watch?v=qpCgSrQrrv8
Man, what we would give to go karaokeing with Paulson. Although, apparently, she doesn't karaoke. In fact, she's said, "My sister's a big karaoke person, and she's never been able to get me to do it."
YEAH THEN HOW DID YOU GET SO GOOD AT "SHOOP," SARAH? Just driving around in your car?
You've no doubt seen her sing Fiona Apple on AHS, right? NO? Oh, man. Here you go then:
https://www.youtube.com/watch?v=geU5gJz66so?feature=oembed
Sarah, if looks (+ talent + all-around-awesomeness) could kill, you would be an Uzi.